Hello friends, I will share the top 20 best free proxy websites. These proxy websites will unblock block sites. You can use these proxy websites in your office or schools to unlock Facebook or any other websites. You have to put a link in a search bar and tap on the enter. It will open a restricted site and its safe. We have shared most trustable proxy websites.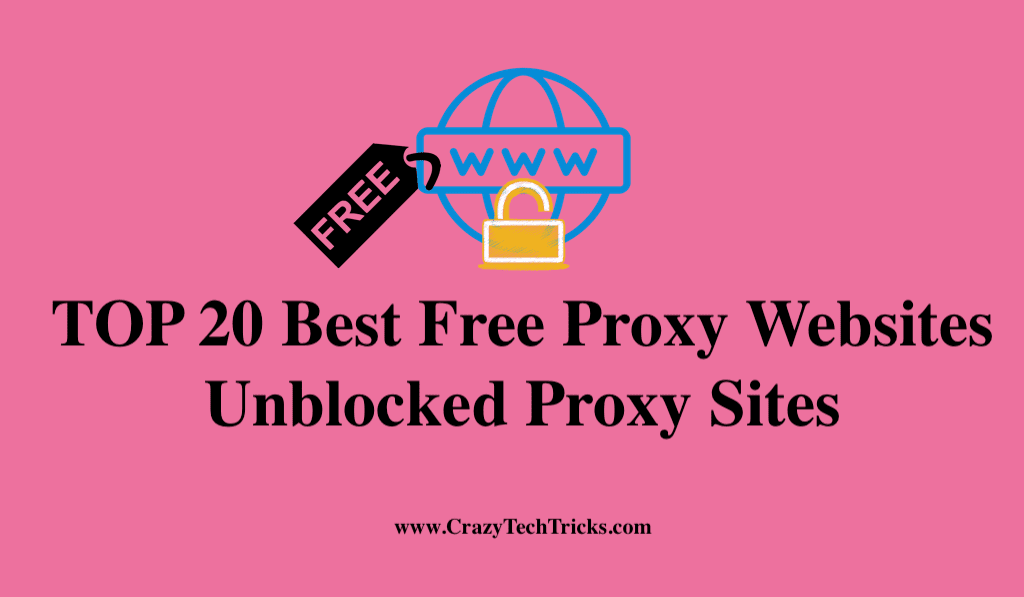 How to Unblock Websites that have been Blocked
Ever happened that you wanted to visit a website but found it blocked for some reason? It happens a lot. For some reason or others, we often try to visit some site that has been blocked to be accessed at least in your region or workplace. So is there any way to access them? There is! You can access blocked websites using free proxy websites and servers.
When you are at your school or college and want to visit any site such as YouTube, Facebook, etc. But find it blocked by the institution. Then, you can visit a free proxy website, mention the URL the website you want to visit in their space and leave the rest to them.
Unblocked Proxy Sites using Free Proxy Websites
Proxy servers not only allow us to visit blocked websites using their servers but also browse the internet anonymously. Proxy servers trick the websites into believing that they are requesting access instead of you. And thus, sites grant access to the server, which in turns grants access to the users.
It is a simple method of obtaining blocked websites freely without any fear. But you may find it inconvenient to try such unconventional ways in the beginning. But don't worry, using proxy websites is safe, and they ensure your anonymity. You can use these free proxy websites on your PC/laptops to access any blocked website.
Read more: How to Open Facebook When it is Blocked by Server
TOP 20 Best Free Proxy Websites – Unblocked Proxy Sites
You can use these 20 best free proxy websites to unblock any site. All these websites are trustable, and you can use them to bypass any website. These websites will open any blocked website on your PC/Laptops. You can unlock any website using these websites. You have to enter the URL of the website. Then, It will automatically unblock these sites.
Free Proxy Websites
FilterByPass
Hidester
me Proxy
New IP Now
Zalmos Proxy
com
org
Proxify
Anonymouse
us
Whoer Free Web Proxy
com
Toolur Free Web Proxy
ProxFree
com
K Proxy
Ninja Cloak
Proxay
Anonymizer
Rapid Proxy
We will read about every site in details and find there pros and cons.
FilterByPass
FilterByPass is undoubtedly the most popular and most effective free proxy website in the market at present. This website is completely free, easy-to-use and comes with a great interface, ensuring a quick service as time may be an important constraint when you want to access blocked websites.
The URL box is available on the Homepage of the site only, and it provides the users with options such as whether to allow cookies, JavaScript, and pop-ups or not. The website contains very few ads with no adult ads and no pop-ups at all. You are also provided with the option to enable or disable various kinds of scripts in the target website.
Read more: How To Hide Last Name on Facebook
Hide.me Proxy
Hide.me is another fantastic website providing free SSL proxy service equipped with VPN grade HTTPS security. It is capable of unblocking all kinds of blocked webpage instantly. It also provides you with options to choose the proxy servers from a location in any country within the list of nations Hide.me provides. The website offers options to manage settings like enabling or disabling cookies, encryptions, scripts, etc.
Hidester
Hidester is a proxy server that guarantees you safety from malicious methods that can harm your device. Users can choose between Europe and US servers before browsing. You can also change the web browser referrer so that it looks to website owners that you are using some other browser software or application. It is a must-try item if you want to keep all your browsing data safe.
Zalmos Proxy
Zalmos is a fantastic and quick web proxy provider which also provides with HTTPS proxy. You can enter any URL in Zalmos Proxy even if it is blocked by your country, school, college or ISP, and it'll take you to the site guaranteed. The site features option to change the IP both manually and automatically. The manual feature lets you provide the proxy server location of your own choice. There are many unique features in Zalmos Proxy some of which are not found anywhere else.
ProxySite
Proxysite.com features a fantastic interface which I found as the most impressive thing about the website. This proxy website provides proxy servers from Europe and America. Even if one of them doesn't work by chance, be assured that other will work. The site is pop-up free and features usual ads which are annoying in no manner. It is also the best website for you if anonymity is the main concern.
Proxy.org
This website contains words of US Constitution proclaiming the Right to Anonymity in its Homepage only. Do you need anything else? Although the website's interface is not much attractive. You will surely be rid of your concern here as the site doesn't do the task of proxy accessing itself.
But list out the names of famous and useful proxy websites in its directory which you can access freely. Any proxy website listed here has to be valuable and legit. So you can be assured that your work will be done once you visit this site.
Read more: 'This Video is Not Available in Your Country'
Proxify
The Proxify proxy website comes loaded with tons of amazing features. It unblocks websites while hiding your IP address and securing your connection with 2048 bit TSL/SSL encryption along with providing options to check JavaScript, cookies, ads, and trackers from the target websites. It offers more than 30 different proxy IP address to fake your location. You can use Proxify without worrying about a reduction in web browsing speed or compromise of your privacy.
Anonymouse
Anonymouse is pretty simple and basic in its look, feel and work. The proxy website grants you access to a blocked website without hampering the interface of the target website. It is simple, free, quick and easy-to-use. The site automatically proxies you if you go to some other links from the target website. Anonymouse is significantly effective in its job and has a plethora of experience in this task as it has been in the business since 1997. Astonished! Aren't you?
DontFilter.us
It is another great website with an original look and feels and a minimalistic interface. One another drawback of this site is the amount of space dedicated to ads. But, it does what it promises effectively. This site also comes with the options to enable or disable features of the target website such as scripts, ads, cookies, etc. This website features the personal favorite of many professionals, and you'd love it too.
Whoer Free Web Proxy
This website is entirely same as all the others mentioned here. The interface of the site is sure tremendous and interactive. This website allows you to change your IP address, block websites, and go anonymous while browsing and more. It is free, efficient and good at its job just like the others on this list. There is not much to talk about it.
New IP Now<
Newipnow is another proxy website which emphases on quality over looks. Featuring a minimalistic design and interface, this site just delivers what it promises of the offering. What's interesting about this website is that it provides with an array of IP addresses along with their location below the URL box. The site also offers private proxies for some charges in case you are interested in getting one.
Toolur Free Web Proxy
Toolur ensures your anonymity by encrypting the URL and its content via HTTPS encryption so that nobody knows about the webpage visited by you and contents you saw. The Toolur Free Web Proxy lets you access blocked a website, hide your IP, browse the web anonymously. It provides proxy sites of 4 different countries for free consisting of USA, Germany, France, and the Netherlands.
ProxFree
ProxFree is an SSL enabled proxy website allowing you to bypass restrictions and blockades to access your favorite sites without any trouble. The makers of ProxFree are entirely against internet censorship and have put their ideology on the website quite efficiently. There is no blocked website in the world which this site cannot unblock. It makes it worthy of a place on this list.
4everproxy
4everproxy is similar to proxy.org in functioning as it also contains a directory of proxy websites. It features the names of proxy servers from around the world for you to choose from and try out. 4everproxy features a soothing blue colored interface to make you calm while you go through and select a proxy server for visiting a blocked website.
K Proxyv
K Proxy is an amazingly secure and efficient proxy website providing lots of server options and safe browsing experience. You can use K Proxy to unblock any site you want. You can visit your target website from 10 different IP addresses which the website provides. K Proxy offers the option to browse websites using HTTPS and without it too. The site is fast, efficient and simple-to-use.
Read more: How to trace an IP Address from Facebook Profile
Ninja Cloak
Ninjacloak is another proxy website which features a simple black design to give the users a ninja-feel while using its services to visit blocked sites. The website provides detailed information about its functioning at its Homepage along with the URL box to get you started immediately. The website comes loaded with options to remove cookies, scripts and other too.
Proxay
Suppose you are a Britisher living overseas and are fed up with the censorship imposed by the school, college, community, etc. in that country to visit some British or other favorite web pages. In that case, Proxay is the go-to website for you. This website bypasses restrictions imposed on favorite sites such as Facebook, YouTube, BBC Player to grant you access while also maintaining your anonymity by hiding your IP address.
Rapid Proxy
Rapid Proxy is also an exceptionally nice proxy website that one can try. The unique thing about this server is that it lets you choose whether or not you want to see images on all browsed pages. However, like all other proxy servers, Rapid Proxy also comes with numerous pop-ups ads which can be pretty frustrating. So, make sure you turn on your ad blocker before using this proxy server.
Anonymizer
Anonymizer does more than just acting as a proxy to visit blocked websites. It is an entirely popular website dedicated to secure the privacy and anonymity of browsers of the internet. With Anonymizer, you can be sure of getting a top-class proxy service which can be used for many jobs, including visiting blocked websites. Anonymizer allows you to choose the IP from a country of your choice which comes as a severe boon.
Free Proxy Server
As the name suggests, Free Proxy Server covers your IP address with one of their free proxy servers. You may get repulsed by the unattractive and challenging UI of the website initially. But don't judge this book by its cover. The reason this site is on our list here is that of its reliability. The website always returns with correct results and does the job efficiently. The URL box is featured on its Homepage only, and the site also provides you with options to control the features of the target website.
Conclusion
These are the 20 best free proxy websites which and can unblock any site. All of the websites mentioned in this list are tried and tested and are guaranteed to get your work done. Nothing is impossible in today's technical world. You can open any blocked website using these proxy websites. Well, you can also share your favourite free proxy websites to unblock sites. And don't forget to share this article with your friends.
Was this article helpful?