Hello friends, Today I will tell you a method on how to get rid of Assistive touch on iPhone 8, XS, XR & 11. Users can even permanently turn off Assistive touch or turn on Assistive touch on iPhone. I have also shared a method to download or find Assistive touch on iPhone.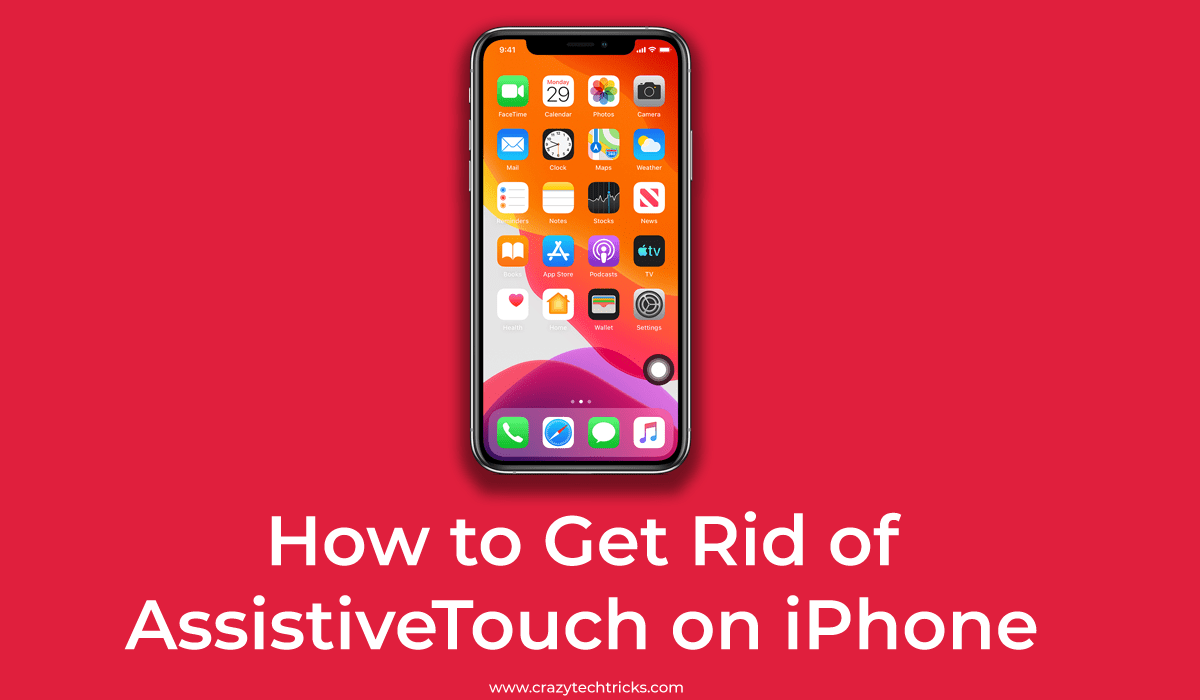 Undoubtedly, the iPhone is a great choice among various mobile phones available in the market. As we start using iPhone we start loving it. It has many amazing functions like using Google Lens on iPhone, making a GIF wallpaper on iPhone, and more. It comes with updated technology.
But, sometimes the Settings of the iPhone make us frustrated. Turning off the Assistive Touch on an iPhone can be considered as frustration problem on iPhone. Most of us are using it, and a lot of people are there who don't need it. So, instead of using it they want to disable Assistive Touch on iPhone.
---
Assistive Touch iPhone Download
If you want to use Assistive Touch on your iPhone. Then, let me tell you that you don't have to download any kind of third-party application to do so. Why? Because Assistive Touch is an inbuilt feature that comes along with every Apple's iPhone. However, some bugs regarding it can be fixed. But, it is in your hand do you want to turn on AssitiveTouch on iPhone or to turn off Assistive Touch on iPhone.
---
How to Get Rid of Assistive Touch on iPhone 7/8/XS/XR/11
iPhone users can turn off the Assistive Touch on their iPhone, whether it is iPhone 6, 7, 8, XS, XR, or more. This method uses an inbuilt setting which comes along with the iPhone under the Settings app. Users can disable Assistive Touch on any iPhone in a single click.
Open Settings on your iPhone.
Click on the General option.
Scroll down and click on the Accessibility option.
Click on the Assistive Touch option.
Turn off the toggle of Assistive Touch.
---
Assistive Touch turns on by itself
If you have properly followed the method and still you are unable to get rid of Assistive Touch on iPhone. Then, don't worry because I am here to help you with that. What you can do to solve this issue is that make sure that you have turned the toggle off properly of Assistive Touch or not. If you have done that properly, then reboot your iPhone and check if it solved this issue or not. If still, it doesn't works then visit the nearest Apple service centre. There they will assist you and help you more perfectly.
Read more: How to Clear RAM on iPhone 11, Pro & Max – Make your iPhone Fast
---
Conclusion
This was the entire article about how you will remove Assistive Touch on iPhone. There is no other way to do so. It is officially available on the Apple Support Page also. Similarly, if you need to clean iPhone charging port then you can also do so. I hope using this article you have successfully disabled Assistive Touch on your iPhone. As I told earlier, this article is applicable on 6, 7, 8, XS, XR and more iPhones. Share this amazing article with your friends and family members also so that they can also disable it if they want to do so.
Was this article helpful?