You can find Minecraft screenshots on Windows 10, 11 PC/laptop. I have shared the exact place where your screenshots are saved. You can retrieve back your screenshots.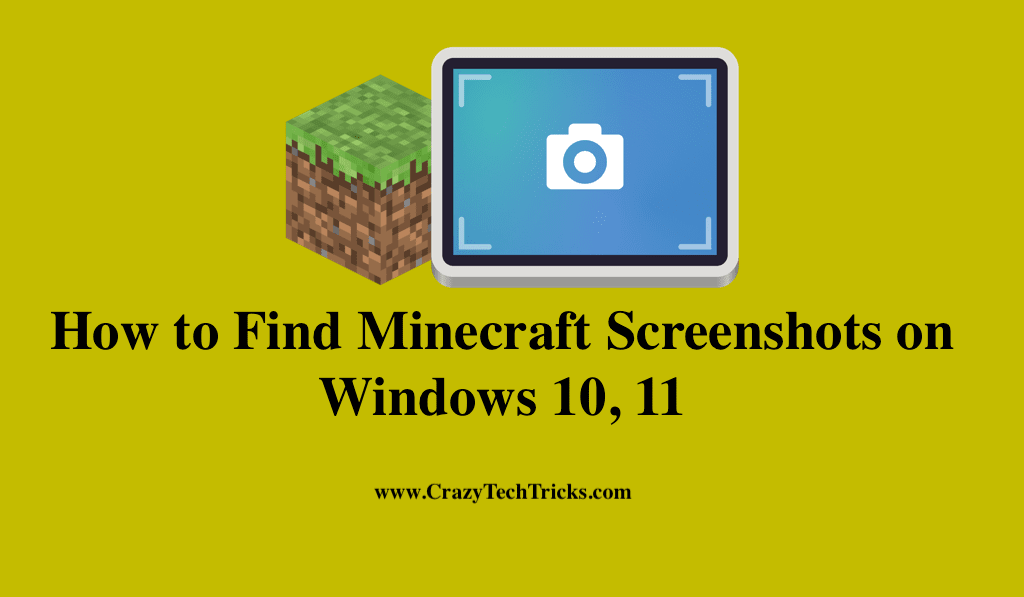 It is pointless to spend hours in Minecraft building a massive empire or embarking on dangerous missions if you cannot show them off to your friends. Have you ever taken a moment to take a screenshot while you're slogging through the levels of your favourite Minecraft game?
Taking a screenshot was the first thing your mind thought of as you were immersed in your Minecraft experience. Although you may know how to take a screenshot in Minecraft, you might be wondering how to find Minecraft screenshots on Windows 10,11.
How to Find Minecraft Screenshots on Windows 10, 11
There are various methods for taking screenshots in Minecraft. It also relies on the gadget that you're using to access the internet. Well, Minecraft screenshots are conveniently stored in the Minecraft installation folder. It's a little difficult to find your Minecraft screenshots on Mac and Windows, but here's how to find Minecraft screenshots on Windows 10, 11:
To begin, open the Start menu.
In the search field, type % AppData %.
Navigate to the Roaming area.
Find the Minecraft folder, followed by the Minecraft Screenshots folder.
In this folder, you can find all your saved screenshots.
Read more: How to Make Campfire in Minecraft
On LINUX
In terms of finding Minecraft screenshots on Linux, things are a great deal more complicated than on Windows. In addition to Windows computers, a small number of Minecraft players use Macs and Linux computers. The recently upgraded Mesa drivers are expected to make Minecraft run faster on Linux systems, based on rumours.
Select "Home" from the drop-down menu.
In case you cannot see the Minecraft folder, press Ctrl + H.
/.minecraft/screenshots is the name of the file.
Select a photo from the Screenshots folder and save it.
Read more: How to Make a Door in Minecraft
How to Obtain Screenshots of Any Java Edition of Minecraft
Within the Minecraft directory, Minecraft's Java version saves screenshots into a subdirectory called screenshots. This is the simplest method for finding your screenshots if you don't know the location of your Minecraft installation.
Taking a screenshot in Minecraft's Java version results in a pop-up notification. You can navigate to the desired location by clicking on the file name, which is generated based on the time and date of the screenshot.
Simply click on the image's name in the Photos app to open it.
Click on the three dots in the upper right-hand corner of the window and select "File Information."
You will see all the information about the file in the sidebar. The file's location is indicated approximately halfway down.
Select "View File Location" to view the screenshots folder.
Read more: How to Zoom In on Minecraft
How can you Retrieve Back your Screenshots
There are times when, in an attempt to retrieve a Minecraft screenshot on Windows 10, 11, you may accidentally delete it. If you find yourself in this situation, you don't have to panic. Deleting your screenshot is not an irreversible event.
On the main page, click "File" > "Deleted Files" to see all the recently deleted files.
After deleting a screenshot, you can restore it by selecting it and clicking the three-dot icon.
Read more: How to Turn Off Narrator on Minecraft
Conclusion
Microsoft removed the option for users of the Windows 10 and Windows 11 versions of Minecraft Bedrock Edition to snap screenshots with in-game controls and replaced it with the Game Bar. All of your Bedrock screenshots should be saved to "C: Users(YourUserName)VideosCaptures" by default.
Moreover, The above method will make finding the snapshot much easier in the future when you need to find it again after you've taken one.
Was this article helpful?