Hello friends, Today I will tell you how much space does Windows 10 take on a SSD. You can check your Hard Disk size and calculate whether you can download Windows 10 or not. I have also shared other configurations required for Windows 10. You will get to know the exact size of Windows 10 iso. And Windows 10 after installing. So it will be easier for you to calculate the space of Windows 10 after installing or updating.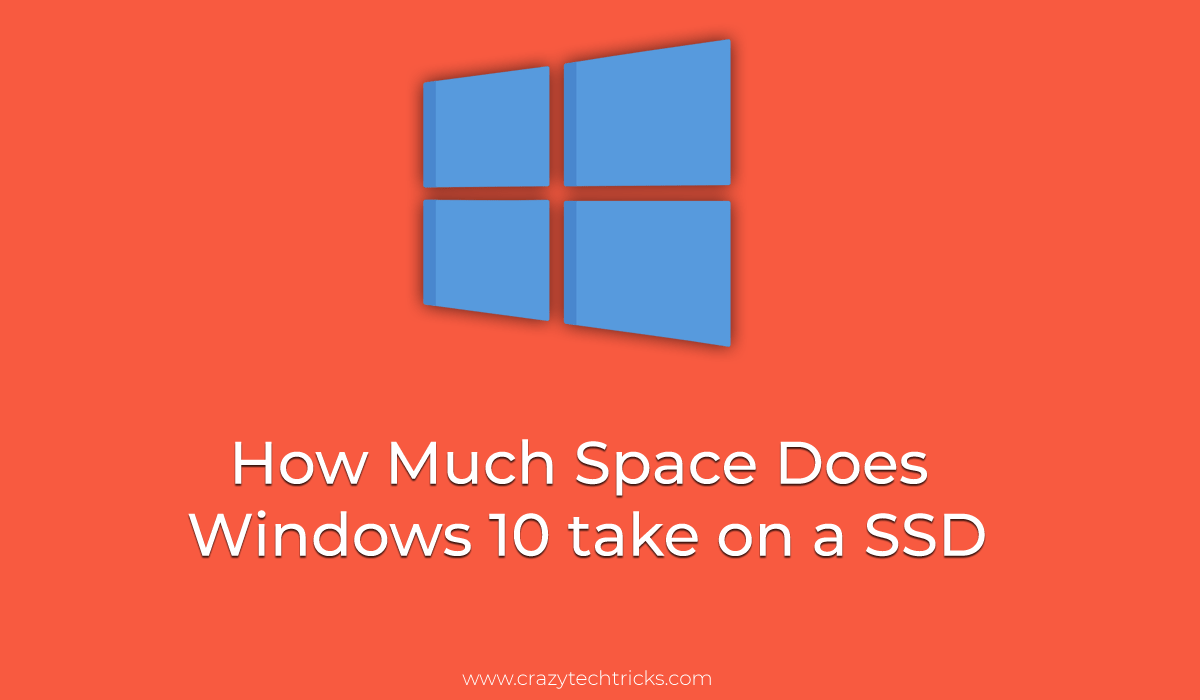 Windows upgrade is a horror story for most of us. It runs a risk of an inexplicit crash in the middle of the upgrade process, which might even corrupt the hard disk. However, as it turns out, Windows 10 offers one of the smoothest Windows upgrades ever. But, there are a couple of things you must know before leaping.
Read more: How to Use Virtual Keyboard Windows 10
Should I Upgrade to Windows 10 from Windows 7, XP
Of course, yes! Windows 10 is a package of everything we love about Windows 7, along with a few new elements of Windows 8. In addition to that, the upgrade is completely free for existing Windows 7 and Windows 8 users for the first year. After the first year, it will be $119.99 for the Home version and $199.99 for the Pro version.
Hardware Requirements for Windows 10
Processor: 1 gigahertz (GHz) or faster processor or SoC

RAM: 1 gigabyte (GB) for 32-bit or 2 GB for 64-bit

Graphics card: DirectX 9 or later with WDDM 1.0 driver

Display: 800×600
How Much Space Does Windows 10 take on a SSD – Windows 10 Size
There is a lot of speculation about the exact size required by Windows 10 on an SSD. But after installation, Windows 10 takes up about 16GB space for 32-bit OS and 20GB for the 64-bit variant. It might go up further when you download and install updates.
Read more: Windows 10 Software Compatibility Checker 
How Big is Windows 10
Yes! You head it right. It is only 16GB to 24GB. These days the majority of the Windows PC/Laptop comes with a 64-bit variation. And several upgraded configurations regarding RAM and SSD. The size of the standard Hard Disk these days is 500GB to 1TB. So it is quite easy for anyone to install Windows 10 on their PC/Laptops. So if anyone asks you 'How Much, Space Does Windows 10 take on a SSD'. Then tell him the maximum size is 20GB.
What's new in Windows 10 latest Update 2017 and 2018?
Windows 10 is a more refined version of Windows 8.1, but it includes a few noteworthy additions. The virtual assistant, Cortana, has finally made its way to the PC and laptops. If you have used Google Assistant or Apple's Siri, you should have an idea of how virtual assistants work. But we've found Cortana to be a lot more efficient for voice command control.
Read more: How to Use Pendrive as RAM in Windows 10
The new Microsoft Edge is also a great addition. Though it's still shocking that Microsoft has put behind the legacy of age-old Internet Explorer. Microsoft Edge is faster, efficient, and includes many compelling features. So if you are annoyed by Google Chrome's extremely demanding memory needs, Edge might be what you're looking for. And lastly, if you own an Xbox, the new upgrade allows streaming games directly from your console to your PC.
Last Words on How Much Space Does Windows 10 take on a SSD – Windows 10 Size
I told you about the space Windows 10 takes on an SSD. But regular updates and future configuration can increase the size of Windows 10. Don't worry, its not going to be double. But! Yes, these updated and regular changes in Windows 10 will lead to taking more space on your Hard Disk. Do share this article with your friends and tell them to upgrade their Windows to Windows 10.
Was this article helpful?