Hey friends, Today I will tell you a trick to delete contacts from iPhone 6. You can delete multiple contacts from iPhone. I have shared few methods to deleted even inbuilt contacts from your iPhone. You can permanently delete contacts from iPhone.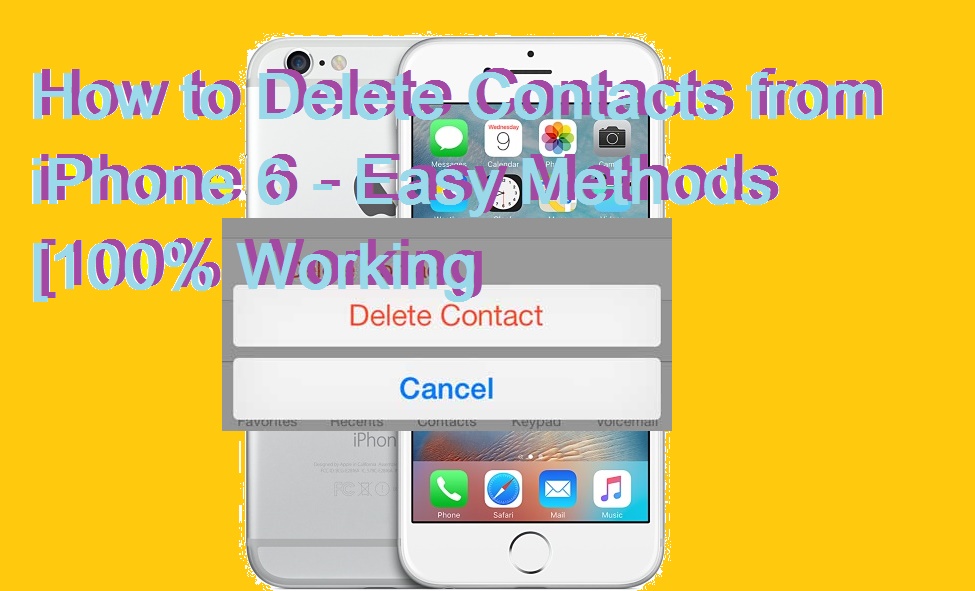 How to Delete Contacts from iPhone 6
Contacts on your iPhone take a large chunk of space. This sometimes makes your iPhone 6 laggy and create a problem in loading contacts on your iPhone.
Read more: How to Play iPhone Videos on TV – Top 4 Methods for iPhone & iPad
When you buy your iPhone and check your contacts. Then, you'll see many contacts which you never saved or saw before. This happens even if you have not imported contacts from other apps. By default, iPhone 6 will not allow you to delete multiple contacts. Well, It is not a good news for someone who wants to remove a lot of contacts at once. If you are facing this very same problem. Then, don't worry because this trick will let you delete contacts from iPhone 6.
How to Remove Contacts from iPhone 6
The detailed steps for deleting your contacts one by one are listed below
Open 'Contacts' app from your iPhone 6.
Click on the contact that you want to delete.
Click 'Edit' button in the right corner.
Scroll down and tap the large 'Delete Contact' button.
How to Delete Contacts from iCloud Account
Click on 'Settings' icon on your iPhone's home screen and launch the App.
Select iCloud option.
Set the switch which is next to 'Contacts' to OFF.
Now, tap on the 'Delete from My iPhone' option.
All the contacts from iCloud will be deleted.
How to Delete Multiple contacts from iPhone – Using App
If you're an iPhone 6 user and you want to delete multiple contacts in iPhone 6. Then, there is an app called 'Groups' app on the App Store.
Download Groups from the official iOS store.
You will be asked to grant access to your contacts.
Tap on Grant access.
Select 'All Contacts' from Groups list.
Go through the contacts and mark the ones you want to delete.
Just tap on the circled outline to the left of contact names.
Click on 'Actions' options at the top.
Tap on 'Delete contacts'.
Now, Tap on 'Remove from my iPhone!'.
Tap on Confirm.
Delete contacts using Syncios in iPhone 6
With the help of Syncios iPhone Transfer. This method will only work. If you have installed iTune. So, make sure you have iTunes installed on your iPhone. iTunes should be running while following this trick.
Read more: Two Best Method to Pair your Apple Watch with a New iPhone
Note: iTunes should be running while following this trick.
Download Syncios  and install the 'Syncios iPhone Transfer' on your computer.
Now, Connect your iPhone 6 to the computer and launch Syncios.
Now, You will see your device information.
Tap on 'Information' tab on the left side vertical column.
Now, Select the contacts you want to delete and click on 'Delete' button to remove the contacts from your device.
The selected contacts will be deleted from your device.
Last Words
If you follow any of the methods listed above. Then, you can easily delete any kind of contacts from your iPhone 6. All the methods share above are tested individually on iPhone 6. So was this trick helpful? If you face any problem in deleting contacts from iPhone 6. Then, do comment below and don't forget to share this article with your friends.
Trending: Restart Hanged Android or iPhone without removing Battery – Easy Method
Was this article helpful?