You can add bookmark on iPhone by following this easy method. You can create a book in Google Chrome or Safari and save it on the home screen of your iPhone device.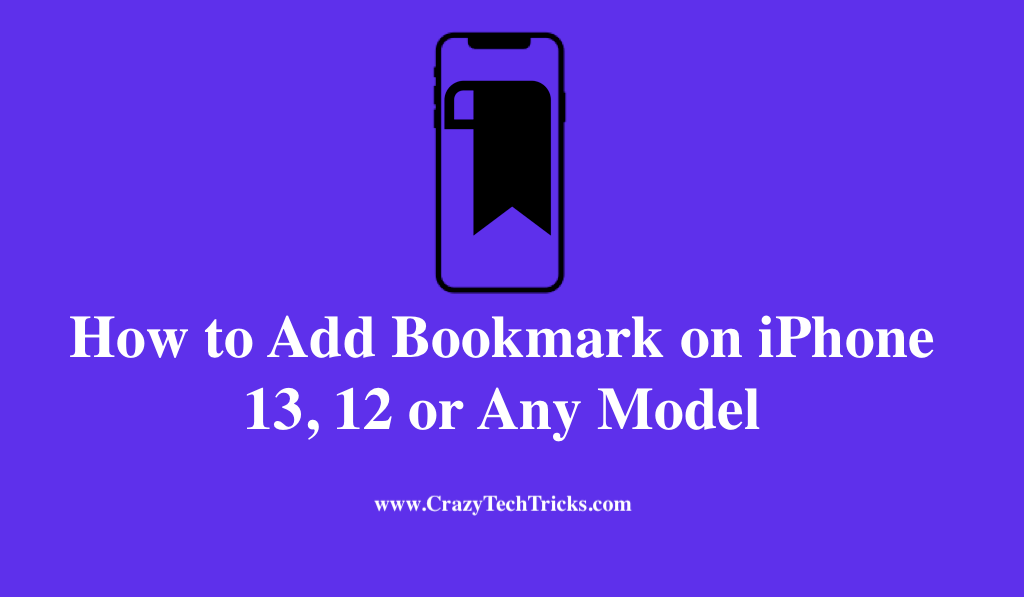 The bookmark feature allows you to navigate to specific web pages instantly without having to trawl the internet or type in a search term. It's faster and more convenient to click on the desired web page rather than type in a URL in a browser. In addition to saving you time, it improves your browsing speed. Those of you who don't know how to bookmark something on your iPhone will find instructions in this article. Throughout the article, I will explain to you how to add bookmark on iPhone.
How to Add Bookmark on iPhone
Safari on your iPhone allows you to save online pages that you want to return to in the future, like any other web browser. You can quickly return to any saved page you have saved in Safari via the Bookmark button which is located at the bottom of the screen.
Read more: How to Make a Collage on iPhone
With Safari's bookmark manager, you can organize, edit, and delete bookmarks entirely at your discretion. Additionally, you can create shortcuts to your favourite websites on the iPhone's home screen using the device's native web browser. Moreover, let's proceed with the steps to add bookmark on iPhone on safari:
Browse a web page that you'd like to save to your bookmarks list in Safari.
Click on the Share icon.
To add a bookmark, select "Add Bookmark."
The next step in creating a bookmark is giving it a name. Select a location and then a folder in which to save it after that. When you're done, click Save in the upper right corner of the screen to save your work.
By selecting "Save," the bookmark will be added to your default Favorites folder.
By tapping the word "Favourites," you'll be able to choose a folder (or make a new one) and then tap "Save." 
By opening a new tab with a blank page, you can quickly access your most frequently visited websites using Safari's bookmark folder.
Therefore, in this way, you will be able to add bookmark on iPhone.
Read more: How to Turn Off Voice Control on iPhone 11
How to Access Bookmark and Edit on iPhone
You can access the bookmarks by swiping down to the bottom of the page and tapping the bookmark folder symbol. For this app, the symbol is a book with its cover open. When you click on the Bookmarks icon, a list of categories will emerge for you to choose from.
Read more: How to Delete Spam Calendar Events on iPhone
To access your bookmarks, click on the Bookmarks menu item at the top of the screen. If you save a bookmark and quickly realize you don't want it, navigate to the bottom of the display and click Edit. To delete an item, click the circle next to it and then select Delete.
Conclusion
If you visit specific websites on the internet frequently, using Safari's Bookmarks feature might be very helpful. However, the purpose of bookmarks is to help you identify websites that you may use shortly, so choose your bookmarks wisely. To quickly locate any web addresses you wish to bookmark, tap and hold on to a phrase inside the current website.
Read more: How to Send iPhone Health Data to Doctor
Moreover, If you click the 'Add to Favorites' button, you will be presented with the default folder for "Add bookmark". Additionally, It is possible to close all your tabs for Safari to work correctly on your iPhone. This means, however, that you will miss out on important pages that you want to read later.
Was this article helpful?