You can make a collage on iPhone easily by following these three methods. Users can add several pics more than three and create a collage. All photos can be added easily, and you join them to create a Collage for free on iOS.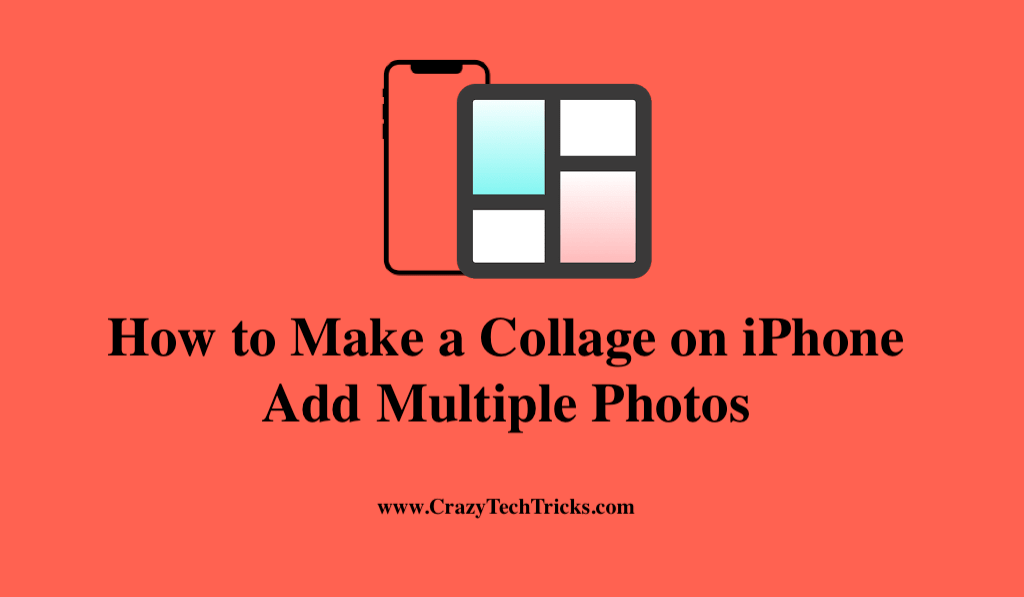 Presenting two or more photographs within one image layout is all about a college. An excellent method to present your iPhone images is to create photo collages from them. Imagine the following scenario: you have recently purchased a new outfit and have many excellent photographs that you would like to share. As a result, the photo collage makes it feasible to achieve this.
Although the iPhone does not come with a built-in function that allows you to build a photo collage, there are a few apps that you will need to install in order to accomplish this.
Read more: How to Post Multiple Pictures on Instagram Story
How to Make a Collage on iPhone
You can use the following applications to make a collage on iPhone in order to achieve your vision:
Pic stitch
Instagram
Google photos
Now, let's learn about these apps in more detail, how to make a collage on iPhone.
Read more: How to Get Instagram Videos on iPhone
1. Pic stitch
Pic Stitch is a free and straightforward photo editor that frames your images in a beautiful frame of your choosing.
Pic Stitch is available for download from the App Store and may be installed on an iPhone or iPad.
Apart from the usual layouts, you can select from a variety of alternative options. Your finished design will be displayed in the collage.
By tapping the center of the frame at the bottom of the screen, you can access your image collection. You can then select your photographs.
Each image should be dragged to its chosen location inside the collage.
You'll be able to edit the image by adding filters and/or text.
By tapping Done, you'll add your photo to the collage.
Each photo within the frame can be repositioned by tapping it.
You can change the screen resolution by selecting Aspect.
When finished, hit Export to save the image to your Photos App.
Read more: How to Find and Remove your Personal Photos from Google
2. Instagram
In most cases, taking two photos is preferable to taking one. Learn how to create an Instagram collage that highlights the finest of your company.
The Instagram layout software may be downloaded from the app store and launched.
Your images will be shown on the screen. You can select the photos you want to include in your collage by touching on them.
Choose from a selection of collage options at the screen's upper right corner above your photos.
On the following page, you'll be presented with the option to edit or border specific images. It's possible to do a complete reversal of fortune. Zoom in on an image by Tap and dragging.
Once you're happy with the results, Tap Save.
You can save your shot to your Camera Roll by Tap on one of the icons at the bottom of the screen.
When you're finished, Tap Done to close the window.
Read more: How to Flip Image in Google Docs
3. Google Photos
Photo sharing and storing service Google Photos was created by Google and is available for free. It also offers a variety of original collage layouts. Additionally, Making a collage on iPhone using google photos is quite simple and easy.
The Library option is located at the bottom of the Google Photos site.
Go to Utilities, then Create New, and then pick Collage.
Selecting images for your collage is as simple as clicking on the "Select 2–9 photos" button.
Decide the pictures you want to include in your collage. Each image you select will be marked with a tick.
Now select the choice to create.
You will receive an automated collage. Once you've snapped the picture, tap the upload symbol on your iPhone to share it.
Read more: How to Flip Selfies on iPhone
Conclusion
While utilizing these programs, it's important to remember that a photo collage is more than just a collection of random photos arranged together. Instead, the images should aid in telling a story or demonstrating a particular concept.
While the three picture collage applications mentioned above are excellent possibilities, there are several others available that you can experiment with if you so like. At this point, I'd want to wrap up my blog by expressing my hope that you found it useful. Also, if you have any queries or views related to this, do let us know in the comment section below.
Was this article helpful?