You can factory reset Oculus Quest 2 by following these two methods. You can completely wipe all the data and bring it back to the version.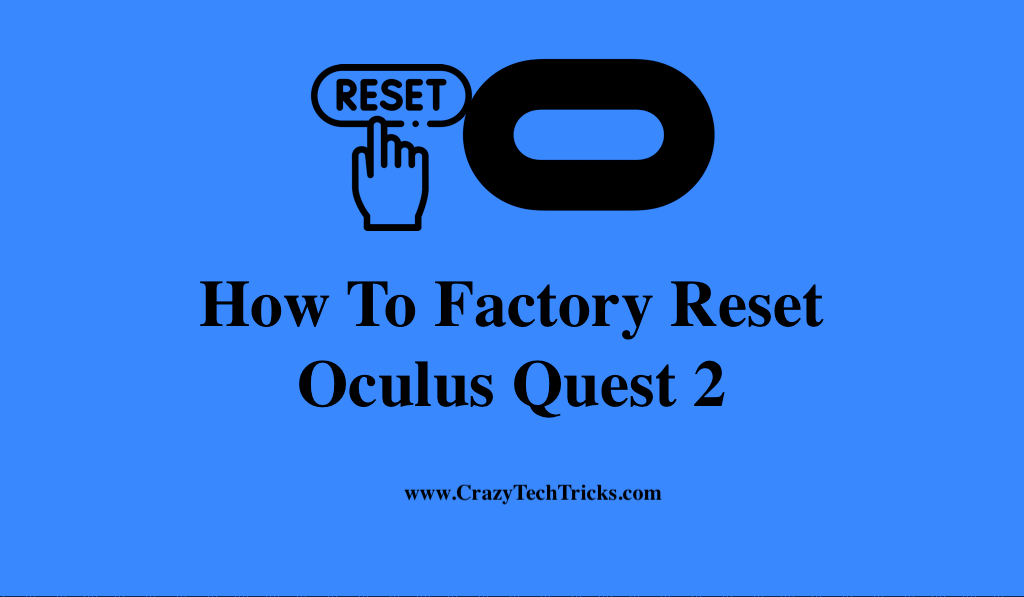 The Oculus Quest 2 is a well-built virtual reality headset with many engaging experiences. How did you feel when you first received your Oculus Quest headset? There were no stutters, pauses, or crashes. However, your headset may develop problems after a while. You may encounter any stutters or glitches while using your Oculus. So, in such a scenario, If you're planning to sell your Quest, or if it's not functioning correctly, you might want to consider doing a factory reset first.
Read more: How to Cast the Oculus Quest 2 to a TV
How To Factory Reset Oculus Quest 2
A factory reset is performed on the Oculus Quest 2 to restore it to its factory state to resolve the aforementioned issue. Nevertheless, this action will wipe all data from the headset, including your saved files and the apps you've installed and any data on the headset. Moreover, this method is considered to be the most convenient method to reset a Quest headset, but it may not work if your headset is having trouble. Additionally, there are 2 methods to factory reset oculus quest 2. These are:
Headset
App
Read more: Best Chromecast Audio Alternatives
Method 1. Using Headset
Make sure your Oculus Quest 2 is turned off before you begin. Also, check to see if your Quest is fully charged or not. While your Quest is off, hold your power and volume down buttons together until you see the boot-up screen by holding them both simultaneously. Now, follow these steps mentioned below to factory reset oculus quest 2 using Headset:
To reset your phone to its factory settings, hold down the power key while selecting "Factory Reset" from the menu.
To confirm your choice, touch the power key a second time to confirm "Yes"
After the headset is reset, it will take a few moments for it to work again. When it does, you'll be able to re-establish your connection by using the Oculus app.
Read more: How to Listen to Podcasts on Android
Method 2. Using App
To carry out a factory reset, you must have the Oculus mobile app installed on your iPhone or Android phone, be logged in, and have your Quest 2 registered within it. Likewise, it is viewed as the most convenient method to reset a Quest headset. However, if you are experiencing problems with your headset, this method may not be effective. Ensure that your Quest is fully charged before launching the Oculus app on your smartphone. Now, follow these below steps to factory reset oculus quest 2 using the app:
Start with clicking on the "Menu" icon.
To locate your headset, select "Devices" from the menu bar. If you have merely the Quest 2 coupled, you will quickly notice it.
Select "Advanced Settings" from the drop-down menu that appears after selecting the headset you wish to reset.
Now select "Factory Reset" from the drop-down menu and then "Reset."
The last step is to wait for your headset to reset itself to its default settings.
Read more: How to Start Listening to Podcasts
Conclusion
Your Quest 2 will be restored to its original state upon completing a factory reset. The entire contents of your account, including your game saves, screenshots, video clips, and account information, will be deleted as mentioned above. You can also connect the Quest 2 to a computer with a USB-C cable if you do not have time to transfer photos from your device to your computer.
When you plug in the headset, the computer will ask for your permission to access your data. Upon acceptance, in File Explorer, the Quest 2 will show as a drive, from which you may make backups of your data. However, with this, I conclude my blog on how to factory reset oculus quest 2.
Was this article helpful?