You can delete a Google Review from search by following this method. I will share the Google guideline to report and get rid of a fake review. You can delete 1 star or any star review.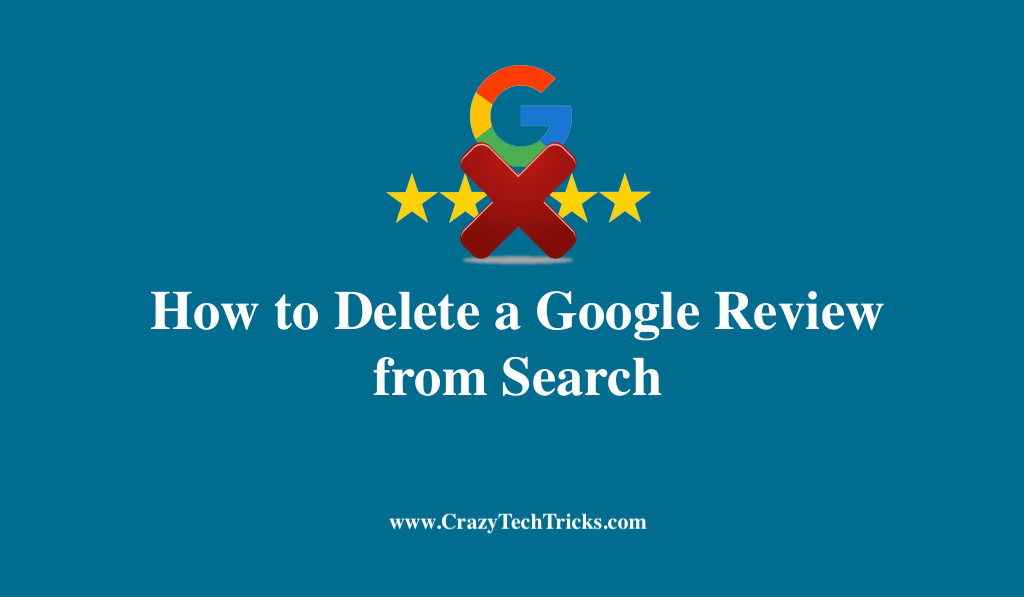 Writing reviews, it appears, is a part of our collective psyche and sensibilities. When you have a strong response to something and want to share it with others, you post a review on Google. Customer reviews are an important part of a potential customer's decision-making process.  However, even skilled SEO can only get you so far when it comes to using Google as a search engine.
Read more: How to Delete a PayPal Account
Negative reviews, regardless of their age or unfairness, still have an impact on your business bottom line. In addition to losing customers to competitors, your company can lose customers after receiving one bad review. Negative customer evaluations can impact your company's reputation if you don't monitor and respond to them.
Is there a way to Delete a Google Review from Search?
Obviously, the answer is "yes." You can erase any review you've ever made on Google if you so choose. Getting rid of a Google review that you wrote is very easy. You just need to know where to begin. In the case of a false or spammy review posted by a client, you can report it to Google for removal. A negative (but accurate) review, on the other hand, is not liable to removal in accordance with Google's policy.
Read more: How to Delete Temporary Internet files on Windows 10
How to Delete a Google Review from Search
If you wish to delete a Google review from Search, you must log in to your Google account from a desktop computer. To delete a Google review from search results, follow the steps detailed below.
Visit maps.google.com for more information.
Select "Menu" from the drop-down list.
Tap "Your Contributions," and then visit "Reviews", click that.
You can Delete a Google Review from Search by selecting the three dots next to it and then selecting "Delete Review."
Read more: How to Delete Google Assistant Recordings
To Delete a Google Review from Search which is Offensive
There are people who do crazy things that make them happy. Usually, the same people are behind bad Google reviews that aren't true or don't make sense. There are several types of content that are not permitted on Google reviews:
Trash and bogus information
Confidential information
Unlawful content
Beyond topic
Contains terrorism propaganda
Sexually inappropriate content
Inflammatory content
Read more: How to Delete Telegram Account
Delete an Offensive Review from Google
There are unfortunately many businesses that have received false reviews on Google. If a review is untrue or otherwise violates Google's review policy, you can report it as improper. Google safeguards its website by detecting spammy and bogus reviews, but you can also opt to Delete a Google Review from Search if you feel it is not relevant, helpful, or real.
Following these three steps, you can flag the Google review and ask that it be taken down from the site:
Go to your Google My Business account and sign in.
Browse to "Customers."
Select "Reviews."
Take a look at the foulest review and tap the three dots next to it.
Select "Flag review."
Press and hold the Flag as an Inappropriate button.
Read more: How to Delete a Comment on Instagram Post
Conclusion
Google doesn't allow inappropriate kinds of things to be put on its Google Reviews, Google Photos, or Google Videos pages. If someone has criticized your business for any of these reasons, you can ask Google to remove the review from their search results. Take a moment to consider the perspective of the customer before you respond to their negative review on Google Reviews.
After the case is evaluated and a genuine and appropriate review has been determined, the next step is to respond directly to the customer's review on Google. A bad review shouldn't matter much if you have more positive reviews than negative reviews coming into your customer review management pipeline.
Was this article helpful?