I will share a methods to delete a PayPal account permanently. Users can delete their Individual or Business Paypal account. You can delete you account online on PC/Laptops or even use this methods on your Android or iPhone.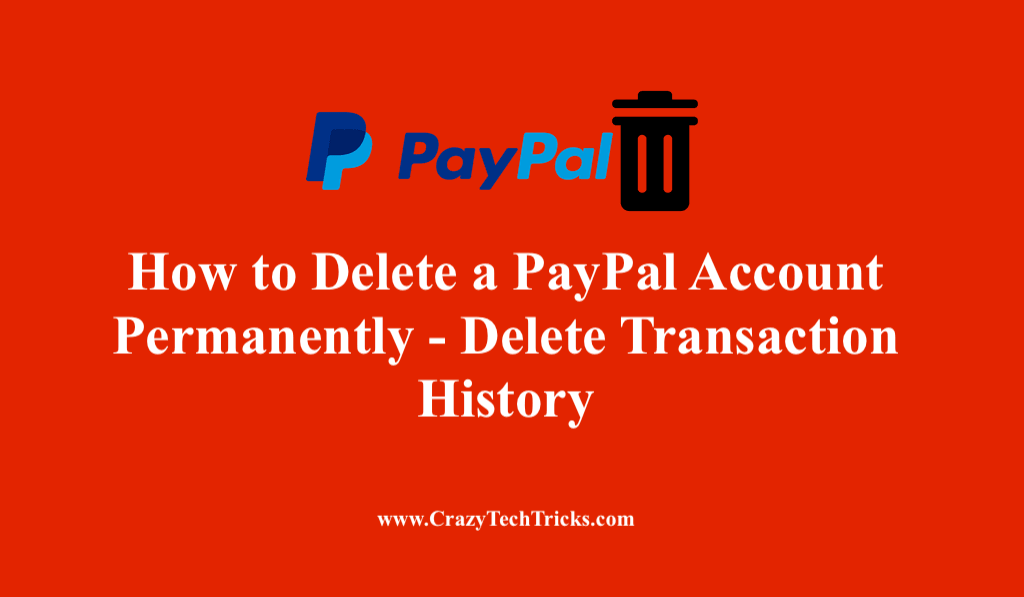 With the advent of technology, everything is done online. We prefer an online mode of shopping, an online mode of learning, and not forgetting the online mode of transaction. We use different applications to receive and send money using the internet. One of the ways of transactions is PayPal. PayPal is an application where you can send and receive money or even you can set up a merchant account.
Read more: How to Spy on Girlfriend's Phone Text Messages
Why People Delete their PayPal Account?
You may want to have another account with another email associated with it. Maybe you own a business and your business is running down or maybe you are switching to another bank and use that bank for your online transactions or maybe you found a better option.
Read more: How to Set Up Donations on Twitch using PayPal
Note: Before deleting users have to keep in mind that to verify your account and transfer all the remaining funds to the bank account before closing the PayPal account. Also, the account cannot be closed if it has pending transactions or unresolved issues. If you decided to delete a PayPal account. Here is a step-by-step guide to delete your account.
How to Delete a PayPal Account
Users can delete both types of their PayPal account. I have shared different methods for both Individual and Business Paypal. Your account will be deleted the moment you follow the method.
Delete your Individual PayPal account
Delete your Business PayPal account
How to Delete your Individual PayPal account
Individual account is a personal account from where you can make payments to almost anyone with an email address. You can make and receive payments with no fees or relatively low fees.
Open the website PayPal Link on your Internet browser.
Login to PayPal account by entering your Email and Password.
Click on settings.
You will find the settings icon on the upper right corner of the window.
Click on the Account.
It runs horizontally on the top of your screen.
Under accounts > Click > 'Close your Account' option.
You will be asked to enter a bank account.
If you have one associated with it then write. If not then you can skip this step.
Click on the Close your Account Option.
Your account will be closed and you will get an email reconfirmation for the same.
Note: Once the account is closed it cannot be reopened.
Read more: Transfer money from PayPal to Bank
How to Delete your Business PayPal account
Business accounts are used by merchants who operate under a company name or a group. It has a feature of allowing 200 employees limited access to your account and customer service for customer issues to be routed faster.
Open PayPal Link site on your PC.
Now login to your PayPal.
Click on the "Profile Button" next to log out.
Now Click on Profile > Go to> Settings.
Click on Account Settings.
Click on the close your account button next to account settings.
You will get an Email. Once you confirm it, your PayPal account would be deleted.
Read more: How to Disable Steam Popup Ads
Conclusion
Deleting your PayPal account is easy. But sometimes even after performing all the steps if you get a problem deleting a PayPal account, then there may be either unresolved issues, network issues, or pending transactions. Make sure your transactions are clear and you have a good network as well.
Was this article helpful?