You can Fix Chrome.exe Volume Popup error by following these three methods. These methods will completely fix the error and you can watch any video or any audio file on your PC/laptop. You will be able to increase or decrease the volume.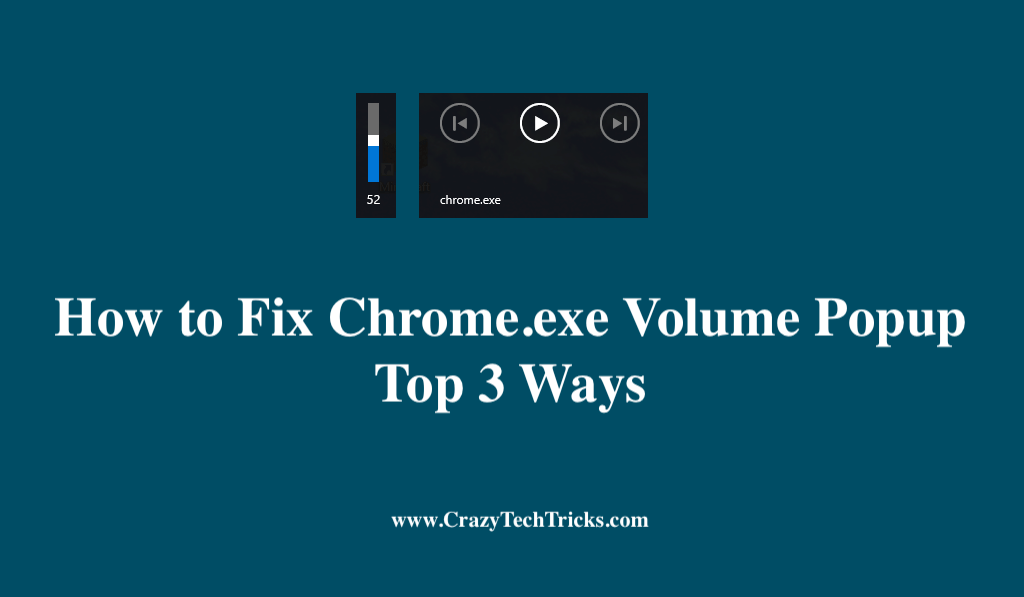 Google Chrome's Chrome.exe Volume popup is one of the most serious issues that might occur on your PC/Laptop. Imagine that you came across an interesting video while searching about something on Chrome. You clicked on it to play, but after playing for 1 min, it suddenly started showing Chrome.exe Volume Popup.
Read more: How to Enable Google Chrome Dark Theme
If this occurs to you, you're probably going to panic out and think that someone is trying to hack into your PC or a virus has corrupted your device. Also, you will try searching for the videos or posts to fix this issue. If it is that so then you have come to the right place.
How to Fix Chrome.exe Volume Popup
There are a number of different approaches one can take in order to resolve the chrome.exe volume popup. However, the very first thing that you can do to solve it is to disable it in Google Chrome, which is one of the possible remedies. To disable it you will have to follow these steps:
Start your PC or Laptop and open the Chrome browser.
Enter the following URL in the address bar. chrome://flags/#hardware-media-key-handling
Press Enter.
Now, switch the 'Hardware Media Key Handling' flag settings from 'Default' to 'Disabled.
Choose the Re-launch icon.
Read more: How to Fix Your Connection is Not Private Error
If you follow the above process, it will fix your chrome.exe volume popup that is appearing on your screen while playing any audio or video. But if you still find the Chrome.exe Volume popup error on your screen. Then we have different methods to fix this issue. These are:
Perform a Virus Scan.

Remove the Extension.

Reset Chrome Settings.
Method 1. Perform a Virus Scan
By performing this method you can scan if there is not any virus on your PC or laptop or not. You will be able to see all of the threats that you have been receiving for a significant amount of time and also have the option to eliminate them. Well, to perform this function, you will have to follow the given procedure.
Go to the Start icon on your PC or Laptop.
Click on All program and locate a setting option or simply type setting on the search bar option available there.
Now, to open Windows Security, navigate to the Privacy & Security menu, then choose Windows Security.
Go to Virus & Threat protection.
Click on the open app.
Select Run a scan in the new window.
Read more: How to Fix Facebook Not Loading on Chrome
Method 2. Remove the Extension
There is a possibility that unknown hackers have created some extensions to misuse your data and any confidential material that they can use unlawfully. So, if you have enabled various extensions on your Chrome browser, then I will suggest you should disable them.
Follow this given procedure to disable it:
Open your Chrome browser. 
Select the three-dot located on the right-hand top corner of the window.
Select More tools.
Choose extensions.
Click on the Remove icon to remove the extension.
Once you are done with this process, the issue of the chrome.exe volume popup will be solved.
Read more: How to Fix Chrome PDF Viewer Not Working
Method 3. Reset Chrome Settings
If you don't like the lengthy procedure and the one who always prefers shortcuts, then, this method is for you. All you need to do is to reset your Chrome setting when you face this volume popup issue. Moreover, if none of the other methods work, then this method will be the only one.
Open Chrome > settings.
Click on Reset & Clean up.
Click on Restore settings to their original defaults.
Now, click on the Reset setting option which will appear in the dialogue box. When you click that, it's done and your issue will be resolved.
Read more: What is Error 651
Conclusion
Therefore, these are the top three methods that have been tested and proven to be dependable, and you can trust them and utilize them. In addition to that, if you still facing problems then one more thing that you can do is clear the caches of your device.
Was this article helpful?