You can remove book from Kindle and free up space. I have shared different methods for both Android, iPhone, and Amazon to delete any unwanted and hidden books from your Kindle.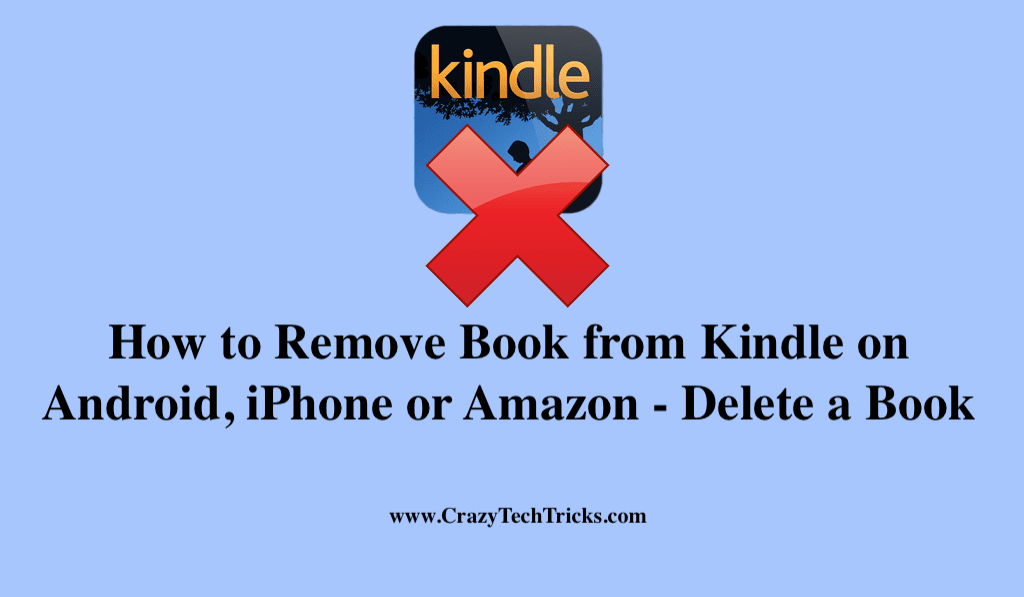 Because you are familiar with how the Kindle works, you already know that it is an ebook reader that can be used to read books, samples of questions and answers, comics, and so forth. If you keep downloading brand new books over and over again, but your Kindle does not delete the old ones. At one point your Kindle will run out of storage.
When faced with such a scenario, you will be required to remove book from Kindle. Moreover, there is virtually no difference between the Kindle desktop app and the mobile app when it comes to deleting a book. In the desktop app, you can right-click a book cover to see its details.
Read more: How to Transfer ePub to Kindle
How to Remove Book from Kindle – Delete a Book
When you download the book from Kindle multiple times and then fail to delete it after reading it, you will end up with a lot of unnecessary content on your Kindle. It becomes compulsory sometimes to do so. So, for this, there are two different methods that you need to take.
Kindle app
Amazon
Read more: How to Factory Reset Kindle Fire Tablet\
Method 1. Kindle App
This method is very simple and direct for removing read books from a Kindle. When you will remove book from Kindle using this method it will be sent to your archives, from which you can re-download it until you have removed it permanently.
Open the Kindle application on your smartphone or tablet or Laptop.
Choose "Library."
Press and hold the book to remove book from Kindle you wish to delete. There are two ways to delete books from your Kindle.
The "Remove Download" option is good if you just want to free up space on your device without deleting the book. By doing so, the book will be removed from your device but will be accessible again in the future.
Select "Permanently Delete" to permanently delete a book from your account and your devices.
Note: When you permanently delete a book from Kindle, you need to buy it again. In order to read it again.
Read more: How to Install Google Play on Kindle Fire
Method 2. Amazon
Other than downloading books on Kindle, you can also borrow a book from the lending library. As soon as the Kindle Book loan term expires, it will automatically be returned to your personal library. The issue, however, occurs when expired Kindle Books still show up on the Kindle device but you cant access them. Now, in order for you to resolve this problem follow the steps given below:
Log in to your amazon account.
Select "Accounts & Lists" from the drop-down menu.
Choose "Account" from the drop-down list.
Choose "Your devices and content".
Now, Choose the "Kindle Content" option.
On your screen, select "Quick Solutions" on the left side.
Select "Devices & Content". In this section, you can see everything you've downloaded to your Kindle, including any library books you've borrowed.
Click the "Delete" button if a book's checkout period has already ended.
Moreover, there is no way to restore the book(s) to your Kindle device or reading app after this process is completed.
Read more: Kindle Fire vs iPad
How to Delete Archived Kindle Books
When you archive a book, it will no longer be available on your Kindle. Using this method, you will be able to re-read the book on your Kindle at any time from the Amazon site. Moreover, the Archived Items list on your Amazon Kindle reading device allows you to re-download an ebook or article after you have deleted it from the device itself.
Go to the Amazon.com Kindle page on your web browser.
Simply select "Actions" from the drop-down menu.
Simply select the "Delete from library" link to proceed.
Simply select "Yes" to delete the item.
Start your Kindle again to synchronize it with your library, and then remove the item from the list of Archived Items.
Read more: How to Read Deleted Reddit Posts
Conclusion
If you want to delete books from your Kindle but you can't seem to do it, restart your device by pressing and holding the Power button for 40 seconds. Once you've done, You can easily remove the books that are causing problems from your Amazon account using the above method, and sync your device with your Kindle account. If the problems continue then try a factory reset on the Kindle.
Was this article helpful?