Hello friends, Today I will share 4 methods on how to fix Facebook not loading on chrome. Users can open Facebook on chrome without any network error. This method will work on all other browsers. You will be able to fix Facebook is not opening in any browser.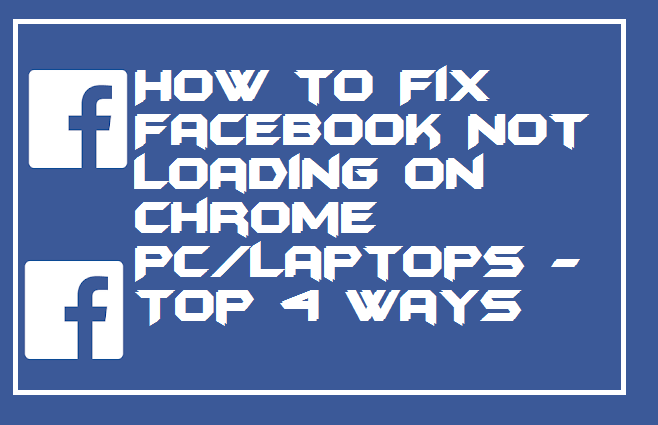 Google Chrome is a fully equipped web browser that has tons of amazing features which we can't find on other web browsers. Today, the majority of the peoples are using the Google Chrome web browser on their PC/laptops. We use Google Chrome to open our social media account. But, sometimes users face the issue of Facebook is not loading on Chrome? If yes, then I would like to tell you that after reading this article I am probably sure that you can fix it very easily.
How to Fix Facebook Not Loading on Chrome PC/Laptops – Top 4 Ways
There are various methods to fix the issue that is Facebook not loading on Chrome. But, I have listed some top methods which will help you in fixing this issue from the chrome web browser. Such that you can use Facebook on chrome on your PC/laptop as you do so in past days. But before proceeding makes sure you have a working internet connection. If it is working, then you should move ahead to have a look at the methods which are listed in this part of the article.
Know more: How to Unsend a Message on Facebook Messenger
---
Method 1: Use HTTP instead of HTTPS
Sometimes it happens that Google Chrome not able to open HTTPS websites. So, changing the URL of the link from HTTPS to HTTP is the best way to solve this issue. You can try this method yourself. What you exactly have to do is that go to the search bar and type http://www.facebook.com instead of https://www.facebook.com. Maybe the chrome will now be able to load Facebook on your PC/laptop screen.
---
Method 2: Clearing the Cache
When a website is opened then a cache file is saved in the memory space. Every time the person visits the site the cache is loaded from memory. Sometimes, the processor does not refresh the cache file which leads to opening the old cache file. So, it is better that you should clear the cache data if you are facing Facebook not loading on Chrome issue.
Open the Google Chrome web browser on your PC/laptop.
From your keyboard hit Ctrl+Shift+Del.
Now, a new tab will be opened.
You have to click on the Clear Data button.
That's it. Restart chrome and try to open Facebook again.
Must do: How to Remove All Third-Party Apps From Facebook At Once
---
Method 3: Resetting the browser
Resetting the Google Chrome web browser means that the settings of the chrome will be revert back to the default settings. It will also delete each and everything related to the chrome web browser accepted your downloaded items. So, if you want to do so then for that, you have to follow up the given procedure.
Go to the Settings page on the Google Chrome web browser.
Now, scroll down and click on Advanced.
Then, scroll down at last and then click on Restore Settings option.
After that, click on the Reset Settings button.
That's it. This will reset chrome's settings to default settings.
Read more: How to Delete Facebook Account Permanently
---
Method 4: Facebook Sever is down
If somehow none of the method is found to be helpful for you, then it may be possible that the Facebook server has been slow down. Don't panic; sometimes it happens. You can try to re-open the Facebook website again after one to two hours later. If it still doesn't work, then you can check it out using the Facebook Lite app on your phone, and it will tell you that the server is fine or has been slow down.
---
Conclusion
This was all about how you can fix Facebook not loading on Chrome on your PC/laptop using four different ways. There are some more ways which can help you in fixing Facebook not loading on Chrome problem. But, these methods are straightforward and easy to follow; that is why I have shared it with you guys. Also, most of the users have reported that after following these methods they have now solved the Facebook not loading on Chrome problem. I hope you can also solve it using any of the methods which are listed here. If you know someone who needs to solve this issue, then you can share this article with that.
Was this article helpful?