You can quickly leave a group chat on iPhone 13, 12, or 11. I will also share a method to leave a Group Chat on iPhone where members use iOS and Android devices. You can leave any group chat added by your friend or any stranger.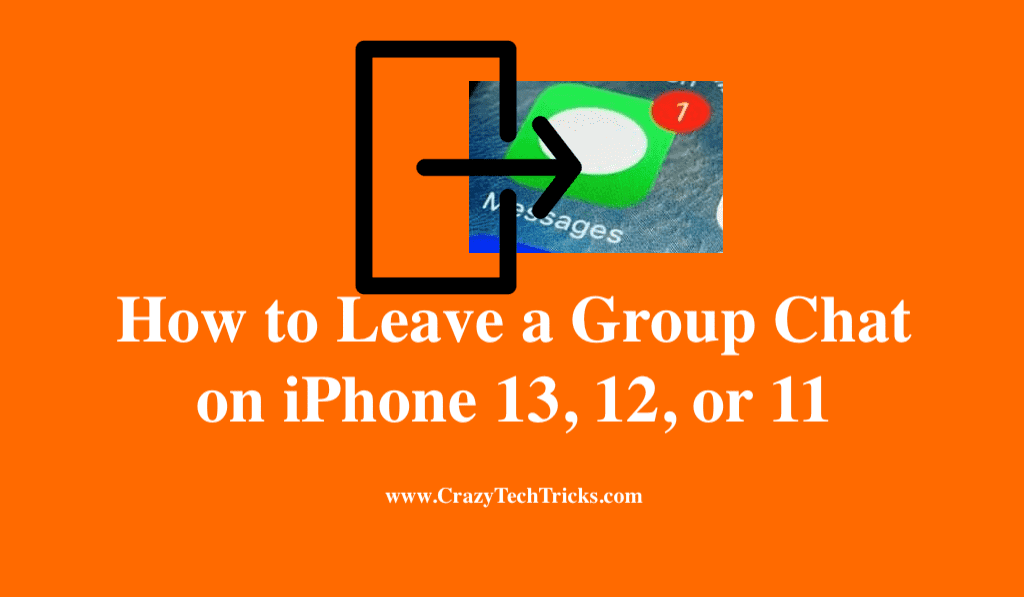 There is a time when you're annoyed by the number of messages that keep coming into your phone when using group text. Some of these messages are annoying since they have little to do with you. In that situation, exiting a group conversation on an iPhone is not as straightforward as it appears to be at first.
Read more: How to Use iMessage on PC
How to Leave a Group Chat on iPhone
iPhones and other Apple devices can send text messages over the internet with iMessage, which is the app used to send messages to other devices. However, it's almost certain, everyone in the group has an iOS device.
Seeing that the text message bubbles are blue indicates that iMessage is being used to communicate, and it can be determined from looking at them. Remember that a user can't exit a group that he or she has formed. Now, let us proceed with how to leave a group chat on iPhone 13, 12 or 11:
Open Messages on your iPhone and choose the group from which you wish to withdraw your participation in the discussion.
Click on the user profile icon at the very top of the dialogue box to access it now.
To leave a chat, tap the Leave This Chat button and then confirm that you want to leave by clicking Confirm.
Once you've tapped Done, you'll no longer be bothered by group communications.
It is vital that you recall that everyone who is part of the group will be notified that you have left. There need to be more than three iPhone users to leave an iOS group. While you leave, if there are no iPhone users left in the group, you'll need to add more iOS users to leave the group.
After that, your work is done.
Read more: How to Get iMessage on Mac
Leave a Group Chat on iPhone where iOS and Android Devices are Used by Member
The green colour of your group message alerts indicates that everyone in your group is using an Android-based smartphone or tablet. The Leave this conversation button could be grayed out and disabled to prevent users from leaving an ongoing conversation.
In this scenario, group SMS/MMS is a hack, not a feature, since the cell phone's carriers use the SMS/MMS protocol (outside Apple's control). This is the most sensible option when there's no other choice but to mute the group chat. These are:
Select "Mute Group" in Messages after opening the message which you want to do.
Simply tap on the I icon to see the group's information, then select Hide Alerts from the drop-down menu.
After completing this process, the text notifications and sounds will no longer bother you, but you will still see the number of unread messages on the Messages app.
Read more: How to Delete all iMessages on Mac
Conclusion
There is no way out of group chats while someone is messaging with their phone. In other words, if someone uses an Android phone instead of an Apple phone, they all need to use SMS group texting. In addition, SMS is a 30-year-old system that does not allow members to leave groups or be moderated.
The group, discussion thread list in Apple Messages, can also be muted by swiping left over it. To remove the crossed-out bell button from your screen, simply tap on it until the icon is no longer visible. Afterward, no more group chat notifications will be sent to you. However, the thread will still be in your messages list.
Was this article helpful?