Hey friends, I am sharing an article on How to make your own Valentine's day card online. All the website listed is free. It allows users to create free e-card online and send it to anyone. These sites are easy to access and have several templates which allow you to create unlimited free valentine's day card. You don't need to pay any amount to make Valentine's day greeting card.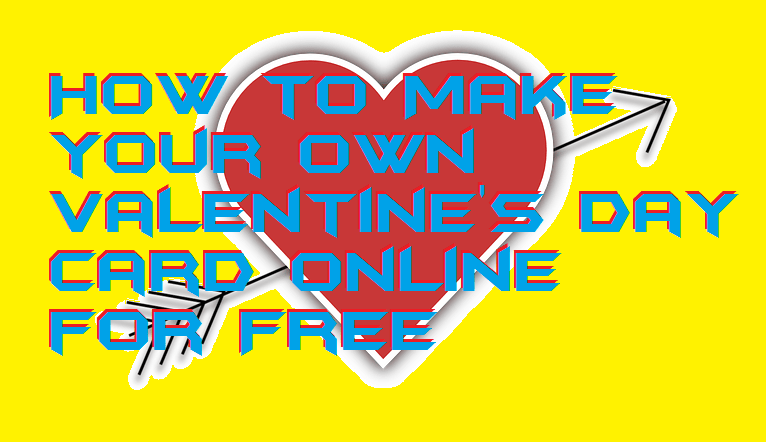 How to create a homemade valentine cards
Are you still looking to create homemade valentine cards? Then why don't you use the free website listed in this article to create Valentine's day card? All these websites are an excellent alternative to make your own Valentine's day card. As time has changed and these e-cards are easy to create, and you can send them instantly to anyone throughout the world. In this world of long-distance relationship, these e-cards are the best way to send valentine's day to anywhere. You can also check these free online Romance books.
Valentine's day a day for loved ones. We all know that this day is marked for lovers and they give gifts to their loved one. Or I should say boys are the only person who gives gifts to their loved one lol. Well, celebrating Valentine's day starts with a card. There are lots of shop nearby us where we buy cards for our loved ones and wish them Valentine's day. But in this world of Technology, I will share a method on how to create Valentine's Day Card for your loved one. You can also check whether your email is read or not, try these free email tracking tools
How to Make your own Valentine's Day Card Online for Free
There are many websites offering you the service to make your own Valentine's day card. But only a few sites are free. We will share a few websites from where you can create Valentine's day card for your loved one. Users can select the template and make their own Valentine' day card. These sites have several themes for a loving couple and especially for Valentine day. All you need to do is log in through social media account and create an account. In some websites, you won't even need to create an account. Users can create a poster for free and download them.
lucidpress
This website is completely free and allows you to create a valentine's day card. You can create an HD quality card for free. The website allows you to create three pages per document for free. However, I think they are more than enough. Because you need only one card lol. But if you want more than you need to pay the price. This website also doesn't have any watermark on free images. [LINK]
Smilebox
Its also great website to create e-card online. Users can create a free e-card this valentine. You can create as many free e-cards you want. There are several templates which makes your work quite easy. And all you need to do is select the template to write the name/description and send it as an e-greeting card. [LINK]
Last Words on
 How to make your own Happy Valentine's day card
So did you made any Valentine's day e-card using these websites? I will suggest you not to look alternative for these sites. Because all other sites are time-consuming and they also charge money. And it's not good to spend money when you can get more features for free from other sites. Don't forget to share this article and help your friends in creating a free Valentine's day card.
Trending: How to Keep WhatsApp Online All the Time on Android or iPhone without turning Screen On
Was this article helpful?