Hello friends, Today I will share 10 best free Email tracking tool for Gmail, Bing, and Yahoo. You can use these Email tracking software to trace any email. These Email tracking tool will tell you, whether your email read or not. You can also track their location and other data to make your marketing strategy better. You will get all information about your Email.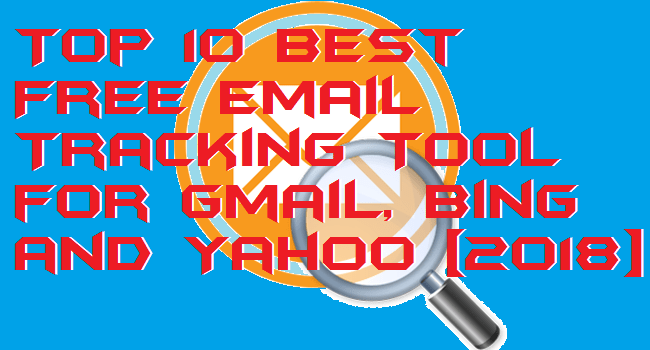 Why do you need Email Tracker tool?
In today's world, everything moves at Godspeed. And in this world, one can't wait forever to reply or get a reply to some urgent emails. Hence, there is email tracking tool. Email tracking lets you track and get an idea of the success of your email pitches and marketing campaigns. They are also handy for businesspersons as emails are also used by them to send invoices, invitations, contacts and much more. Tracking of emails for market campaigns and pitches can help you strategize your campaigns in a better way too. I will share Free Email Tracking Tool in this article with their complete method and strategy.
How does Email Tracking Work?
Paid or free, all kinds of Email trackers work similarly. Most of them will implant small & invisible images containing pixels in emails you will be sending. And once it loads, it sends the information back to the database which means, to you. The software's have its limitations and won't work if the user you sent your mail to is using an ad blocker. The image may not load as many users don't keep image loading to default and choose to not click on the image to view it further.
The Email trackers are not yet designed to cope up with these security systems and so will be ineffective against them entirely. But overall, they are pretty handy to track the success and reach of your emails. So here, I will list out the names of some email trackers with a reputation in the market. You can try any of them to track your emails.
Top 10 Best Free Email Tracking Tool
It is a complete detailed list of free email tracking tool. You can use these email tracking software for Gmail, Bing, and Yahoo. Use these Email tracking tool to know whether your email is read or not. All these free email tracking tools have a minimum of 14 days free trial. Some Email tracking tool allows users to use them for free till an absolute limit.
Yesware
DidTheyReadIt
ToutApp
Mailtrack for Gmail
Newtonhq Supercharged Emailing
Bananatag Email Tracking
Streak
GetNotify
Cirrus Insight
Contact Monkey
These are the top 10 bets Free Email Tracking Tool. I will share a complete detail about each of them.
---
Yesware Email Tracking
Yesware is a popular Email tracker out there and is amongst the personal favorite of many experts. The thing which makes it so accessible is its features. It is much user-friendly and works after just downloading its extension and attaching it to your email. Yesware Email Tracking gives you the option to whether track or not track an email you are sending. It let you track only essential emails you want to track.
Read more: How to Schedule Gmail to Send Later
Yesware lets you know about the person who opened your emails, the links they clicked on, the attachments downloaded by them along with just letting you know someone opened your email. These features are beneficial if you want to strategize your marketing. It also allows you to schedule your emails along with providing many other features. Yesware is free for 28 days as a trial.
---
DidTheyReadIt
If you want to track 10 or emails a month, DidTheyReadIt is free for you completely. You can also get a PDF tracker for some extra charges with DidTheyReadIt. This tool also requires you to manually add an extension as ".didtheyreadit.com" to the mail address just like GetNotify. You can extend the email of tracking to unlimited by upgrading the subscription.
Read more: Top 10 Best Free Boomerang Alternatives – Email Productivity Tools
---
ToutApp
ToutApp is another good Email tracker targeted to sales and salespersons. It will let you know about who opened your emails in real-time along with other information such as what was clicked upon, what was opened and what worked with the user. ToutApp also shows if any mail hasn't been delivered due to being sent to spam box of the user. It is a great tool to monitor your sales performance. It analyzes all of your emails, calendar events, client calls and CRM data to recommend corrections and generate highly efficient reports. ToutApp is available in Chrome and Microsoft Outlook for 14-days free trial.
Read more: Top 10 Best Free Windows Magnifier Alternatives – Check Now
---
Mailtrack for Gmail
Mailtrack is a straightforward and necessary Email tracking software. You can use Mailtrack if you are only interested in knowing when your emails are being opened and read. If grand schemes and big picture don't concern you, this is the perfect app for you. The free version allows unlimited tracking of opened emails to its users. It also attaches a "Mailtrack" signature to all of your mails which you can get rid of by upgrading the membership. Although not supporting real-time tracking, it lets you know your mail was opened pretty quickly. You can acquire real-time notifications and some other features by upgrading your membership.
Read more: Top 10 Best Free Alternatives to Paint on Windows PC/Laptop – Microsoft Paint Alternatives
---
Newtonhq Supercharged Emailing
If you are a fan of features, Newton Mail is the best tracking software. It provides you with reading receipts and even profile of the mail sender along with tons of other features. Newton Mail lets you schedule and Email and also un-send a sent mail within a short time frame of its sending. One of its drawbacks is that it enables the user to know that their activity is being tracked by attaching its signature to the mail as "via Newton Mail." Newton Mail is available for Windows, Android, and iOS. You can use its 14-days free trial or upgrade by paying the fee.
Read more: Top 10 Best Android P Features You Must Know – Latest Android Version
---
Bananatag Email Tracking
Bananatag is the perfect Email tracker for you if you want to focus on sales and communicate with your internal team members at the same time. It can be used on its dashboard or its extension. Bananatag provides you with analytics of the activity in your sent emails along with tracking opening of emails and attachments. It is available for Outlook, Gmail, Mac Mail, and any iOS or Android device. Bananatag is entirely free if you want to track 5 or less Email per day. If you're going to track more than you will be monthly or annually.
---
Streak Email Tracking
Streak advertises itself as a provider of CRM directly to your Gmail account and boy, does it deliver. The Streak Plugin for Gmail is exceptional and provides all info about your mail activity right in your Gmail inbox. Streak lets you schedule your emails in addition to email tracking and shows you a visual history of the mails. It makes your job ridiculously straightforward by offering you many filters along with one named "awaiting replies." That's rare! Very rare! The streak is the best free email tracker on this list and is a wizard for your Gmail. It works on all kinds of Google apps and services.
Read more: How to Automatically Forward Gmail to another Email – Enable Gmail Forwarding
---
Get

Notify Email Tracking
GetNotify is another free email tracking software. But it asks for a donation from the users to unlock its specific features for a limited number of times. It is a simple tool with some great features though. It tells you about the amount of time your mail was opened, the date and time it was opened (even reopened) along with the location it was opened. One of the coolest features of GetNotify is that it allows you to use your custom image for tracking the emails. The only catch with GetNotify is that you have to manually add ".getnotify.com" at the end of every mail address to track it down. For example, [email protected] becomes [email protected] with GetNotify.
---
Cirrus Insight
Cirrus Insight is marvelous free/paid tracking software for Emails. It is particularly beneficial for medium and small businesses with a full calendar. It lets you sync your email with your calendar and salesforce to schedule meetings and follow-ups automatically. Cirrus Insight gives you an open Email alert almost immediately and allows you to track replies too. You can track all the activities related to the sent mail with Cirrus Insight. It is available on many platforms.You can use its 14-days free trial. Which you extend by monthly or annual subscriptions.
---
Contact

Monkey
Contact Monkey is another popular and excellent email tracker dedicated to salespersons. It can be integrated with CRMs such as Salesforce for sales potential optimization. It works in real time allowing you to track and monitor your emails real time only. Contact Monkey also tells you when, where and from what device your mail was opened. Contact Monkey provides you with features to optimize your sales by prioritizing users who are continually opening and acting on your letters. The analytics offered by Contact Monkey gives you the big picture of what's wrong and what's right with your marketing strategy. You can use Contact Money 14 days free trial.
Read more: How to Send Emails to Gmail "Primary" tab in place of "Promotion" or "Social" – Easy Method
---
Conclusion
These are the 10 tools you can use if you want to track your Emails. Remember though that all these tools will be able to send, read and delete your mail which is a terrifying ability. But, these tools need these abilities as they are basically sending your mails themselves and so must be able to read them.
There are many other Email tracking tools available in the market. But these 10 mentioned here are the best of the lot. You can share your best free email tracking tool with us in a comment section below. Don't forget to share this article with your friends and help them use these free email tracking tool.
Was this article helpful?