Yes, it's possible to use Whatsapp without a mobile number. We are going to disclose a trick which will help you in using Whatsapp, Line, telegram, Wechat, Hike etc. In short all applications which require your mobile number verification.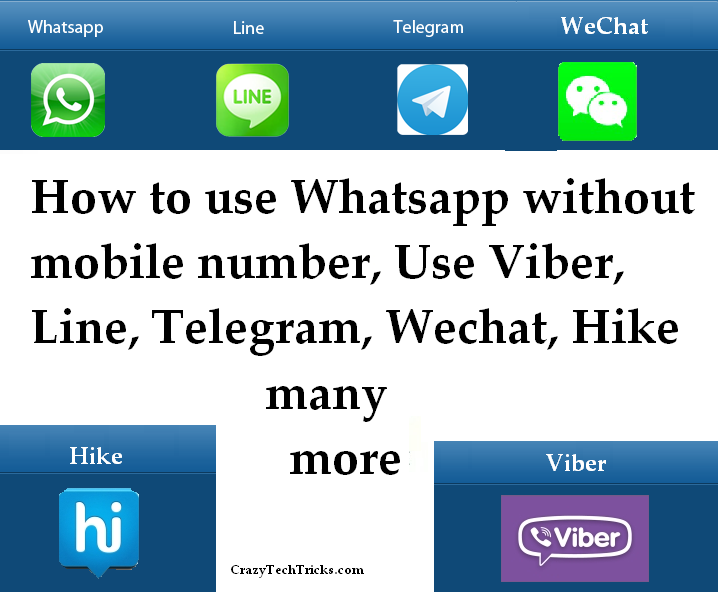 Users are looking for safe browsing these days. None wants to share their details. There are several applications which don't even open till your verify your mobile number, email etc.

Read more: How to use two whatsapp accounts in one Mobile phone
How to use Whatsapp without mobile number
Several applications require mobile number verification to confirm your number. Its okay you can confirm. But, the lousy thing they show your mobile number to every user. Don't worry read the trick below and use whatsapp without mobile number verification.
Save all your Whatsapp, Wechat, Hike data on your smartphone. 

Take your phone to FlightMode. 

Connect your phone to WiFi. Yes, its possible you can use WiFI in FlightMode.

Visit Google play store and download Whatsapp on your phone.

While installing Whatsapp, it will ask for mobile number verification.

Select the method Verify the message.

Now, enter all your email address and verify.

After it starts the process, immediately cancel it. 

Install the application, Spoof Text Message from the Android market. 

For iPhone users, install Fake-A-Message.

Click on Outbox and send information to Spoof Text Message. 

Enter the detail +447900347295 From Mobile Number, Country Code and Message: Your Email ID.

All your detail will be sent to another number for verification of Whatsapp.

Now, use Whatsapp without a mobile number.
You can use this same trick for Line, Telegram, Wechat, Hike and all applications which require mobile number verification.
Know more: How to Download Whatsapp on pc
Conclusion
Hope you enjoyed this trick. Now, you can use WhatsApp without a mobile number. If you any query regarding this article. Then, comment below. We love to hear from you.
Was this article helpful?