Hello friends, I will explain How to Put iPhone into DFU mode. If you are an iPhone user, you might have heard of DFU mode in iPhone. If you have not heard of it. Then do not worry, we will explain it step by step. I will explain what is DFU mode in iPhone. What it does to the phone and how to put iPhone into DFU mode.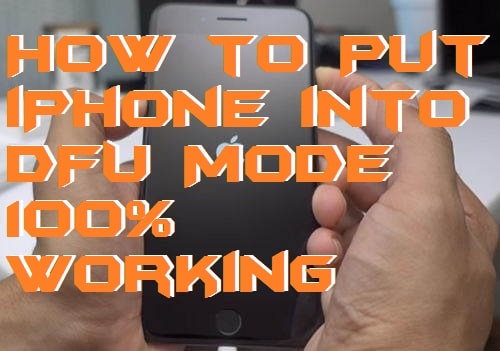 What is DFU Mode
If you are not familiar with the DFU mode, then do not worry. I am about to explain What is DFU mode. DFU stands for Device firmware upgrade (DFU). It allows the iOs device to go into such a state that you can restore it from any point. Putting iPhone into DFU mode is also essential when you are about to upgrade your firmware. Suppose you have downloaded an update or any version of iOS, manually. Now to install it your device must be in DFU(firmware upgrade) mode. So that in case of upgrade failure you can restore your iPhone from a certain restore point.
Read more: How to Calibrate iPhone Brightness, Sensors & Battery
What does DFU Mode do
So, what does DFU mode do? Here is the answer, your phone or any other Apple devices goes into DFU mode. The in-built manager saves all the current states of your phone. For example settings, system files, the iOS version in a table which will be fetched from the storage in case of any failures. Therefore you will not have to be worried regarding any issue. iPhone always got your back. However, this does not happen in most cases. But still it does, Apple has you recovered. Because it is burned onto the hardware it cannot be removed. So, feel free to put your iPhone into DFU mode. Let me explain how can you iPhone into DFU mode.
Read more: How to Delete Songs from iTunes on iPhone or Mac
How to Put iPhone into DFU Mode – Enable DFU MODE
So, let's get to the point and do some work. Let your iPhone do some incredible stuff by updating it to the newest firmware. Here are the steps to put your iPhone into DFU mode
Install iTunes on your PC( if you have not installed).
Open iTunes and connect your iPhone to the PC.
Now press and hold the home button and lock screen button at same time.
After 10 seconds leave the lock button. Do not release the home button, hold it.
Now iTunes will pop up a message displaying a warning about your phone being in recovery mode. Now you can release the home button.
After some time your screen will be gone black. But iTunes will still detect the iPhone.
If iPhone is not showing any logo(nothing else) your phone is in DFU mode. Unless it is in standard recovery mode. Follow the same procedure to get your iPhone into DFU mode.
When you complete all these steps. You can install any firmware( any version of iOS) on your iPhone.
Read more: How to Backup Contacts to Google Drive on Android or iPhone
Exit iPhone DFU Mode
In order to exit iPhone DFU mode perform the following steps.
Keep your phone connected to iTunes.
Press and hold both home and lock buttons.
Now, hit the power button again.
This will reboot the phone in the usual manner.
After this, your iPhone will be out of DFU mode.
Read more: How to Transfer Photos from iPhone to PC on Windows 10, 8.1, 8 – Top 5 Methods
Last words on 
iPhone into DFU mode
Now you know How to Put iPhone into DFU mode and exit iPhone DFU mode as well. Although iPhone DFU mode tool is another alternative that lets you do the same thing. Here is the list of them.
ReiBoot
RecBoot
Tiny umbrella
iReb
EasyiRecovery
RedSnow
You can download these tools and use them to put iPhone into DFU mode. We strongly recommend you to use only these tools. Because we have already tested them and they are quite reliable. Any suggestions?? feel free to give some and ask any queries.
Trending: How to Enable YouTube Dark Mode in iPhone – 100% Working
Was this article helpful?