Hello, guys am a trick to recover wifi password on Android without root. Yes! It is possible to get saved wifi password on an Android mobile phone. We all use WiFi connection at home or in Android device. We keep our WiFi password on our devices, and then it automatically connects. This auto-connect doesn't need us to write password again and again. The passwords are stored in the settings, and whenever we come in contact with saved WiFi, our device gets connected automatically.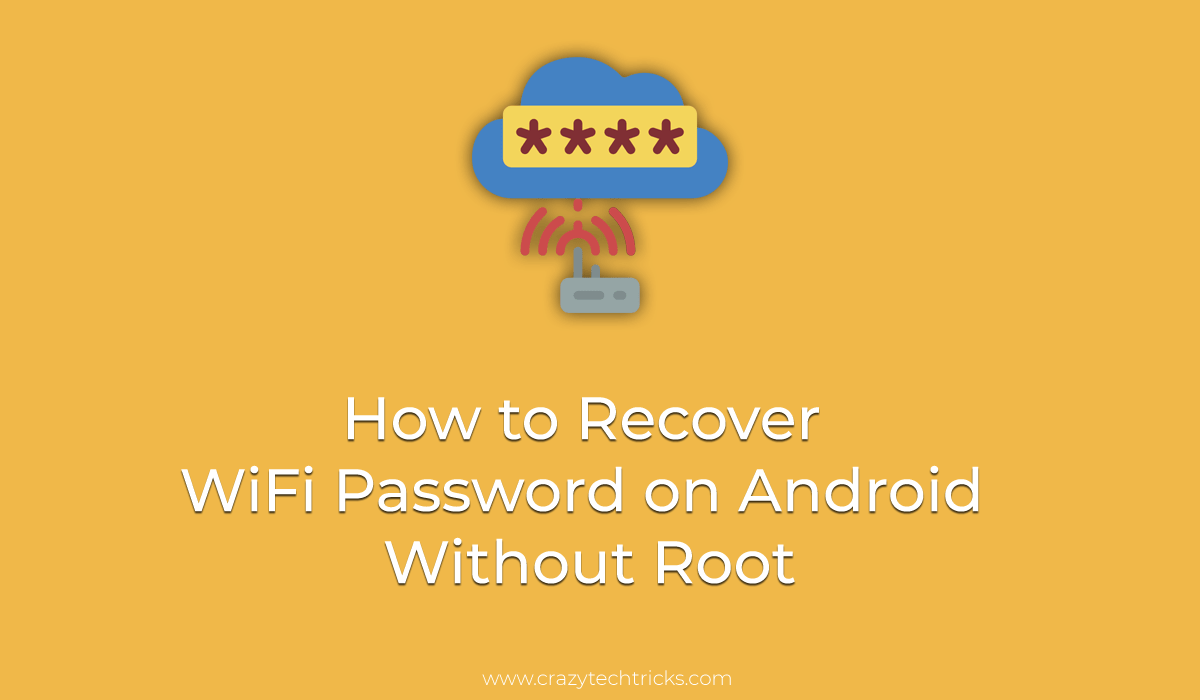 This auto-connect makes us forget the WiFi password. Sometimes, we need to get the password to use WiFi on another device. But, we have forgotten the password. In this case, we lost our WiFi password. Well, don't worry because today I will share a trick to view saved WiFi password on Android Phone.
Read more: How to find Free WiFi Hotspots Anywhere [Download Apps]
How to Recover WiFi Password on Android Without Root – 100% Working
We have some easy and simple steps to recover WiFi password on Android without root. You can quickly get your WiFi password. This trick will work without any 3rd party application and entirely safe and secure to use this trick. Some steps will depend on your router, and it's security panel. This trick will take few moments extra for completing this task. So don't worry about any risk and follow the steps to recover WiFi password on Android without root.
Read more: How to check who is using your WiFi and BLOCK them
Show WiFi Password Android Without Root
Please find your router's IP address that looks like – 192.168.1.1
Now, open Google Chrome (recommended) and write this IP address in the URL bar and tap on enter.
After this, you will be asked to enter USERNAME & PASSWORD to log into your router control panel.
Username – admin
Password – admin or password (try these both one by one). http://192.168.40.1
You have successfully logged in; please search wireless setting in your router panel.
Finally, you will get your lost WiFi password in this setting easily.
Now, just copy your password and paste into your android mobile phone to connect to your WiFi.
Note: Username can also be different. You need to contact your internet provider for Username and password. Don't share your username and password with anyone.
Read more: How to Increase WiFi Signal Strength and speed
How to Recover WiFi Password on Android Without Root – 100% Working
If you are not able to get your WiFi password using the trick, then don't worry. This trick is also viral on the internet. This trick is shared for education purpose, not for hacking. So let's start to recover your WiFi password with the Android mobile phone.
Note: Don't misuse this trick. It is for education purpose only. Don't hack WiFi password using this trick. Hacking WiFi is an offense, and you will be in jail.
You need to download an application namely WiFI WPS Tester.
Install WiFi WPS Tester Application on your android mobile phone.
Now, open the application, and it will show you a list of all available WiFi devices within your range.
Please notice, there is a signal towards each WiFi device name with two colors – Red & Green.
Green marked WiFi device is easy to recover WiFi password.
Tap on any green marked WiFi.
Now, select Connect Automatic PIN.
You will get more option.
Now, just select NO ROOT from that list.
Please wait for few moments.
Now, WiFi WPS Tester will connect to WiFi device automatically.
Now, follows all the steps of above method in which you know the IP address of your router.
Congratulations! You have successfully recovered a WiFi password in Android phone without root.
Read more: How to Mirror Android Screen on PC over WiFi
Last Words on How to Recover WiFi Password on Android Without Root – 100% Working
It is the best way to recover a WiFi password on your Android mobile phone. You can even hack WiFi password by using this trick. But, we will suggest you to, take this trick as education only. So, now you can quickly recover any WiFi password using this trick. So, was this trick helpful? If you face any problem regarding this trick. Then, make comment below and don't forget to share this trick with your friends.
Was this article helpful?