Hello friends, Today I will share a detailed guide on how to calibrate iPhone. Users can calibrate iPhone brightness, Sensors and battery. You will be able to increase the productivity of your iPhone. You will get accurate data of all your iPhone. Users can make all their app precise with correct data.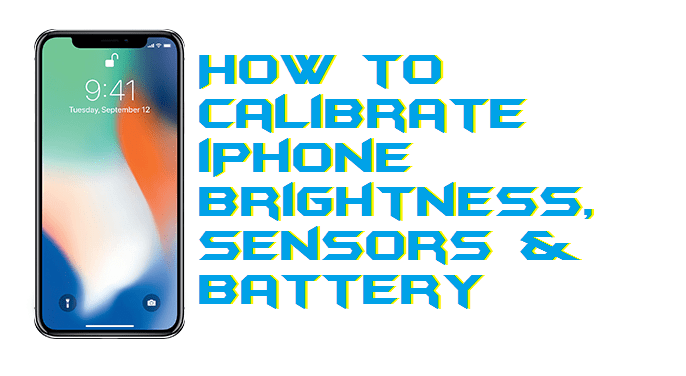 iPhone is already a real smartphone. It has several new features and with every new iPhone new technology is launched. iPhone allows users to do everything with their phones. But some of their features are a bit complicated to understand for the new guy. I will share some common problem faced by users like brightness.
How to Calibrate iPhone Brightness
We have done a complete analysis on every important aspect of iPhone. I have also shared a complete method on how to calibrate iPhone. Users can calibrate iPhone Screen Brightness, Sensors and battery. You can use these methods to calibrate your complete iPhone. You don't need to download or install any app. I have shared all inbuilt ways to completely calibrate iPhone.
Read more: How to Delete Music from iPhone without iTunes- Top 3 Best Methods
---
How to Calibrate iPhone Screen Brightness
There are lots of features related to iPhone brightness. Users can create brightness light and dark. But sometimes several errors occurred and it doesn't give any positive result. We keep on changing the brightness level and keeps fluctuation up and down. I will share a method to re-calibrate iPhone screen brightness.
Tap on the Settings > Display & Brightness.
Now swipe Auto brightness to turn it green.
Users can set up any brightness level by moving right and left.
You can also Tap on the green icon in front of Auto brightness. It will automatically setup Auto brightness with your surrounding light.
Read more: How to Update Apps on iPhone 2018- Top 2 Methods
---
How to Calibrate iPhone Motion Sensors
iPhone has several sensors. It has almost all kind of sensors which help inaccurate data. Sometimes these sensors reflect with other app and stop responding. You can use these methods to calibrate the iPhone motion compass or sensors.
Tap on Settings > Privacy > Location Services.
Now Tap on Location Services, it will become green.
Now tap on the System Services.
You can also tap on other Sensors like Compass,  Motion Calibration & Distance, and any other sensor.
Swipe on these and make them green.
Read more: How to Transfer Photos from iPhone to PC on Windows 10, 8.1, 8 – Top 5 Methods
---
How to Calibrate iPhone Battery
A battery is one of the most important parts of the Smartphone. All your phone depends on the battery usage. More the battery more time you get with your iPhone. Users can calibrate the iPhone battery in much easier ways. Sometimes the iPhone battery starts showing some inaccurate information related to the battery.
Make sure you complete discharge your iPhone. Take your battery to 0%, So it automatically switch off.
Keep your phone off till next few hours.
Now turn on your iPhone.
All your iPhone battery data will be calibrated. You will see all accurate result related to your battery.
Read more: How to Delete Songs from iTunes on iPhone or Mac
---
Conclusion
Calibrating an iPhone is very important these days. New updates for iPhone and other devices makes iPhone app work differently an start confliction with existing apps. These calibration methods will make your iPhone devices work more smoothly. Make sure you follow all the methods for correct response. Don't skip any method to calibrate iPhone.
Trending: What is Other on iPhone Storage – How to Remove Other
Was this article helpful?