Hello friends, Today I will tell you a trick to fix iPhone stuck on Apple logo. You can fix it by doing various methods. I will share 10 best ways to fix iPhone keeps turning off and back on, iPhone flashing apple logo on and off and all the problems faced by users.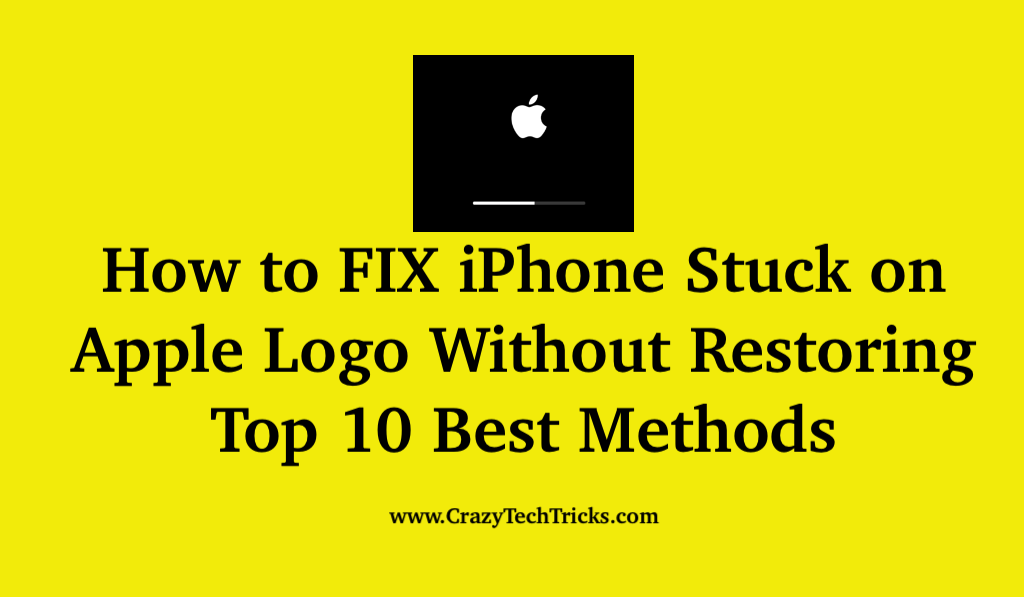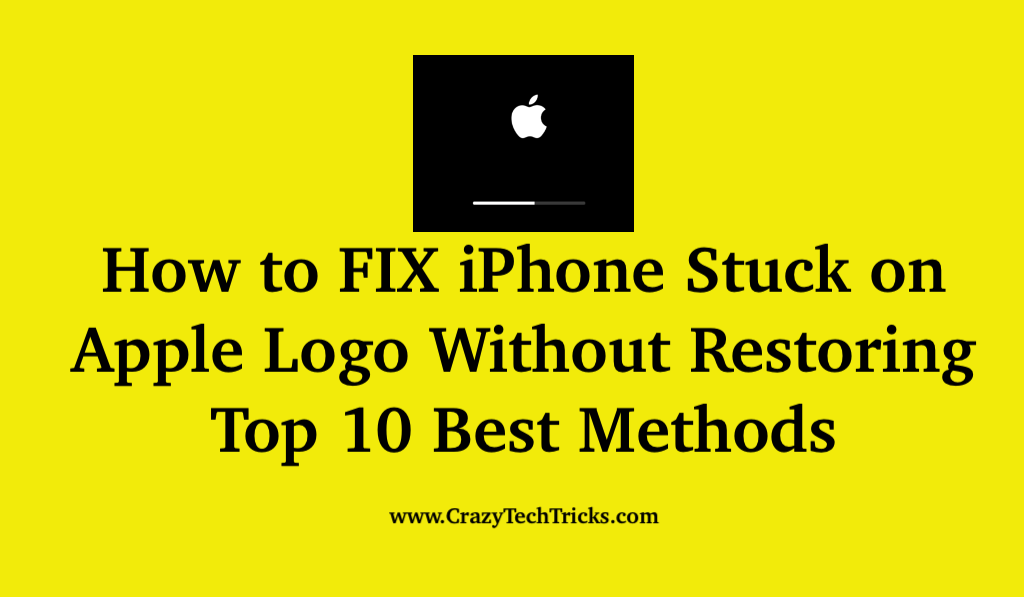 How to FIX iPhone Stuck on Apple Logo – Top 10 Best Methods
Unlike the Smartphones, Apple iPhone's are very tricky to operate. Besides this, the iPhone has an entirely unique design and structure than other Smartphones. But, sometimes the features of an iPhone turn out pretty hard to decipher by a novice.
Amongst the major issues that the iPhone users face, the most prominent one is it 'iPhone Stuck on Apple Logo.' For instance, you have switched off your iPhone while a business meeting and the moment you are trying to switch it on, it gets stuck on the apple logo screen. Yes, it has happened to most of us. That is why we have decided to provide you the ultimate tricks for solving this problem.
However, the main reason behind iPhone Stuck on Apple Logo
Related to some harmful applications.
Common problems with jailbreaking the iPhone.
Upgrading to a new version of the iOS.
Running a beta version of an expired iOS.
Therefore, iPhone 5, 5s, 6, 6s, 7 users can quickly fix the problem of iPhone getting stuck at the logo screen by using our methods.
Read more: How to Send a Fax From My Phone 
1. How to fix iPhone stuck on apple logo
As all of you know that the iPhone users don't have the convenience to just take out batteries from their phones' in the case of it freezing on the apple logo screen.
Before moving further, please make sure that your iPhone is not Bricked. A Bricked Device is a device that does not work. Moreover, a bricked device is the device that is permanently damaged and will not boot at all. It happens when the device gets hard bricked. On the other hand, it is considered that a device is soft bricked if it is stuck at the logo screen, which is certainly repairable.
A device usually experiences a soft brick or iPhone stuck on Apple logo screen in case of a software error or after jailbreak. Now, without wasting any time, let's proceed to the methods to repair the iPhone which is stuck at the apple logo screen.
Read more: How to Delete Contacts from iPhone 6
Reboot the iPhone
It Is a primary method amongst all of them, and it works most of the times. For doing this, perform the following steps as mentioned below:
SWITCH OFF THE iPhone: You have to turn off your iPhone in a normal way, i.e. by holding the power button; it is on the top of your iPhone. Keep pressing the button until the devices turn
SWITCH ON THE iPhone: Then, turn on your iPhone by holding the power key and volume up key at once.
THE BOOT SCREEN APPEARS: After the boot screen appears on your iPhone, let go the power button but keep holding the volume up key until the phone backs up and starts working. It can take up to a couple of minutes.
YOU'RE DONE: That's it. Your patience will pay off well. Finally, your iPhone is fixed and don't hesitate to give yourself some credit for this as you have done it without any technical assistance.
2. Fix iPhone 6 stuck on apple logo screen
If rebooting the iPhone doesn't work in your case. Don't worry we have another solution to this problem. Here, you need to go into the recovery mode of your iPhone. Recovery Mode is a more efficient method than restarting the device, but it might not work for all of you. It allows your iPhone to either restore an entirely fresh installation of the iOS or to backup your data onto your phone.
Read more: Two Best Method to Pair your Apple Watch with a New iPhone
Before performing this method, keep in mind that Recovery mode would delete all the data present in the device. It's a few step process, and you just need to follow these steps as follow:
Firstly, turn off your iPhone in the same way as you did in the above method.
Secondly, plug in the USB cable but only into your PC.
Thirdly, plug in the USB cable into your iOS device and hold the Home button while doing so.
Finally, Connect to iTunes message will be displayed on your screen and now you are supposed to leave the Home Button.
 If this message doesn't appear on your device, please make sure that you've performed each step in the right manner.
Read more: How to Take 360 Degree Photos on iPhone Without any App 
3. How to Fix iPhone Stuck on Apple logo after Reset all Settings
Other than the above two methods, you can reset your iPhone to bypass 'iPhone stuck on apple logo error.' For performing this method, follow the below-mentioned steps:
First, connect your iPhone to the PC with a USB Cable.
Now, Hold the Home button and connect the USBcable to your PC. (Please make sure that you have already installed iTunes on your PC as it will automatically launch right after connecting the USB to PC)
After that, you will get the option to reset all settings of your iPhone, and this will fix your iPhone right away.
Note: You can lose all the data on your iPhone.
4. Use Default Firmware Update Method to Fix 

iPhone keeps turning off and back on
If the above-stated methods haven't solved your problem yet; then, DFU (Default Firmware Update) Mode Method will probably solve the issue of 'iPhone getting stuck at the apple logo screen' in this case.
You can enter the DFU mode of your device by performing the steps mentioned below.
Read more: How to Delete an Instagram Account Permanently From Android, iPhone or Windows PC/Laptop
Initially, you need to install iTunes on your PC.
After this, you have to connect your iPhone to the PC using a USB cable.
Now, hold the iPhone's power and home button simultaneously for about 10 seconds.
Afterward, release the power button but wait for a few more seconds before leaving the home button.
Finally, if your iPhone's screen stays black and doesn't display anything, you're in DFU Mode. Meanwhile, on the computer screen, you will see a pop-up window showing that the iPhone has entered the DFU mode.
Here, you can either restore your iPhone to factory settings or load a backup.
Fix it without restoring.
5. How to Fix iPhone turns on and off while charging
This is a recommended method for solving this particular issue as your iPhone's data won't get erased in this. However, it is only for the users who have their iPhone stuck at Apple logo screen due to performing the Jailbreak.
In this, you will have to follow the below-mentioned instructions for booting your phone back generally.
At first, you need to get an application called RedSnow.
Further, you will need to download Jailbreak.fix custom bundle. Download it from any trusted website and move ahead to the next step.
After downloading RedSnow, Install it and Open it right away.
Select the firmware version you are using. After this, choose your custom bundle i.e. Jailbreak Fix.
Finally, follow the instructions to re-Jailbreak your iPhone. You are done!
As a result, this method will solve the problem of your iPhone getting stuck at the apple logo screen.
Read more: How to Download Instagram Stories Secretly from PC
6. Fix iPhone keeps turning off and back on with TinyUmbrella
If you use jailbreaks a lot and due to this you've somehow has got stuck on the apple logo screen. Then this is what you need. You can solve this problem by performing the following steps:
Firstly, get TinyUmbrella fix recovery.
Afterward, connect your iPhone to the PC using a USB cable.
After Downloading and Installation, just Launch TinyUmbrella fix recovery.
Now, wait until the tool identifies your iPhone.
After your iPhone is detected. Click the Exit Recovery button to remove your iPhone from the recovery mode. 
After performing the steps mentioned above, your problem will be solved, and your iPhone will boot up normally.
Read more: How to Setup iPhone Automatic Text Response
7. How to Fix iPhone flashing apple logo on and off
It is one of the simplest methods we have discussed in this article. It comes in real handy to be used for solving the problem of 'iPhone stuck on apple logo screen.'
To perform this method,
First, you need to hold the Home option.
You need to press the home button for about 30 seconds.
If your iPhone does not respond even after doing so, then give another try to this after an hour.
Your iPhone will most probably get out of the freeze mode by this method and if not, then try any other method of ours.
8. How to Fix iPhone won't turn on past Apple logo then shuts off
The iOS repairing tool can certainly solve the problem of 'iPhone getting stuck at Apple logo screen.' Just follow these necessary steps for doing so:
At first, get and install phone rescue on PC.
Connect your iPhone to the PC using a USB cable.
Launch the software> choose the iOS Repair Tools option> Process.
After this, follow each instruction to get into the Recovery mode.
Enter in your iPhone's information. After that, click on Download icon for downloading your iPhone's firmware.
After the downloading is complete, the Repair tool will start the repairing process.
It will restore your iPhone's software and will eventually fix your iPhone. (However, make sure to keep your device connected to the PC until the repairing process is finished.)
Note: This method will delete all data and settings from your iPhone.
9. How to Fix iPhone 5s stuck on apple logo then blue screen
Tenorshare ReiBoot fixes the Apple logo Stuck issues and problems related to Recovery Mode, besides this, it can perform repair of every kind. This tool is much more than just exiting from iPhone's recovery mode as it can fix all sorts of screen stuck viz, iOS stuck issues, iTunes errors, and other problems.
Steps to use this tool are as follows:
First of all, get Tenorshare ReiBoot.
Connect your iPhone to your PC as the way you did in methods mentioned above.
Afterward, follow the instructions and finally reach to an option called "Exit Recovery Mode." Click on it to exit the Recovery Mode, and this will repair your iPhone stuck on Apple logo issue.
10. How to Fix my iPhone keeps restarting
If these methods haven't been beneficial for you at all; then, you've likely got an issue that you can't fix. Further, I would suggest you call in for Apple Support.
In case you think that there is a major problem with your iPhone then please take it to your particular store and get it repaired.
Conclusion
These are the best top 10 methods to fix iPhone logo issue on your iPhone 5, 5s, 6 and 6s. You can follow any method to fix iPhone Stuck on Apple Logo issue. If you face any problem regarding this trick. Then, do comment below and don't forget to share this article with your friends.
Was this article helpful?