Remove emojis from pictures by following these three methods. You can remove any emoji from your photos or pictures by simply editing. Users can use apps or online websites to edit emoji from images.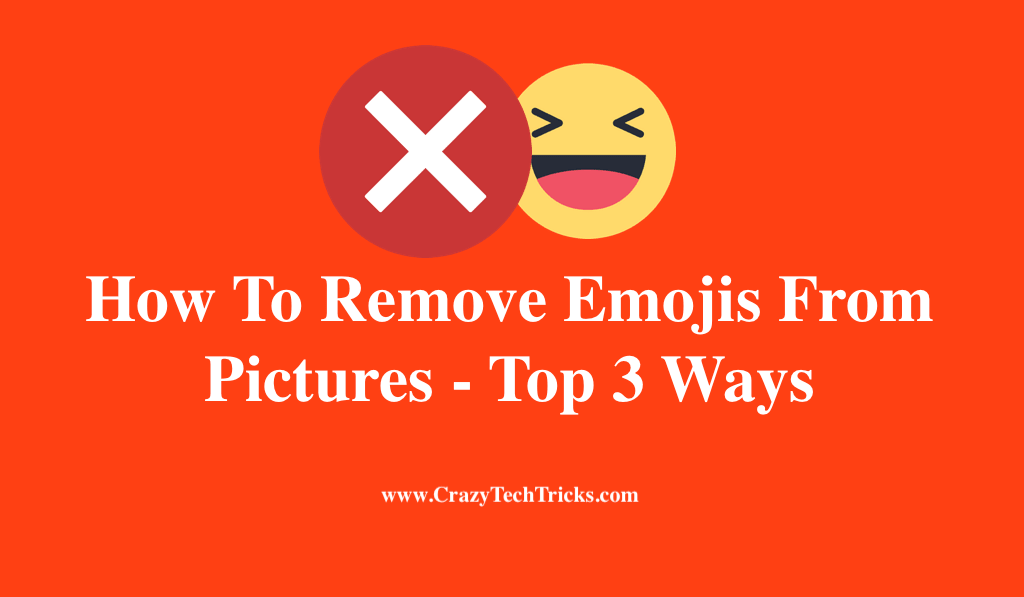 While altering our social media pictures, we often add smileys, stickers, and emojis to make them more entertaining or to suppress inappropriate areas. There have been times, however, when we have overlooked to save the original image and must remove emojis, smileys, stickers, and other graphics from the modified image.
Now, When you edit the shot you can erase any modifications, but what do you do if you already have a copy saved and you can't find the original?
Read more: How to Put an Emoji on a Chromebook
How To Remove Emojis From Pictures
The easiest way to remove emojis from an image is to use a program already installed on your computer. Since it is easily accessible through the app and can be used to produce a professional output that looks similar to an original picture after getting rid of emojis.
Meanwhile, pictures that have been preserved in a gallery may not be in this situation. There are ways to deal with this, but don't anticipate a professional result, especially when dealing with large emojis. However, there are various ways by which you can do remove emojis from pictures. These are:
Snapseed App
Inprint Online
Fotor
Read more: Best Apps to Make Your Own Emoji
Method 1. Snapseed App
In case you enjoy working with photographs, you might already know about Snapseed. With Snapseed, you can edit photos on both Android devices and iPhones. With this program, you can enhance your photos using filters, lens blur, the text editor, and many others.
However, many people do not realize it also can be used to remove smileys from photographs.
Get the Snapseed app from the AppStore and install it on your phone.
With just one tap, open the Snapseed app on your smartphone.
On the app's interface, click on the Plus icon to upload your picture.
 Select the Healing option in the Tools section.
Using your finger, gently press down on the desired emoji to delete it.
Besides removing the unwanted stickers and emoticons, there are other filters you can use such as brightening and darkening.
Read more: How to Fix Question Mark in Box Emoji iOS 11
Method 2. Inprint Online
Emojis can be removed with ease using Inpaint. By adding a mask to the object you wish to erase, press the Erase button. Ultimately, InPaint would be the best tool, since it utilizes a highly reliable, one-of-a-kind algorithm.
Click here for the Inprint Online website address provided.
After clicking Upload Image and dragging it into place, the smiley will be removed from the image you upload.
By default, an eraser marker is chosen.
But if you'd like to be sure, press the left-hand red button to the right of the message.
Using your brush, remove the smiley. Also, your emojis will be replaced by the background that is already present.
Read more:vWhat are the Pumpkins on Snapchat Map
Method 3: Fotor
It's simple to solve the emoji dilemma using this little-known web application. To obscure the presence of an emoji, it uses an innovative clone effect. To make use of the tool and to remove emojis from pictures, simply follow these simple instructions:
Open Fotor website on desktop.
Upload your emojis by going to the site and clicking the "upload" button.
Afterward, utilize the Beauty options, then select a clone from the drop-down menu.
With the brushing tool, stroke the emoji to cover it completely.
Finally, save the image.
Read more: What are the Candy Corn on Snapchat Map means
Conclusion
Nevertheless, you can use these emoji remover tools to remove emojis from pictures. We'd go with the Snapseed app first because it's the most user-friendly if you're looking for a recommendation. The interfaces of photo-editing systems are straightforward. Additionally, although you can change the background, the underlying data is hidden, including any text or faces.
Was this article helpful?