Hello friends, Today I will share the top 10 best apps to make your Own Emoji. You can take a selfie and create your own Avtar/Emoji. Users can send these Emoji on various social media platform and use it like they use other Emoji on their Smartphone.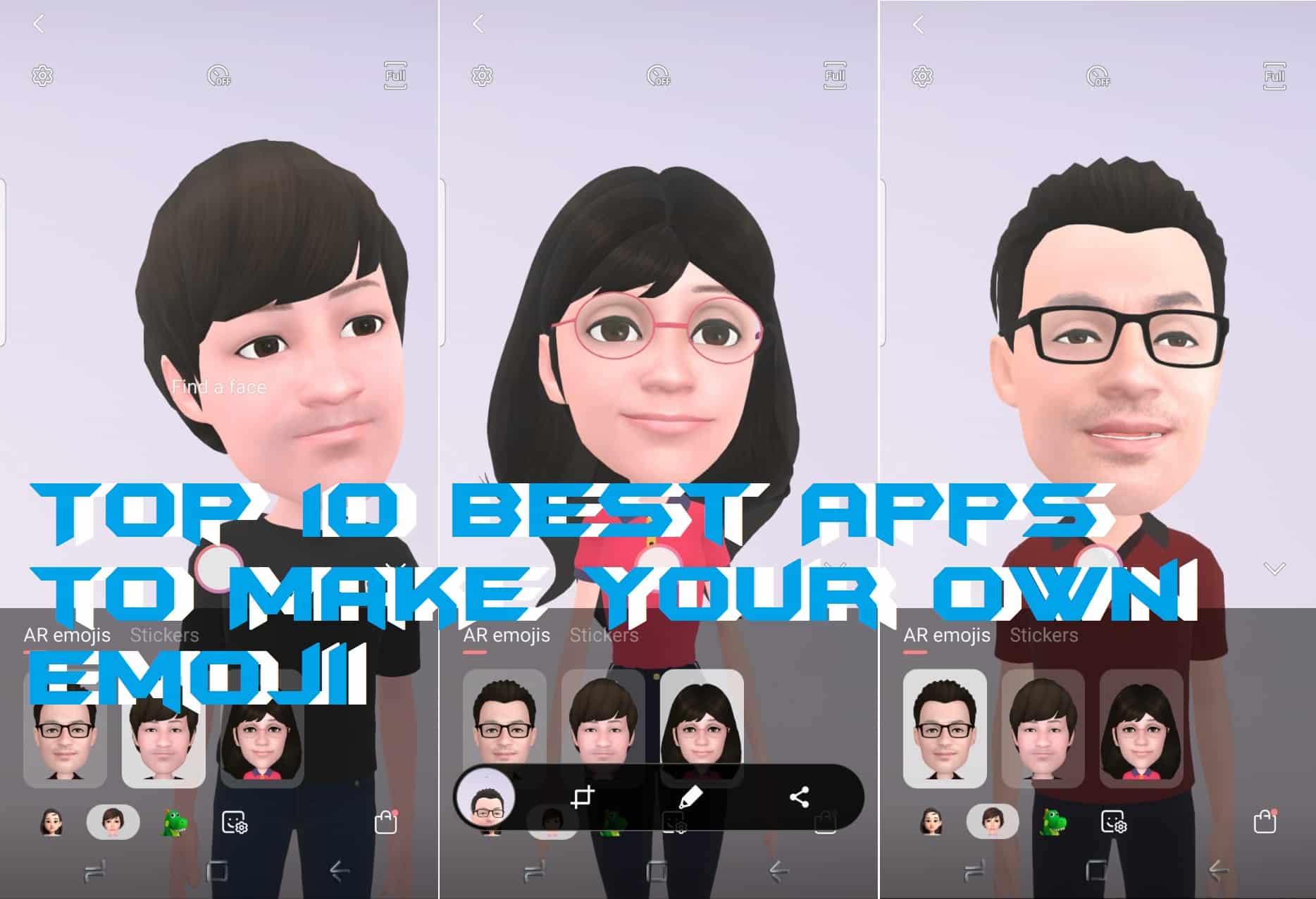 Emoji has created its own place in the world of technology. They are being used by many of the peoples to express the emotions and feelings to each other. There are many messaging apps, and keyboard apps are available, which allows the users to send your the feeling in the form of emoticons or emojis to the loving one. But, have you ever thought about how you can make your own emoji in the world of technology. Frankly, there are now tons of apps available for your phone, which can help you to make your own emoji yourself.
Top 10 Best Apps to Make Your Own Emoji
In this section of the article, we are going to find out the top 10 best make your own emoji, which will help you to create unlimited emoji for free. You will get all the options to customize your emoji which you are looking on the app. Some of the apps are for free and some of them are having their paid versions as well. Whether you use Android or iPhone, you can use these apps on your phone to make your own emoji on the go.
Read more: How to Use Google Lens on iPhone & iPad
Gboard Minis
Gboard Minis is the best app to make your own emoji if you do not want to install any kind of additional app on your phone. You can directly make your emoji using the Gboard keyboard app. This app is available for both Android and iOS devices. This app has great artistry and machine learning feature which makes your emoji realistic. Users can click their selfie on the go to create their own emoji instantly. Not even that, besides of it, this app is fully customizable. Whenever you create your own emoji, it will appear under the stickers section on the app.
Bobble Keyboard
Bobble Keyboard uses a sketched or cartoonish type texture in the variety of different packs. It is the yet another fantastic and quite simple app to make your own emoji right on your phone. This app utilizes your selfie to create an awesome not fully fledge avatar. It is very fun having app when you want to annoy your friends from your own emojis. Definitely, this app is available for both the devices that are Android and iOS. This app also helps the users to directly share their created stickers or emoji from the app on the go.
Swift Keyboard
Swift Keyboard is a very popular keyboard app in the market of Android and iOS. But, besides of it, this app also has the coolest feature, which is the emoji maker. You can create or manage any emoji you want within the app. This app comes with two different versions that are free and paid. Where free have limited features when you go to make your own emoji. But, the paid one is having every feature unlocked so that you can create an amazing emoji of yourself. Also, this app has a wide variety of emojis in it.
Read more: How to Enable Night Mode in Snapchat
Bitmoji
Bitmoji is the most popular emoji creator app in the world. Because this app is tightly integrated with the Snapchat emoji service, that is why this app is having a wide variety of emoji and stickers. The Bitmjoi app is very famous in place of Tinder users as well, and that is why it is trendy among the teenager's community. This app creates a highly customizable avatar which almost looks like your own face and gives an interactive way to converse. Also, using this app is very simple. Users get all the available types of avatar regarding their selfie which they have taken for creating their own emoji.
ZMoji
ZMoji is really easy to share and create an avatar/emoji app that gives your selfie a cartoonish look. This app will take you back to the era of avatar making when there were no AI-based avatar, making apps available. However, this app creates a fantastic avatar for you from scratch. It will fully help you to customize your own emoji like adjusting hairstyle, face color, ears, nose, clothing, forehead, and more. It is available for Android an iOS both the devices. You can also create a GIF of your own emoji if you want.
Emojily
Emojily is a kind of app that helps you to make your own emoji by providing you a lot of control over your aspect of the emoji which you are creating. When you launch the app, you will get two different options, either choose new or either choose a random option. Once you have selected an option, then you can customize the emoji elements such as nose, eyes, eyebrows, expression, mouth, and more. When you are done, then just click on the download button which is at the left bottom side in the app. There is paid version os the app also available which will give you more options to enhance your emoji.
IMoji
IMoji is a kind of independent messaging application which has tons of emojis available in it. The IMoji app is available for both Android and iOS device so that users can use it in their own use. It allows you to make your own emoji from the photos you have or take a picture at that moment to create a new fresh emoji. The best part of the app is that there is no limit to creating your own emoji. But, it is a kind of independent messenger app that is the biggest drawback of the app.
Must Read: How to Convert JPG to PNG Image for Free – Top 10 Softwares/Websites Online
EmojiArt
EmojiArt is organized with more than 2500 beautiful emojis. It allows you to customize your emoji using the various tools that are present on the app. Users can edit any emoji according to them or can use to make your own emoji. It also helps the users to share their own created emoji with the friends right from the emoticons keyboard. This app is freely available for Android users on the Google Play Store. Users can also create their emoji from the text which they enter on the app.
Emoji Type
Emoji Type is a kind of emoji making app which is similar to KeyMoji app. It is the best AI-based emoji creator app which you are going to love it. Users can search for the emoticon from the search box and can start editing the emoji according to themselves. This app is self integrated with Facebook, Twitter, and many more apps. Also, this app stores the history of all the emotions you have used to manage or recreate the emojis so that you can use any pending creation form history. It is available for Android freely.
Emoji Keyboard Cute Emoticons
Emoji Keyboard Cute Emoticons has more than 3000 emoji. It has GIFs, emoticons, and more. Users can get the app directly from the Google Play Store and can start sending their wished emoticons via SMS, Email, Facebook, more. It provides the customization options so that a user can customize any emoticon according to their wish and can even create their own emoji as well. It also provides the users with a rich-looking input keyboard, and the users can directly create any emoji from there.
Conclusion
These were the top 10 best apps to make your emoji. There are tons of more apps similar to these emoji maker apps available on the apps store. But, I found these apps amazing, simple to use, and best in order to make your emoji. However, if you wish to have any other app on your phone to make your own emoji then, of course, you can do so. I hope using this article you have got the best app to make your own emoji. Make sure you share this article with your friends and family members so that they can also create their own emoji as well.
Was this article helpful?