I will share complete details on what are the Pumpkins on Snapchat Map. I will also share a method to get a Halloween map on Snapchat.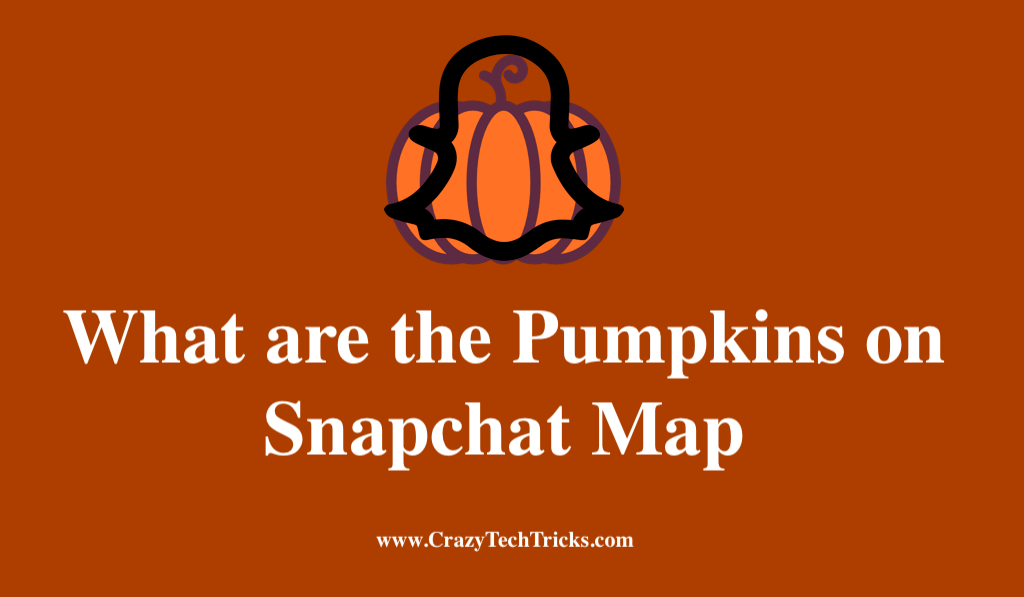 As Halloween approaches, many of you are likely preoccupied with your costumes, and as a result, you may not have taken note of the latest Snapchat Halloween Map. Users of Snapchat were surprised by an update this year. Did you see Snapchat's new eerie Halloween map update that just came out? If this is the case, make sure that you do not miss out on this incredible Snapchat update by swiping over to your Snapchat map.
When this Snapchat Halloween map went live, many people searched for the meaning of the pumpkins on Snapchat map. In case you're one of those wanderers, keep reading for answers to your questions.
Read more: How to Fake Location on Snapchat Map on Android
What are the Pumpkins on Snapchat Map
Most Snapchat users are interested in this upgrade, stating that the new Christmas design appeals to them. So if you're wondering why there are pumpkins on the Snapchat map, here's the answer. These pumpkins on Snapchat map are simply items for decoration.
The Haunted Snap Map must show up on your Snapchat app by 6 a.m. local time on October 29. It will be there until 6 a.m. local time on November 1. There are hardly any Halloween-related clues or prizes involved. The pumpkins are meant to make you feel like it's Halloween.
Read more: How to Use Snapchat on Chromebook
Many Snapchat users asked whether they could have this Halloween theme all year long, and many of them said yes.  However, A small number of Snapchat members have questioned the company for not introducing certain essential features in their place. Similarly, they have been calling for the Snapchat black feature for quite some time, but Snapchat is preoccupied with providing us with unimportant improvements.
How to Get the Snapchat Halloween Snap Map
On the Snapchat map, Based on what your friends were doing, Bitmojis were displayed in a certain action in certain situations. For example, you may notice your friends hanging out on the Snap Map, perhaps around a witch's cauldron or a bowl of candy. It indicates that they were all congregating in the same location.
Read more: What Does a Yellow Heart Mean on Snapchat
On Snap Map, you could select an Action Emoji to change your Bitmoji, and you could choose fun Halloween options such as holding a candy bag or walking like a zombie. However, to convey Snapchat Halloween map, follow these simple steps:
Navigate to the Snapchat software.
Select the map symbol in the bottom menu that appears.
To display the icon, there must be a symbol of the GPS location on the left-hand side of the menu.
On the Snap Map now, the scary motif is immediately apparent.
Has Snapchat a night mode?
In spite of other social media apps having a dark mode for a long time, Snapchat hasn't yet added one to the app. In recent years, Snap users have pleaded with the app's developers for dark modes, but the request has not been granted. In the meantime, they'll just have to keep squinting when they check the app first thing in the morning for at least another few hours.
Read more: How to Check is Snapchat Down
Conclusion
Snapchat has always been ahead of the game when it comes to cool new features. Every year since the festival's inception, a new appearance is created. Therefore, Snapchat's Halloween-themed map update puts us in the holiday spirit.
While many users applauded this version, at the same time some expressed dissatisfaction with this version. In order to satisfy all of its customers, Snapchat needs to release some technological changes in addition to the glitzy ones that are already available.
Was this article helpful?