Hello friends, Today I will share a method on how to use hotstar outside India. You can watch all the Indian content of Hotstar from Outside India. I will share a free method which will allow you to view Hotstar video from the USA, UK and almost every country. Users can watch unlimited content from anywhere around the world.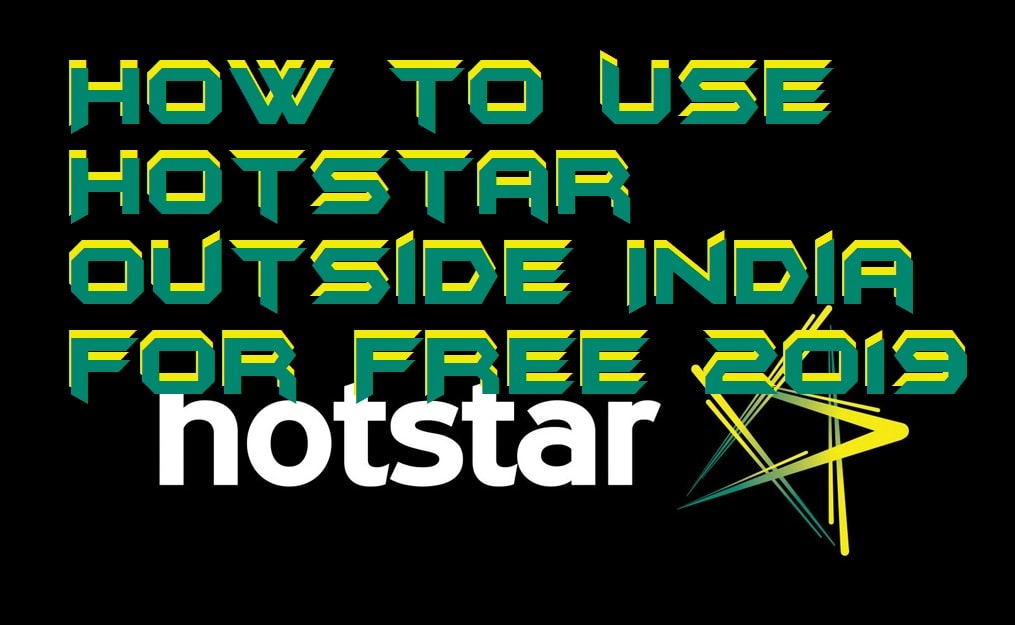 Hotstar is the best option for you if you want to watch movies, shows, sports, and more contents from India. Hotstar is an on-demand and online streaming service which allows you to watch select movies, live TV, and shows of other countries like the USA, UK or Canada. Whatever people think about Netflix the same is with the Hotstar in India. Hotstar is very famous for live cricket matches and mostly for IPL (Indian Premier League). Not even that, but you can also stream more sports such as Football, Tennis, Hockey, Boxing, and more. Hotstar has more than fifty thousands of streamable content.
Hotstar serves its service to India, USA, UK, and Canda. On Hotstar most of the contents of India are geo-restricted such that person outside India cannot watch them. But, don't be sad yet because there is a quite simple way on how to use Hotstar outside India. I am going to show you about how to use Hotstar outside India whether you belong to Germany, France, or any country. A person can quickly get unrestricted from watching the contents of India on Hotstar.
Note: This guide is only for educational purpose. Don't misuse, as you can be in a legal problem.
Prerequisites before You Use Hotstar Outside India
There are some tools required before you head up to the procedure of how to use Hotstar outside India. You need to have a trusted VPN service to use Hotstar outside India. Also, you need to have an Indian debit or credit card to get the subscription using Indian location. Let me tell you why. Hotstar charges nearly $15 per year of subscription fee to the Indians. Where for a person outside India you have to pay $9.99 for one month which means you have to pay $120 per year. This amount is much higher than the Indian subscription fee. So, for that, you need to have an Indian debit or credit card. Although, there are tons of free contents available on Hotstart which you can watch without having any subscription of that.
Read more: Top 10 Best FREE MKV to MP4 Converter 2019 – Must Check!
How to Use Hotstar Outside India for FREE 2019
This is the primary part of the article where we are going to learn how to use Hotstar outside India. I am assuming that you are fully introduced to the Hotsar services and very well known about it. If you want to watch free or paid contents outside Indian from Hotstar, then let me tell you that I have explained both things for you guys. Also, I am describing the method to use Hotstar outside India on a variety of devices such as Windows, Mac, Android, iOS, etc. Alright, let's start the procedure now.
Get to the internet and get any VPN service for you. I would recommend you to have ExpressVPN [LINK].
Once you have it, simply follow on-screen instructions to set it up.
Make sure you chose India from the location option.
Now, visit LINK and watch tons of free contents of India.
If you wish to get the subscription from there, then LINK.
Once you opened the link, follow the on-screen instruction to get that.
Make sure that you use Indian CC or DC for that otherwise; you will not get the subscription.
Read more: How to download Hotstar videos in Android or PC – 100% Working
Conclusion
This was all about how you can use Hotstar outside India whether you are from Ireland, Japan or any country. Instead of it, there is no other way to use Hotstar outside India. However, you can watch global contents from USA, UK, and Canda where Hotstar serves their services. But, if you want to watch Indian content on Hotstar, then you have to follow up these steps which I have mentioned in front of you. Share this article with other guys and the girls so that they can also learn how to use Hotstar outside India to watch the contents of it.
Was this article helpful?