I Forgot my iCloud Password and Security Questions and Email a few days ago. And I recover it back. I will tell you a method to recover iPhone iCloud ID. Yes! You can retrieve your Apple ID even after you forget everything. Nothing is impossible all you need to stay calm and read this fantastic guide. I will share best and working method to recover iCloud ID.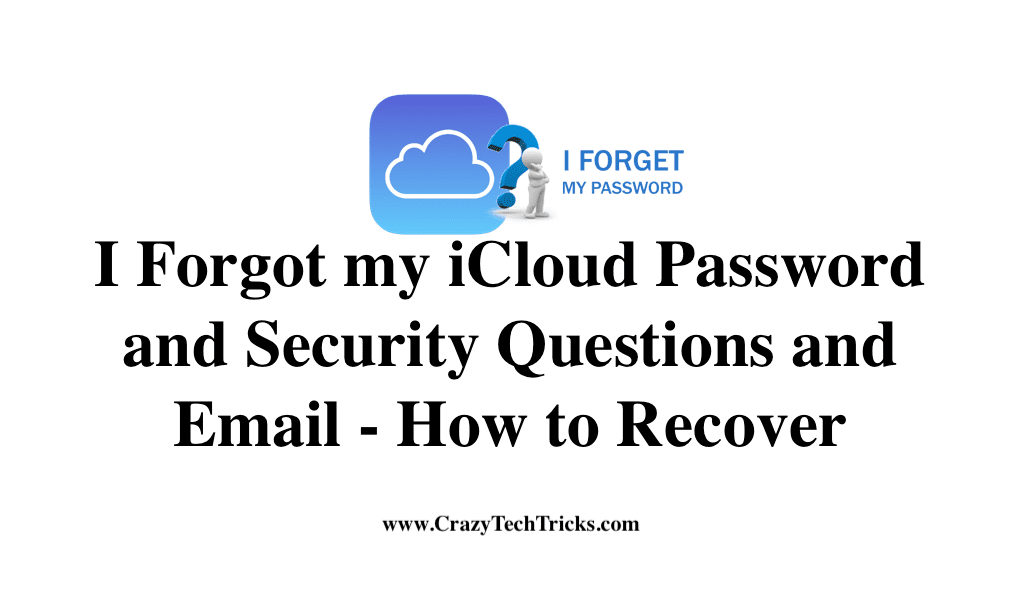 Apple users have to enter their Apple ID credentials so frequently, like when buying an app, accessing iCloud, using iTunes music, updating the iOS, or any other service, that one would think they will never forget their password. But apparently, at one point or another, they all do. Maybe you forgot the new password when Apple made you change to a new one. Or perhaps you are confused about which password you set this time. Whatever be the reason, forgetting your iCloud account password can be a real headache.
Read more: How to Setup iPhone Automatic Text Response
I Forgot my iCloud Password and Security Questions and Email
Usually, Apple provides two backup options in case you forget your password for the Apple ID iCloud account. You can either reset your password by answering your security question set at the time of creating the account or getting a password reset email to your registered email address.
I forgot Apple ID Password Reset
But what if you can't remember your iCloud password and security question and email too? How can you recover your iCloud account then? That's what we will be answering in our today's article. We will show you how to recover your iCloud account if you forget both a registered email address and the answer's security question.
Read more: How to Scheduled/Send Delayed Text Message iPhone
Contact Directly to Recover iCloud Password and Security Questions and Email
It can be difficult to recover the iCloud account if you forget both email and security question. However, it's not impossible. Follow the steps given below to recover your iCloud password:
Go to the Apple ID support page from this Link and search for your country.
Click on Visit Apple Support under your country options.
Scroll down and click on Contact Apple Support under the "Want to talk with someone?" tab.
Click on Apple ID to restore the account password.
Click on Forgot Security Question.
Now you have four options to recover your iCloud account password:[sociallocker]
You can change or reset the password from Reset your Security Question option by providing necessary information about your Apple ID and proving your identity.
If you are free, then you can talk to Apple Support Now. Just enter your phone number and get a call from Apple's customer service within 2 minutes.
You can Schedule a Call for Apple's customer service to call you later. Enter your phone number and the time when it's convenient for you to receive a call.
And lastly, you can provide your phone number and Apple ID information to customer service, so it's stored in their database, and Call Apple Support Later when you are free. It reduces the time spent on the Phone. Here you can call the Apple Support whenever you are free.[/sociallocker]
If you select either of the last three options, you will be able to reset your password through a phone call. The customer care executives will ask you a series of questions, and if you answer them correctly, you can reset your password.
Note: There are several methods on the internet that will tell you to download software etc. I will suggest you stay away from all those things. Only Apple can help you to get back your Account.
Read more: How to Enable kid Mode App for iPhone
Conlusion
This method is working and legal too. You can recover iCloud Password and security questions and email. We are contacting Apple directly and make sure you are ready for these easy questions. Once Apple confirms your identity. They will tell you a way to recover your iCloud. Even I used this same way when I forgot my iCloud password and security questions and email. Do share this method with your friends and help them if they forgot their iCloud ID.
Was this article helpful?