You can use SUMIF function in Google Sheets by writing this command. I have also shared some additional SUMIF tips and tricks, which will help you a lot.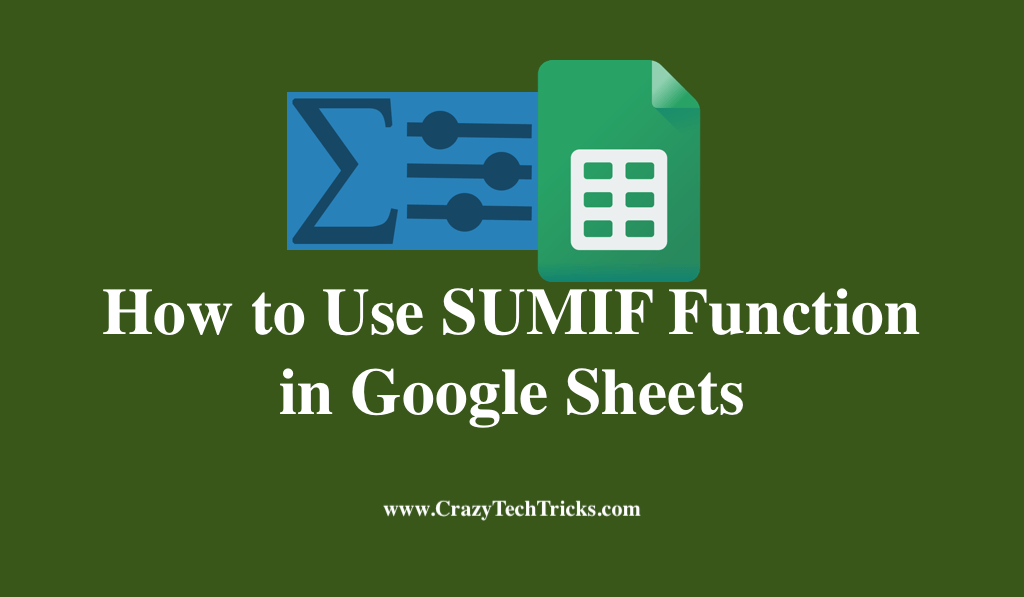 A spreadsheet tool developed by Google. It has a variety of functions and formulas that may be used to arrange numbers and data. Consider learning how to use the SUMIF function, which is beneficial. A function called SUMIF can add up any number within a range as long as it meets the criteria you specify.
Adding values in Google Sheets is a simple process that may be accomplished with the SUM function. However, it's possible to limit the number of digits you want to add. Moreover, you can use SUMIF function in google sheets, you can use SUMIF to add the exact quantities you desire.
Read more: How to Make Negative Numbers Red in Google Sheets
How to use SUMIF function in google sheets on PC/Laptop
Use SUMIF function in google sheets is a built-in Math and Trigonometry function that is used to add a range of numbers based on your criteria. In order to use the function, you must supply the first two arguments: cell range and criterion. Entering the SUMIF function in a cell is possible using a formula.
Only cells that meet a specific criterion are returned by the function. A cell's number is included in a set of numbers that have already been selected when it matches one of the previously chosen numbers.
Data can be entered into Google Sheets for further analysis.
In this example, SUMIF will be used, sum up the total cost of each distinct item. Click the cell you wish to enter the formula into.
Based on the algorithm SUMIF, we will calculate the total cost of each item in Column A.
The range includes everything in Column A, the criteria represents the particular type of item contained in that column, and the total includes everything in Column B, which represents the prices.
If for example: Using the formula below to calculate the overall cost of pencils, we can calculate the following:

=SUMIF(A:A, "Pencil", B:B)

The result will be displayed in the cell once you press Enter to run the function.
Using different names for the objects, repeat the calculations to use SUMIF function in google sheets.
SUMIF looks at Columns A and B in the same way, so no additional work is required to update the totals.
Read more: How to Make a Gantt Chart in Google Sheets
SUMIF in Not Blank and Blank Cells
To identify whether a cell is blank, we will once again work with a similar equation, this time using operators. Use only two quote marks with no spaces between them when the range is empty. Use the not equal to operator ">" without any numbers or words to SUMIF the cells are not empty if you wish to SUM.
Read more: How to Create a Graph in Google Sheets
SUMIF Function Hints and Tricks
SUMIF in Google Sheets is considerably easier to use if you keep a few thoughts in place. When using a separate sum range, it is necessary to ensure that both range and the sum range have the same number of cells. The SUMIF function does not care about the case in which it is used. You must also double-quote if you have a text value, a date, or wildcards in the condition.
Read more: Export Outlook Calendar to Excel
Conclusion
To use the SUMIF function in Google Sheets function, we demonstrated how to apply it in this lesson. This feature can be used for a variety of purposes. You should always use the SUMIF function if you need to sum integers following a pre-criteria.
Cell references can also be used as criteria in the evaluation. Using this version of SUMIF if you have a variable comparison value is convenient.
Was this article helpful?