You can transfer ePub to Kindle Fire, Paperwhite and Kindle by following this method. You can share any type of ePub format book and start reading on your Kindle device.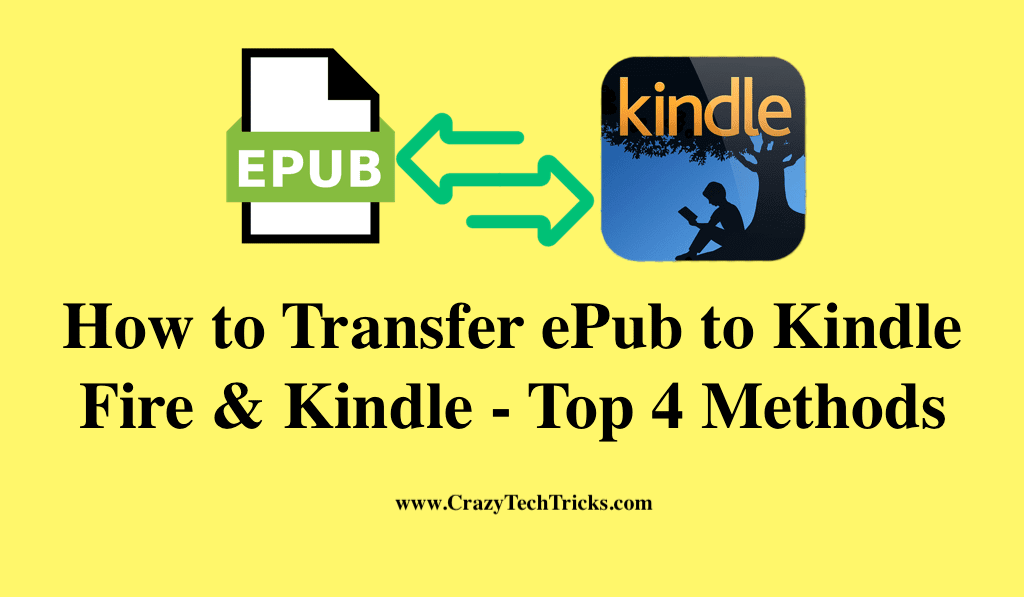 For a Kindle eReader to function, books do not need to be purchased from Amazon. ePub is a typical file format for downloading e-Books from third-party providers. Even though the Amazon Kindle is an excellent e-reader, it is inextricably linked to the Amazon platform.
With e-reader apps for your Fire tablet or smartphone, you can add even more books to your library. However, if you own an E Ink Kindle, like the Paperwhite or Oasis, your book purchasing options are pretty limited. If you want to read an e-book, you'll need to use the ePub format. Unfortunately, Kindle eReaders don't work with it.
Read more: How to Factory Reset Kindle Fire Tablet
How to Transfer ePub to kindle Paperwhite
The Kindle Paperwhite does not natively support ePub formats, so many Kindle customers want to read ePub files on their devices. Moreover, there are two basic tools to transfer ePub to kindle paperwhite.
Method 1. Calibre
Calibre, a free e-book management tool that lets you convert e-books between formats, may be familiar to you since you're an e-book enthusiast. Moreover, This means that your ePub books can now be converted into the Kindle format.
Calibre is a free program that you can download and install. Once it is installed, add your downloaded ePub books, pick them, and click the "Convert books" icon.
As an output format, select Mobi/AZW3.
Read more: Install Google Play on Kindle Fire
Method 2. Compile and send an email
Your Kindle can receive e-books via email from the @kindle.com email address provided by Amazon. Moreover, It is imperative that you first convert ePub files to MOBI files before you can transfer them.
How to Transfer ePub to kindle Fire
The Kindle Fire's default reading app does not support ePub files, but there are alternative options. ePub files can be viewed and read on your Kindle if you have installed a second app for e-reading. Moreover, Amazon's Kindle Fire runs on a customized version of the Android operating system and can run apps from the Google Play store.
Read more: Kindle Fire vs iPad
For those apps to work on the Kindle, you must first download an Android application package file (APK) and then install it. APKs are downloadable applications for mobile devices such as cellphones and tablets that run on Android operating systems.
Process 1. Web-based Transfer ePub to kindle
There are a plethora of online e-Book converters. This website can be viewed using either a computer or a smartphone. By clicking or tapping on the large upload button you can select the ePub file you want to upload. If you have finished converting the file and want to download it, select "Download [file name]".
Read more: How to Read Deleted Reddit Posts
Process 2. Email
It is not necessary to use Calibre or connect your phone to a PC to transfer e-Books to your Kindle. Each Kindle eReader has its unique email address, which may be used to wirelessly share e-Book files.
Choose your Kindle device from the "Devices" tab and then click its name from the enlarged menu.
The following page will display your Kindle's "@kindle.com" email address.
If you'd want to make a modification to the address, simply click "Edit."
To send the MOBI e-Book to that address, you simply need to send an email with that attachment.
Your Amazon account will receive an email asking you to "Verify Request," which is a confirmation that you wish to have the e-Book sent to your Kindle.
The e-Book will be delivered to your Kindle, and you can instruct the Kindle to automatically check for new books by selecting the "Sync" option on the home screen.
The book should appear in your Kindle Library fairly quickly after you click the link. It may take a few moments to appear.
Read more: Best Book Websites for Free
Conclusion
Although Amazon could make it easier for Kindle users to download ePub e-Books to their eReaders, the process is not impossible if you know how to do it. Moreover, ePub files can be transferred to Kindle from nearly any type of document, and I hope the tutorial above helped you do that.
Was this article helpful?