Users can rename Windows 11 PC by using any of the 5 methods. All these methods are inbuilt and you don't need any external app or software. Users can change their Windows 11 name multiple times without any issue.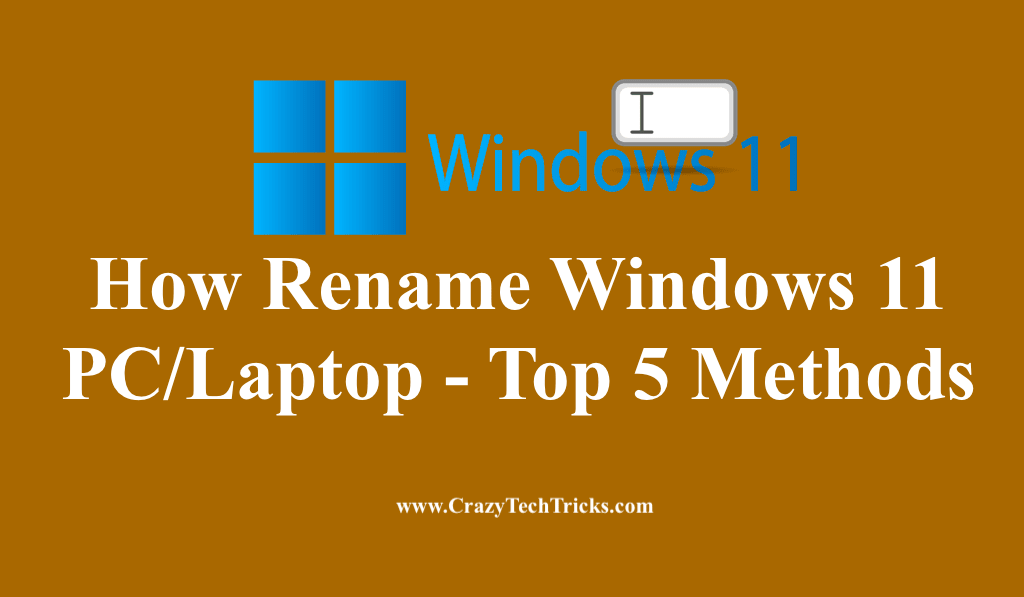 Windows 11 has a centralized taskbar which makes it look cleaner than Windows 10. The Windows will provide a personalized experience when one would use MS word, spreadsheet or photoshop project. Also, Windows 11 enable you to use multiple windows at once providing you with the feel of using a MacBook.
Why Rename your Windows 11
A very obvious reason is that it's easy to identify if you use multiple computers. Be it home or office, your task becomes easy! On the other hand, using different devices sometimes make things difficult to organise. So, by renaming your device, you can organise your systems more efficiently and effectively. Also, if you name your computer, it becomes an integral part of you, thus making you feel like home!
Read more: How to Change Time on Windows 11
How to Rename Windows 11 PC/Laptop – Top 5 Methods
Users can use these 5 methods to rename Windows 11. All these method are different from each other and you can use depending upon your suitability. For example, you can use the Start option, or if you are good in command, then use methods four and five.
Rename Windows 11 PC
Use these ways to rename Windows 11 PC.
Start Option
About Page
Control Pabel
Command Prompt
PowerShell
Method 1.  Start option
It is one of the easiest and fastest way to rename Windows 11 PC. You can rename your Windows 11 computer in just four easy steps.
Go to Sart.
Search Settings > Open > Rename button.
Choose the desired name.
Restart the PC.
Tip: While choosing a name, try to avoid special characters, keep it short and don't use spaces.
Read more: How to Change your Name in Skype on Windows
Method 2. About Page
You can use the About page method from setting apps. In this method we use the settings app to change the name of Windows 11 PC.
Go the Setting Apps.
Open system > About page.
At the extreme right, there is the heading 'Rename this PC'.
Choose the Desired Name.
Choose next and then the restart button.
Read more: How to Fix This Build Of Windows Will Expire Soon
Method 3. Control Panel
We all are aware of Control Panel. It is used for doing all major and minor changes in Windows. So its easy to understand this method.
Open the Start > Control Panel.
Now, Open the App System > Security.
Under System and Security > Click on allow Remote Access Option.
Choose Computer Name.
Click the change button and type the new name.
Click ok and then Restart the System.
Read more: How to Remove Adware From Google Chrome Permanently on Windows
Method 4. Command Prompt
You must have heard about command prompt black Window where we write code. We will be using this method to rename Windows 11 PC.
Open start > Search > Command Prompt or the Windows Terminal.
Right-click the top result and Choose Run as Administrator.
Now write the following command,
hostname
computersystem where caption= 'CURRENT-PC-NAME' rename 'NEWPCNAME'
shutdown -r -t 00
Now Press Enter.
Note: Remember to specify the old name as well as the new name.
Read more: How to Cancel LinkedIn Premium on Windows
Method 5. PowerShell
If you want to use Windows Terminal then use this method and write few commands to rename Windows 11 Laptop.
Open Start > Search > PowerShell.
Start the windows Terminal with the PowerShell terminal.
Right-click > Select the run as administrator option.
Click on + Sign.
Write the following command:
Rename-Computer -NewName "NEW-PC-NAME"
restart-computer
Note: Unlike command prompt, here you only have to specify the new name.
Read more: How to Fix this media is not available because it includes content you've chosen not to see
Conclusion
In Windows 11 when you set up a new installation, you will have the option to name the PC. So you don't have to do it later. But if you want to change the name, then there are many options to change the name later! You can change the name multiple times, there is no limit.
Was this article helpful?