Motorola Moto Maxx Specifications it has 21 MP camera, 64 Gb internal storage, charge in 30 minutes, it has several sensors and many more features. It was launched in November 2014 . It was first launched in Mexico then whole world. Still India is waiting for this smartphone. Motorola Moto Maxx will be launched in India, In the first quarter of 2015. It cost around $1200. In India it can have a price tag of Rs.50,000 to Rs.60, 000.
Motorola Moto Maxx Specifications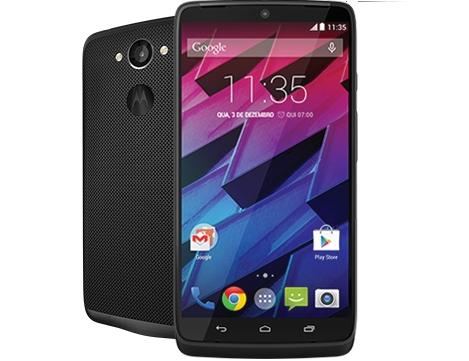 Below are Motorola Moto Maxx specifications. We have discussed each and every part of the smartphone.
CAMERA
Motorola Moto Maxx has 21 MP primary camera.
Camera clarity is upto 5248 x 3936 pixels.
It can record a video from 2160p@24fps, 1080p@30fps. [fps – frames per second]
It has 2 Mp secondary camera.
Secondary camera has clarity up to 1080p. [p – pixels]
It has all latest feature like face detection, panorama camera which let you capture 360 degree image.
DISPLAY
Motorola Moto Maxx has 5.2 inches screen.
If we compare screen and body then 70.9% is screen as compare to body.
It has latest OLED touchscreen.
It has 16 million colors.
It is multitouch.
It has corning glass 3, which make screen dust and scratch resistant.
Read this : How to use two whatsapp account in one Mobile phone
BODY
Motorola Moto Maxxis is 143.5 x 73.3 x 8.3 in dimension.
It weighs around 176 grams.
Its body is splash resistant.
MEMORY
It has internal memory of 64 GB.
Note : It has no microSD slot.
OPERATING SYSTEM
Motorola Moto Maxxis has Android operating system.
It has 4.4.4 kitkat version.
It has chipset of Qualcomm Snapdragon 805.
It has 2.7 GHz Krait 450 Quad core processor.
It has graphics card of Adreno 420.
It has 3 Gb Ram.
Check this : Samsung Galaxy S6 full specification
BATTERY
Motorola Moto Maxxis has non removable battery.
It has Li-Po battery of 3900 mAh.
It has wireless charging.
It has fast battery charging.
It can be fully charged in 30 minutes from 0 to 60%.
NETWORK
It support both 3G and 4G technology.
It has internet browsing speed from 42.2/5.76 Mbps on HSPA  and 150/50 Mbps on LTE Cat4. [HSPA – High Speed Packet Access] [LTE – Long Term Evolution]
SENSORS
It has several sensors, which help users in using various applications.
It has In-built compass.
It has proximity, Accelerometer and gyro.
MISCELLANEOUS
It has all common features of smartphone.
It has Wi-Fi, Bluetooth and many more.
It has MP4 player, which help user in playing every format sound.
It automatically remove all noise while recording from mic.
COLORS
Motorola Moto Maxxis is available in Nylon, Black and Ballistic.
CONCLUSION
It has several features which will give tough fight to Iphone and Samsung. Above Motorola Moto Maxx Specifications proves that, It is better than samsung top smartphones. It has booming internal memory of 64 Gb. Will help users in storing all kind of files. I would recommend this smartphone to people, who are looking to buy Iphone or expensive samsung phone. They should check this smartphone once.
Was this article helpful?