Hello friends, Today I will share the best method on how to Use 2 WhatsApp in dual SIM phone. You can install two WhatsApp on your Android Phone. Users can use two WhatsApp with two different number. You can even use two WhatsApp at one time and send messages, videos and etc.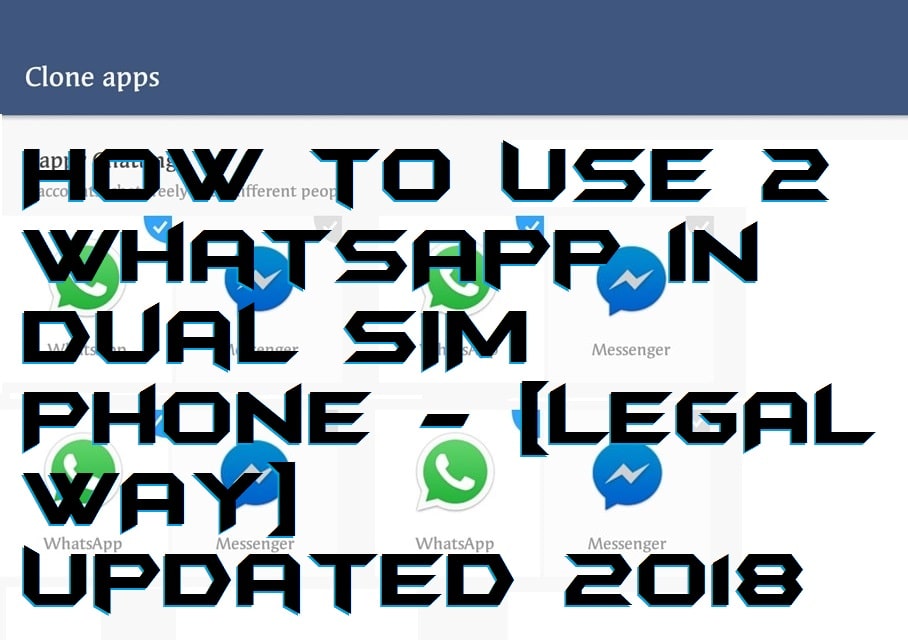 If you have a dual SIM phone, you can use them to text using separate numbers, and make calls using different numbers. But do you know that you can also use two different WhatsApp accounts with two different numbers? If you are also wondering how to use 2 WhatsApp in dual sim phone. Then you have come to the right place. While many smartphones come with built-in features for using different accounts like Xiaomi, Vivo, and Oppo, there are also some third-party applications that make it easy to run two WhatsApp accounts on one phone.
Use 2 WhatsApp in Dual SIM Phone
If you have a dual SIM phone then your first step should be to check your device settings as it's quite possible that your phone already has inbuilt feature for dual WhatsApp. Many Chinese brand smartphones allow you to create clones of various applications which can be used in dual SIM devices. In Vivo, the feature is called App Clone. In Xiaomi it's knowns as Dual Apps, while Oppo has named it Clone App.
How to Use 2 WhatsApp in Dual SIM Phone – [LEGAL WAY] 
But what if my phone doesn't have any feature like that? That's nothing to worry about. As mentioned before, there are many third-party apps that can help you install a copy of WhatsApp. However, you'll still need a dual SIM smartphone in order to create WhatsApp account from two numbers. There are many popular apps available online but the one we think is best is Parallel Space. As the name suggests, Parallel Space creates a "parallel" app by cloning the application you wish to use twice.
First of all, you have to Download Parallel Space and install Parallel Space from Google Play Store.
Launch the application, it'll automatically take you to its "Clone Apps" screen.

Select the app you want to clone, that is WhatsApp, and tap on "Add to Parallel Space" button.

Now you'll be redirected to a parallel space where WhatsApp is running in a virtual space on your device.

Next login and use your second WhatsApp account just like the first one.
And that's it! You can use WhatsApp and any other app you want by creating its clone using Parallel Space app. Although Parallel Space is free to use, it's ad-supported. However, you can remove ads with subscription available as in-app purchase. This method can also be used for using two different Facebook, Twitter, or any other social media accounts on one phone. Another third-party application you can use to clone WhatsApp is GBWhatsApp. But unlike Parallel Space, this app can be used for cloning only WhatsApp.
Read more: How to Share Facebook Post on WhatsApp – Share Facebook Status, Videos, Link on WhatsApp using Android or iPhone
Last Words How to Use 2 WhatsApp in Dual SIM Phone – Updated 2018
This is the best trick on how to use 2 WhatsApp in dual sim phone. Users can use multiple WhatsApp with a different number on single Phone. You can even send same messages to different WhatsApp account. You can use this method to use 2 WhatsApp account on your Android Phone. Don't forget to share this tricks with your friends and help them to use 2 WhatsApp in dual SIM phone.
Was this article helpful?