Data loss has become a common issue because digital devices have become a common part of life. Whether it's a USB flash drive, your computer's hard drive, memory card, or your smartphone, losing data is considered to be an irreparable damage. However, if you have lost your data due to any reason, you shouldn't settle for this conclusion. EaseUS Data Recovery Wizard is an easy-to-use data recovery software that allows you to recover data on almost any device by following simple steps.
Recover Data Due to any Cause of Loss
You may lose data like photos, documents, audio/video files, or your valuable emails from your PC, phone, USB drive, or any other storage medium due to any reason. It doesn't mean that your valuable data is not recoverable.
EaseUS can restore your data which may have been lost due to any reason.
• Accidental deletion
• Malware attack
• Formatting
• Computer system crash
• Corruption of hard drive
• Partition loss
• RAW partition
As long as the storage medium is not physically damaged, this data recovery software can help you get your data back.
Recover All Types of Files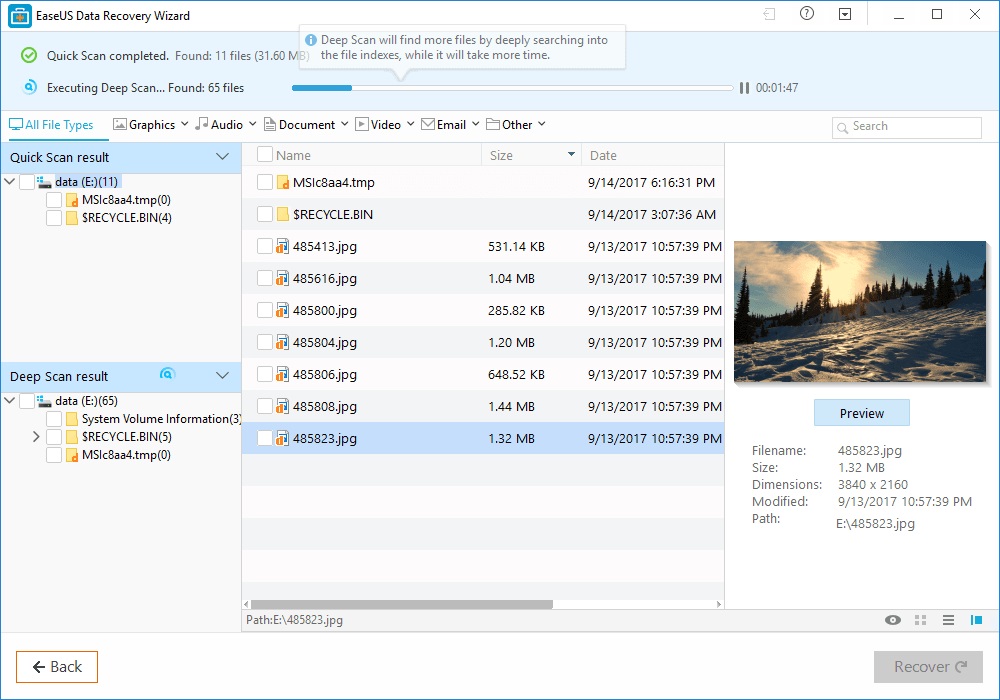 Not only can this software delete different types of files from a storage device, it can also allow you to select the file type that needs to be recovered. So it is also a photo recovery program.
So whether you have lost images from a device or office documents, you can recover them quickly. Other file formats include audio and video files like music and movies, emails, and even compressed files.
Recover Data from Any Device
It is not just your PC or Mac's hard drive that you can recover your lost data from. This data recovery software can recover your lost data from almost any storage device with data storing capacity. This includes:
• Your PC
• Laptop
• Hard drives – SSD and HDD
• Server
• RAID
• Mac desktops
• Mac notebooks
• Memory cards
• USB drives & SD cards
And you can even recover your photos and videos from your digital camera. Just connect the digital camera to your PC or Mac and EaseUS will work as your photo recovery software.
Corrupt Memory Cards & USB Drives
People make extensive use of USB drives and memory cards for storing photos and other files. These are the most commonly used portable storage devices. However, these are also the most commonly corrupted storage devices. In fact, you may never know when these storage mediums would go corrupt and all the data stored on them gets lost and you can do nothing about it. With EasUS data recovery software that should no longer be the case. You can recover data from memory sticks, Micro cards, SD card and CF cards in just minutes.
Lost Partition Data Recovery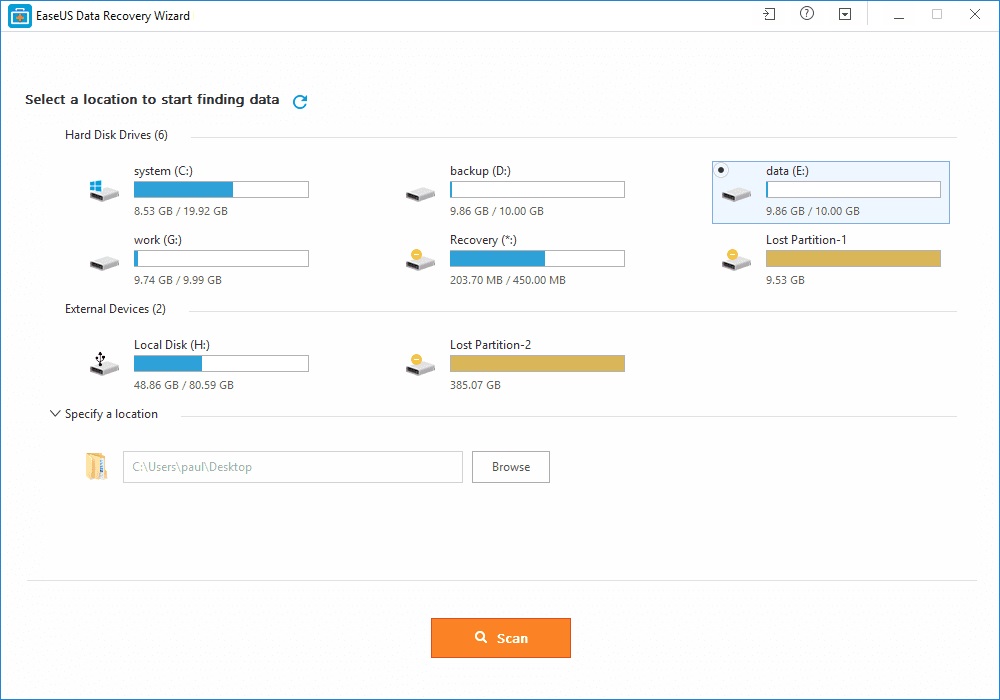 When was the last time you were able to recover data due to lost partition? Once it's gone, users think that it is lost forever. However, this software can recover even data that has been lost due to raw, hidden, or deleted partition. It can run deep level scans on the storage medium to recover your lost files.
EaseUS Data Recovery Wizard can recover your data from almost any digital device that has storage capacity. This means your smartphones and tablets, your iPod or any music player, and even your video players. Whether the data has been lost due to formatting, deletion or storage medium crash, this data and photo recovery software gives you the power to get your data back. It also allows you to recover data from a computer system even when the system cannot boot.
Was this article helpful?