I will clear all your doubts related to what does ISO mean on Facebook. I will also share how ISO Facebook is different from other ISO and how it will help users use this term.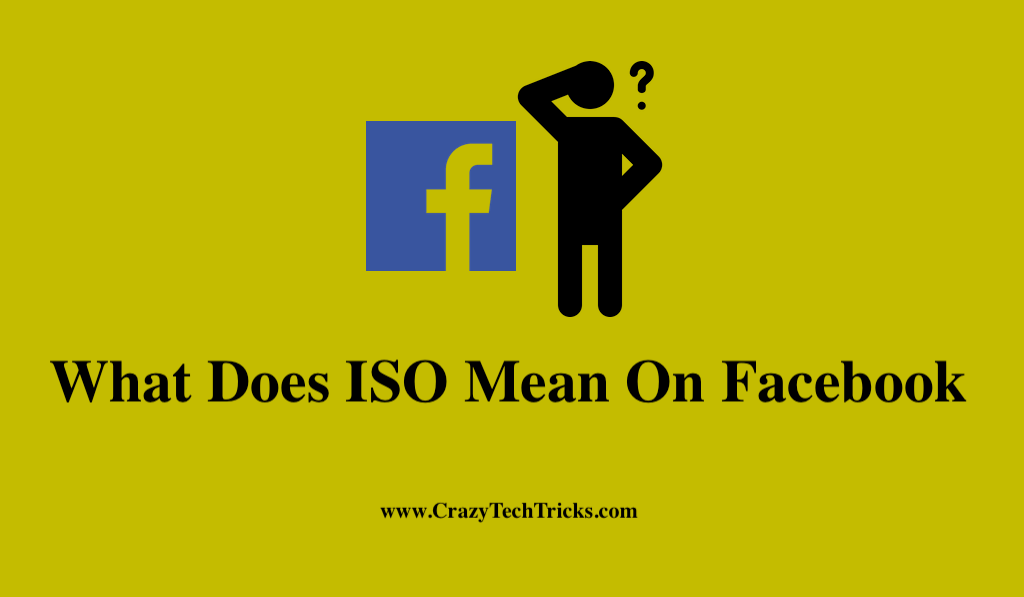 Internet users are often baffled as to exactly what ISO stands for and where it originated. The word has different meanings and origins based on a short online search. A widely circulated but the incorrect origin of the name of ISO is that it is an acronym for the International Organization for Standardization. While the phrase does refer to the organization, it is not an abbreviation, an organization's acronym would be IOS.
On the other hand, Facebook is a marketplace where users can update their friends and followers on everything from their daily thoughts to future travel plans or anything. This platform also enables small and large businesses to connect with a larger number of customers. So, it's probable that you'll be too tired to type long, detailed responses to your clients or family, friends, etc. for any posts at times. As a result, to save time, people began to use the term ISO.
Read more: How to Reduce Facebook Data Usage on Android
So, If you're seeking the definition of ISO on Facebook, you've come to the correct place. In the following articles, we are going to discuss what ISO means on Facebook in detail along with what it entails. So, without further ado, let us learn more about this topic.
What Does ISO mean on Facebook
The abbreviation ISO mean on Facebook for "In Search Of." Instead of writing 'in search of,' you can just enter ISO in your chats, emails, and other online conversations. ISO is also commonly used on Craigslist, Instagram, Twitter, and other classified websites, in addition to Facebook. Oftentimes, people who want to buy a specific item will use the acronym ISO on Craigslist. On Facebook, ISO is widely used in groups and sites where participants have common interests.
Frequently used:
ISO is most commonly used on the following websites and apps:
Facebook
Twitter
Craigslist
Read more: How to Hide Your Facebook Page Temporarily
Example of ISO mean on Facebook
As we have discussed above, ISO mean on Facebook (i.e: In Search Of). Let's have a look at some of its few examples:
So, if an individual may post on a Facebook group, "Just lost my laptop.!" ISO (in search of) low-cost, pre-owned computers." In addition to text messaging, we just shorten and then used ISO on social networking sites and other forms of electronic information transmission. ISO is used in this context as a slang term.
Let's take another example,
Oliver: " Need a cute pet dog/cat.
Emma: Type ISO a dog/cat on the Facebook group.
Read more: How to Mute Someone on Facebook Temporary
ISO Multiple full forms
I've listed every possible word for ISO that can be found on Facebook. Your slang dictates how you should use it. There are several full forms. The most frequently used full form is "search of ", mostly used on Facebook. Take a look at this.
In Support Of
Isolation
Isolated Power
Is seeking other
Instead Of
Interactive Support Online
I'm still online
Read more: How to Change your Name on Tinder Profile Without Facebook?
Conclusion
These days, many people utilize acronyms for time-saving reasons as well as laziness. Abbreviations like "Lmao", "ISO", "ROFL" and others are prevalent in text messages, regardless of whether or not you like it! If you are unfamiliar with what they mean on Facebook or elsewhere, they may confuse you.
In this guide, we have covered all the bases so you may move on to the next step knowing the basics. Now that you know what ISO means on Facebook, you may use it responsibly and let us know if you like it or not in the comments area.
Was this article helpful?