Hello friends, Today I will share six methods on how to Increase WiFi signal strength. Users will able to Increase the range of their WiFi to twice and also speed of WiFi. You can change the place of your router, reset the router and some hidden tricks.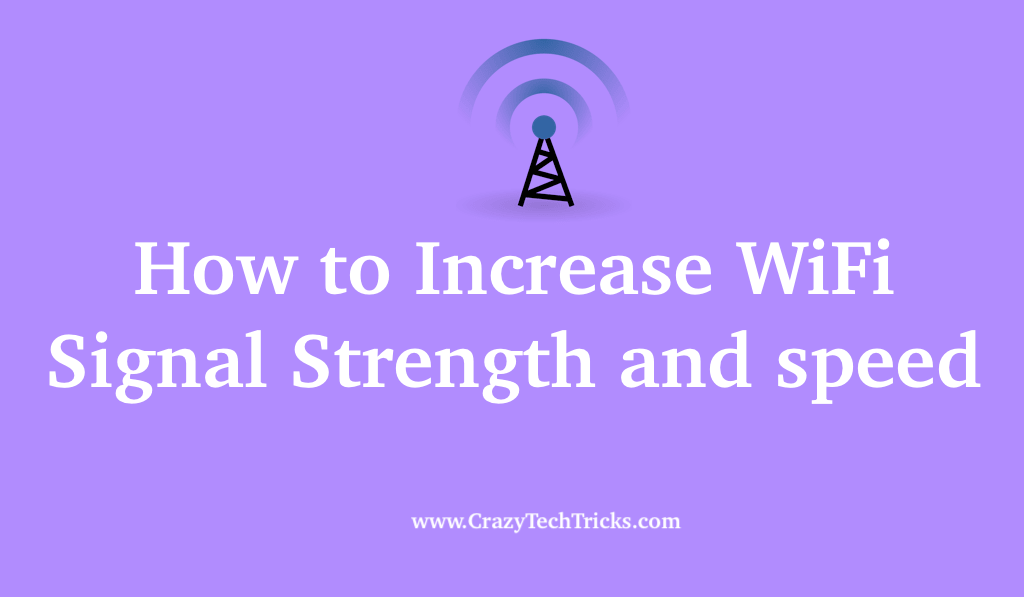 You are working in your home or office on your system at your room, and your Wifi signal is just not strong enough. Or you are having a video conference but your WiFi speed is just not strong enough. As a stable WiFi network is necessary for a proper workflow, the problem of a weak signal is pretty frustrating. The problem of a weak Wifi signal strength is really stressful and it hinders the workflow while working in your home. Now, there are several methods that you can implement to increase the Wifi signal strength of your router.
How to Increase WiFi Signal Strength – Top 6 Methods
The strength of the WiFi signal is a variable and changes with different locations in the room or in the house. Several factors determine the strength of the signal. We will look into some methods and techniques that will give a boost to the WiFi signal strength.
Read more: How to Create WiFi Hotspot in Windows 7 Laptop Without any Software
---
Reset your Router
The most basic and convenient method of all is to simply reset your router. The benefit of resetting your router is the fact that it will clear the memory of the router and moreover, it will allow the different updates to be installed for the router. There is always a button at the back or at any side of the router. Press the button and it will reset all the setting of your WiFi.
---
Update your Router to the latest versions
Sometimes, your router may have an old firmware that you may need to update. The router companies are always making sure to provide a router that provides a much faster WiFi connection. They also provide the user with the functionality to update their routers by themselves. There has been an increase in the router exploitation and It is an important task to keep the firmware of your router update to provide better security and connection.
To validate if your router has the latest firmware, follow the steps that are given below:
Start any web browser on your computer.
Now, connect to the router network.
Enter "IP" address of the router. The IP of the router should be available on the back of the router on a sticker.
Now, Login with your admin credentials.
Select the option of "Firmware Update".
Now, once you have selected the option. Wait for the update to be installed on your router and once the update is done, restart your router.
Must Read: How to Create Windows 10 WiFi Hotspot on PC
---
Buy an Antenna for Better Connection Range
The antenna works as the transmitter of the WiFi signal and thus is a really important aspect of the WiFi signal strength. A better antenna will be able to uphold and transmit a better and more reliable signal.
There are several antennas that are present in the market right now. You need to look for a rubber duck type antenna. It comes with a monopole antenna and also has a rubber/plastic protection for the antenna. There are loads of options available online for router antennas. If you have your antenna setup in a place far from your working space, then you can buy an antenna with the availability of cable that can extend to your working room to increase WiFi signal strength.
Read more: How to Change WiFi Name on Windows
---
Purchase a Wifi Extender to Increase WiFi signal strength
WiFi extenders are devices that are used to simply rebroadcast a preexisting WiFi signal. When there is an issue of limited WiFi signal strength, you can use a device such as an Extender to increase the range of your Wifi router.
Your extender should be near the main router or network and then you can place them at the place the extender at places that are near or around your main working area. If you have a relatively large house for just a single WiFi router, then an extender is a really good and efficient method to increase WiFi signal strength around your home. Place the extenders around the main working areas and you will have a better WiFi signal strength in no time.
---
Change the Placement of the WiFi Router
The placement of the WiFi router is realty important as it determines the signal strength that you will receive over the whole house. You need to place the router at a position that is almost at the center of the home for an equal transmission or you can simply place it near your workspace in the house. Make sure that you avoid placing the router near devices or electronics that create electromagnetic waves. Since WiFi is also a type of electromagnetic wave, they will cancel each other out and will create a dead or no signal zone.
Machines and appliances such as microwave, television, etc. emit electromagnetic wave and the single strength will definitely drop near these devices.
Mounting of the router on the wall and above the floor level will definitely increase WiFi signal strength as it makes the reach of WiFi to your devices much accessible. It is recommended for you to mount the WiFi router at a place above floor level like a wall or the ceiling in the middle of your house. This will dramatically increase WiFi signal strength and you will be able to work more efficiently.
Read more: How to Bypass Xfinity Username And Password Hack
---
Remove External users and setup protection for your Router
You may have a connection that is open and accessible to anyone within the range of your router. This is an extremely risky situation and you should get an encrypted and password protected wireless network as soon as possible. If you have an open network, either your neighbor or anyone near your router range can access it. This will definitely decrease the WiFi signal strength of your router and you would not be able to work properly from your home or work space. Apart from this, an open network makes you a very probable target for hackers and they will be able to easily exploit your systems by connecting to your network.
Therefore, set up a password-protected network for better security. And make a guest network if you get visited quite often.
Read more: How to Send Large Files over the Internet
---
Conclusion
WiFi Routers are just another internet device that fives us access to the internet at our home. The placement of such device is necessary to be taken care of as it determines the signal strength of the network throughout the house and your working space. This article covered five different methods that you can use to increase WiFi signal strength of your router.
Was this article helpful?