I will share the best method to Schedule Gmail to Send Later. Users can download these Gmail Scheduler on the Windows PC/Laptops. You can schedule Gmail to any time or date. It will automatically send your Email from Gmail at your specific scheduled time.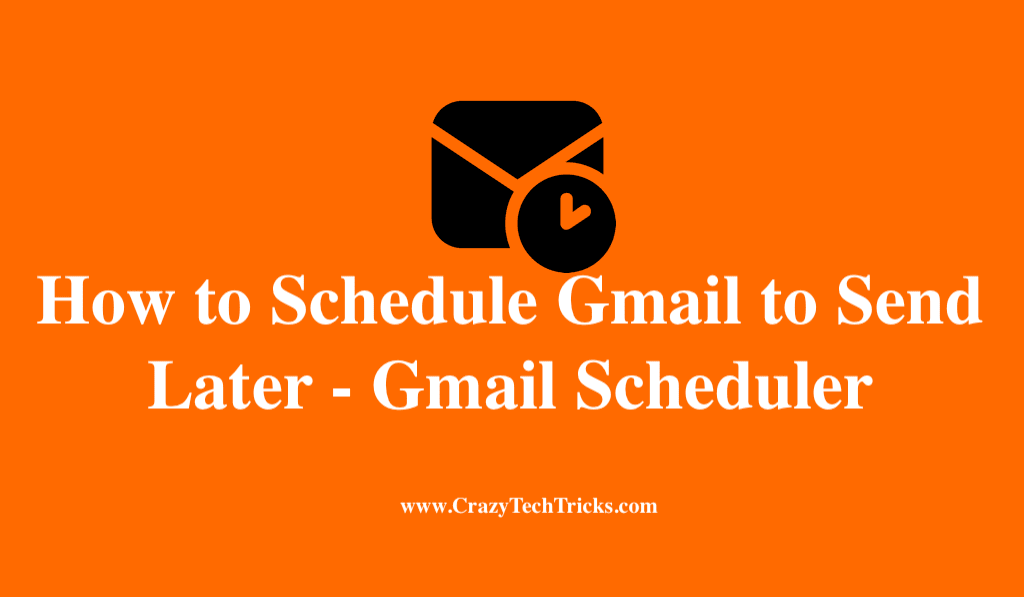 There are many instances when one may want to schedule Gmail to send any particular email at a later point in time. While Gmail still doesn't have a feature to schedule email, many third-party software and browser extensions help you do this for free.
How to Use Boomerang Gmail – Boomerang Gmail Review
If you are a daily Gmail user, you might like to use Boomerang. Boomerang for Gmail is a web browser extension which adds extra options to the usual Gmail features. It comes with a free trial version which allows users to schedule up to 10 emails in a month. And three different packages for premium subscriptions which enable unlimited scheduling emails.
Though the free version should be enough for ordinary people, who want to send birthday wishes and would like to schedule the email until the actual day.
Read more: How to Schedule Gmail to Send Later
How to Schedule Gmail to Send Later – Gmail Scheduler
You can quickly Schedule Gmail to Send Later. This trick will help you to schedule several emails at once. It will also help you to schedule future email at any time of year.
You can schedule Gmail with attachment and text messages to any contact. Follow the instructions and Schedule Gmail to Send Later.
Download Boomerang for Gmail and install the web browser extension Boomerang for Gmail.

Log-in to your Gmail account.

Compose the email you would like to schedule a later date or time.

Click on the new "Send Later" button located below the original "Send" option.

Set the time delay, or specific day and time in the pop-up window that appears.

Now click "Confirm."
Now you'll be able to see a new notification bar on top of your inbox showing when the scheduled email will be sent.
Read more: How to Check whether your Email Read or Not on Gmail
Boomerang Gmail Vs. Gmelius for Gmail Vs. Ebsta
Just like Boomerang, many third-party extensions and software programs can schedule an email to be sent later. Some of these favorite tools are Gmelius for Gmail and Inbox, and Ebsta for Salesforce. Although Ebsta is a bit expensive, it offers handy features for organizations that are associated with Salesforce.
It integrates with your web browser and offers a broad range of dynamic features to boost productivity. Gmelius is another browser extension tool that gives G Suite features. Gmelius allows you to schedule emails and snooze them but limits its free usage to five emails per month.
Conslusion
It is best and safe method to Schedule Gmail to Send Later. It will keep your Gmail safe, and you can send future email to any of your contact using Gmail ID. This method is free, and you can send as many emails you want to send per month. Do try this method once to Schedule Gmail to Send Later and don't forget to hare this Schedule Gmail trick with your friends.
Was this article helpful?