Hello friends, Today I will share several methods to change your name in Skype. Users can change their Skype Name without Skype or with Skype App. You can use these method to change Skype name on Android, iPhone, Windows, Mac or even online.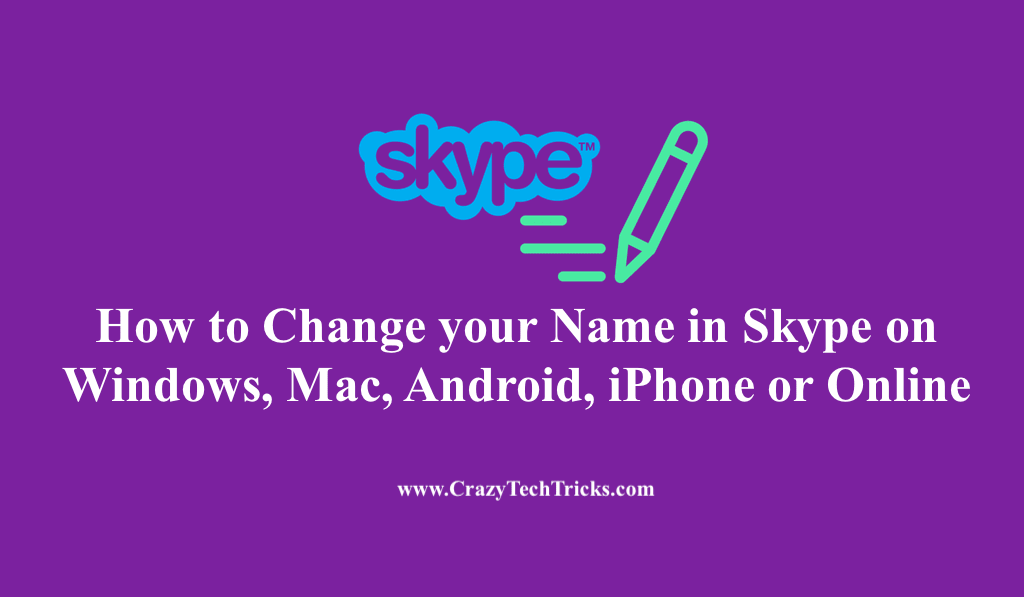 Skype is a free software designed to communicate with people globally. You connect with people over the Internet in video-conferencing, voice calls and instant messaging, and sharing files with other users. It has helped millions of users in terms of their personal connections and business-related purposes.
As a person, we always want that other person to recognize us easily by our names, and the same goes for Skype. Therefore, a Skype user tends to change his Skype Display Name so that it is easy for the other user on Skype to find him and connect with him. We will highlight the ways to change your name in Skype. But, before that, you should be clear with the following question.
What's the Difference Between Skype Username and Skype Display Name?
Skype Username or Skype ID is an auto-generated account name, which is assigned to a user when they create a Skype account for the first time. This acts as a unique identifier that other users use on Skype to connect with you. However, this cannot be changed or modified after its affiliation with Microsoft.
Read here: How to Share Your Screen on Skype
Although to change the existing Skype username or Skype ID, you need to create a new Microsoft account associated with the new Skype account. However, you do not need to delete the previous Skype account as long as you have a second Microsoft account to use.
Skype Display Name is a customizable name that other users can see when they connect with you on Skype.
Note: All the following procedures listed below are applicable to change the Skype Display Name only. The following procedures are not applicable to modify the Skype username or Skype ID.
How to Change your Name in Skype to any Name – 4 Ways
I will share different methods to change your name in Skype. You can use them on device you are using listed below.
Online
Windows or Mac App
Skype Lite App
Change Skype Business ID
Read here: How to Delete Skype Chat History from Android
How to Change Skype Display name Online using a Browser without Skype App
If you don't have any app installed on your PC/Laptop then you can use this method. You can use this method on any online browser like Chrome, Safari, Mozilla and etc. Users can even use Smartphone mobile version. This method can be used on any device and you can change your name in Skype easily.
Sign-in to Skype.com.
Select your existing Skype display name, which is located in the upper-left corner of the page.
In the drop-down menu, select My Account.
In the Account details section > select Edit profile under Settings and preferences.
Once again, select Edit profile, which is located next to the Skype Display Name.
Enter the new Skype display name.
Select Save, which is located near the upper-right corner of the page.
Read here: How to Use Skype Without Microsoft Account
How to Change your Name in Skype on Windows or Mac App
For this method you need to have Skype app installed on your Windows or Mac. Make sure to download it and install on your PC/Laptop.
Launch the Skype app on Windows and Mac.
Select the existing Skype profile image or Skype display name, both located in the upper-left corner of the screen.
Under the Manage section > select Skype Profile > A text box appears.
Select the Edit Pencil icon, which is located in the upper-right corner of the window.
Enter the new Skype display name.
Press Enter or select the checkmark to save, which is located on the right side of the text box.
Read here: How to Delete Skype Messages on Windows
How To Change Skype Display Name on Android or iPhone App or Skype Lite App
You need to have app installed on your Smartphone. This method will work when you launch Skype app from your Android or iPhone.  Just open Skype app > Skyple Profile picture > Manager Section > Skype Profile > Edit Pencil Icon > New Skype display Name > Select checkmark.
To Change Skype Business ID for Business purposes
Suppose you are a user of Skype for business purposes. In that case, you have to reach out to the concerned member of the IT department in your firm to change your Skype username or display name or business ID. Because users individually do not have access to change them as a particular email ID and name assign to them are managed by their employer. So to change your name in Skype you need to ineract with your Organization.
Read here: Best Skype for Business Tips and Tricks
Conclusion
Millions of users still access Skype. However, we have seen a deterioration in the growth of Skype in the past few years. This downfall existed due to the introduction of different applications like Zoom, Google Meet, etc. They are almost similar to Skype and add more advanced features, more comprehensive, and are easier to access.
Users have stated that despite Skype, other applications are even more comfortable using their personal connections and business-related purposes. However, Skype is mainly used by users who are very much familiar with its services and features and find it more comfortable to hold themselves on Skype rather than switching to other upgraded versions.
Was this article helpful?