If you are wondering why are sites blocked on my phone. Then this article will help you open blocked websites on your Android and iPhone. I have shared five ways to unlock the sites.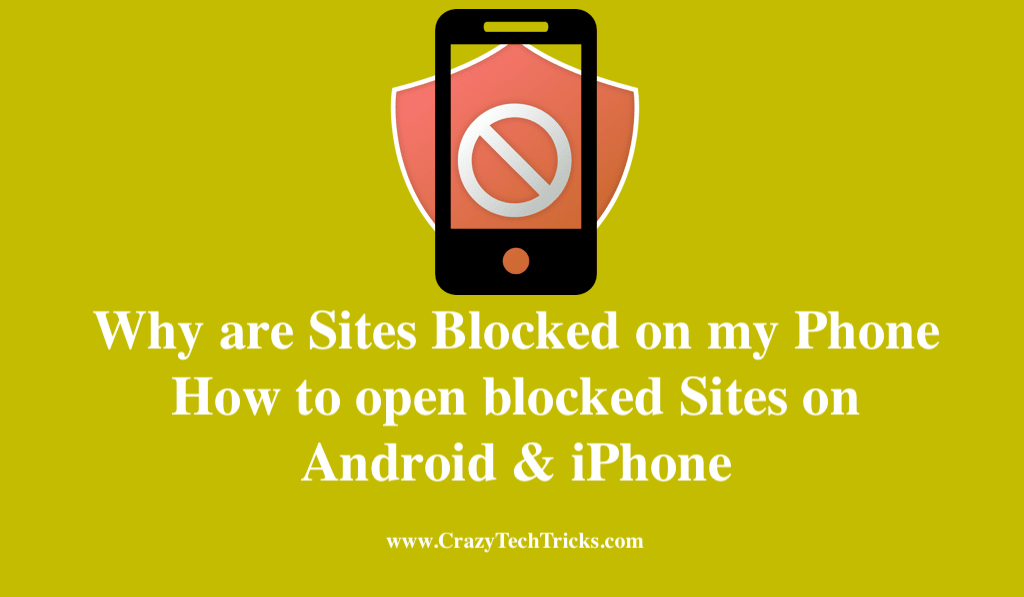 When a site is blocked or denied access, it indicates that the site cannot be accessed or used. If you wish to access a website or watch a show that is not available in your region, this indicates that the site has disabled access.
However, Some websites are restricted or prohibit access to their services. There are numerous reasons for this, and regardless of the reason, we make a concerted effort to keep the site open.
Read more: How to Block People on Tinder
Google Play Store users can download the most popular web browser or VPN for unblocking all websites on their mobile devices. In any case, this is not the only option available to you if your school, business, or administration has prohibited access to some website.
Why are Sites Blocked on My Phone
The answer to the question why are sites blocked on my phone? here in this blog, we will cover this. Some websites or sites are difficult to access because the administration, online service providers, or others have blocked them.
Mainly pornographic content, gambling, ethnic, religious, and racial content, as well as indicators of phishing and malware, are often reasons for these websites being restricted on Android & iPhone.
Read more: How to Block People on Google Hangouts
Depending on where you are, blocked URLs can be very diverse. Also, ISP contracts vary by company, area, and country, so your internet service provider could also be a problem.
Additionally, there are five ways to access banned websites on Android and iPhone:
Turbo VPN
Tor
Proxy server
Hola Free VPN
Manually configuring DNS
Read more: How to Unblock someone on Instagram
Method 1. Turbo VPN
Turbo VPN is a free option that relies on advertising. Among other restrictions, the free plan allows users to connect to only one device and provides access to only a limited number of servers. In addition, Turbo VPN provides a premium VIP option. It lacks unique features, does not offer dedicated IP addresses, and is limited to five concurrent connections on the subscription plan.
Via Google play store or app store, install Turbo VPN.
Connect to the Carrot app when you open it by clicking on the logo.
Now, Allow Turbo VPN to configure itself.
After the connecting procedure has been completed, the text will change to Connected, and the VPN logo will appear in the upper right corner of your mobile device.
While linked, attempt to re-enter the formerly restricted website.
Read more: Best Free Proxy Websites
Method 2. Tor
Tor is the most widely used software for accessing sites and information that are restricted in your jurisdiction. There is no way for anyone else to see what you've been doing online, and all of your browsing histories will be completely erased. Furthermore, this is a helpful tool that will solve the query "why are websites blocked on my phone?"
Install the 'Tor' link on your device. Activate Tor by opening the app.
Whenever you start Tor for the first time, click Join so it can connect to a private network and begin working.
Wait for the connection to be established before moving on to the next step.
Once linked successfully, the Tor program will operate in the same manner as a standard web explorer.
Read more: How To Unblock Someone on Facebook
Method 3. Proxy Server
Here are the two finest proxy browsers available for Android. A private browser and a proxy browser are the browsers that will answer the query, "why are sites blocked on my phone?". With a proxy browser, you can unblock content on any smartphone. Also, As with other free proxy servers, the process of setting it up and using it is nearly identical.
Navigate to link using your preferred browser.
As in entering the URL window, type the address of the site you wish to view.
Then select GO.
After a few minutes of browsing, the banned site will finally open up.
Read more: How to Unblock Blocked Sites
Method 4. Hola Free VPN
This VPN app, formerly known as Hola Unblocker, lets Android users unblock websites and compresses data sent over the internet. Connecting to a public network anonymously is possible with a VPN, which encrypts and hides all of your confidential data.
Hola has a designed browser that you may use to access the internet. Moreover, The best aspect is that Hola does not require you to register an account with them.
Download Hola Free VPN link from iOS and launch it.
Now, Choose the software on which you'd like to activate VPN.
Read more: How to See who Saved your Instagram Post
Method 5. Manually configuring DNS
Changing your DNS to Google's Public DNS can allow you to bypass geo-blocking and other location-based restrictions in countries where access is restricted. Before you do so, ensure that you have a copy of your existing DNS addresses. For instance, if you encounter difficulties changing your DNS, you may need to switch back to them.
Browse to the Settings tab and select Wi-Fi.
Select "Modify Network" after you've long-tapped on the system to which you're currently attached.
Switch to a static IP address by clicking on Advanced Configuration.
Now, adjust your domain name server (DNS) address.
Read more: How Can you Block Someone on LinkedIn
How come some websites have been blocked
When a site won't load, there are several possible causes, including a virus or malware. The problem for why are sites blocked on my phone is usually solved on your own without the help of a third party, whether you accidentally activated Parental Control or the authorities have blocked the site.
In most cases, streaming sites offer a distinctive selection of content to different regions of the world due to copyright agreements or any other factors which might be related to religious considerations. Thanks to streaming services, proxy servers and VPNs enable you to watch movies not available in your home country.
Read more: How to Mention Someone on DeviantArt
Several schools, universities, and offices prohibit students, faculty, and staff from accessing websites with unethical, unlawful, or objectionable content. In order to boost performance or conserve data, even perfectly safe websites may be censored.
Moreover, the answer to this query why are sites blocked on my phone is that by using a VPN, you can circumvent restrictions imposed by governments on information flow that might offend the political and religious sensibilities of their citizens.
Conclusion
Being able to unblock web pages, regardless of where you live or what you want to watch on Netflix is a liberating experience, especially if most international websites are not available in your country. Furthermore, software packages such as NordVPN make the task extremely straightforward, even for inexperienced users to complete it successfully.
Moreover, using these above mentioned methods you can fake your location and get access to the sites which are blocked in your areas. If you're concerned that online censorship may limit your knowledge, rest assured that there will always be others prepared to fight back. Therefore, with this, I end my blog on why are sites blocked on my phone with the hope that it might be beneficial for you.
Was this article helpful?