Hello friends, Today I will share a method on how to send WhatsApp message to multiple contacts. Users can bypass the limit of forwarding message on WhatsApp. You can send an unlimited message to unlimited contacts using this method. I have shared several ways to send WhatsApp message using Broadcast and several other methods to send the same message to several contacts at the same time.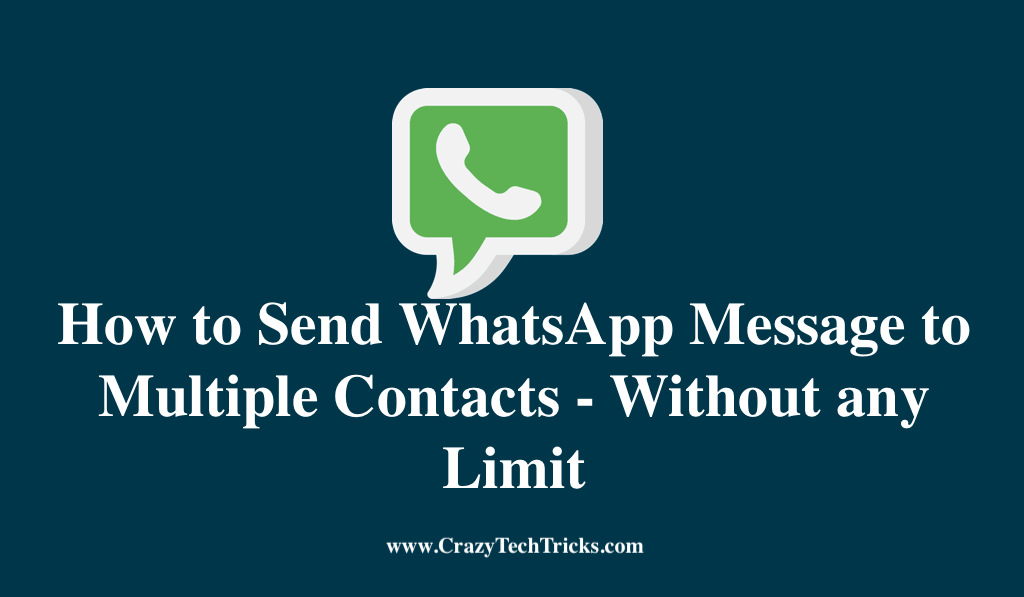 If we talk about how to send WhatsApp message to multiple contacts, then it becomes very lengthy and time taking process for us. We have to select and share the same message to every person individually on by one. So, have you ever thought that you could quickly send a WhatsApp message to multiple contacts? I know your answer will be a big NO. But, yes there is a definite way to send WhatsApp message to numerous contacts. A person can easily save his or her time to send WhatsApp message to various contacts.
How to Send WhatsApp Message to All Contacts at a time Without Broadcast
The process to send the same message to every contact one by one or by using the forward option is very lengthy. It takes too much time and makes us frustrated. Because you know that you can send WhatsApp message to multiple contacts using a broadcast list and do not want to use that for the same. So, there is a quite easiest way to send WhatsApp message to multiple contacts in the same manner. You can easily do the same thing by creating a WhatsApp group and send them to various contacts very quickly. However, WhatsApp now launched a new feature by which the admin of the group can use "only admin send messages" settings to block spam and to stop sending messages by others in the group.
Open WhatsApp Messenger your phone or Pc/laptop.
Click on the three dots which is placed at the top right side.
Select all person to whom you want to share that message.
Finally, send your message on that page.
Read more: How to Send Large Video Files on WhatsApp
---
How to Create a WhatsApp Broadcast List
Creating a broadcast list is very simple. It is similar, as you create a WhatsApp group of several friends or relatives. It is an excellent alternative if you are trying to send the same message to several peoples at once instead of doing forwarding. The option of creating a broadcast list is mentioned at the short menu which you open when you have to go to setting for changing your beautiful profile photo. A detailed step by step guide is shown in this part of the article.
Open the WhatsApp Messenger on your device.
Now, click on Three dots at the top right side.
After that, select the persons whom you want to add to it.
That's it. Your broadcast list will be created successfully.
Must Try: How to Share Facebook Post on WhatsApp
---
WhatsApp Broadcast Limit
The broadcast feature allows you to send the same message to several peoples at once individually. There is no restriction or limit on how many broadcast list you can create by your WhatsApp account. But, there is a limit in the number of persons that you can add to a single broadcast list. WhatsApp only allows up to 256 contacts to add them and create a new broadcast list to send the message.
---
WhatsApp Forward Message Limit
Previously, we were able to forward a message to unlimited persons using the forward option. Luckily, there was no such restriction on sending the same message to a limited amount of persons. But, in August 2018, WhatsApp confirmed that they are rolling out their new version on the App stores which will now restrict the users to forward message up to 20 peoples at a time. It is hard for WhatsApp to take such kind of decision where the market of WhatsApp Messenger is too high and widespread.
---
WhatsApp Broadcast List vs Group
In WhatsApp, a broadcast list is different from a group. But, the recipients limit is the same in a broadcast list and a group both. If you create a broadcast list, let's suppose it of 4 peoples. Then, the message which you will send in it will be delivered to every person individually. Where, in a group, the message will be shared to everyone in a single chat box. You can say that a broadcast system in WhatsApp is one => many communication systems. But, if we talk about a group in WhatsApp, then it becomes many to many communication systems. Even you guys have noticed that in a group everyone can reply to each other. One thing that you must remember before using WhatsApp broadcast feature is that you must have the contact number on your phonebook whom you want to send a message.
Ever tried: How to Keep WhatsApp Online All the Time on Android or iPhone without turning Screen On
---
Conclusion
If you were searching for some method to send WhatsApp message to multiple contacts, then I hope this guide may be helped you in that. Because of the WhatsApp forward limit, we can not share the same message to more than 20 peoples. But, we can use the broadcast feature and group feature to do the same on WhatsApp. I hope you have now got the idea to send a WhatsApp message to multiple contacts. You can share this article with your friends and relatives to let them know about the same.
Get more stuff like this
Subscribe to our mailing list and get interesting stuff and updates to your email inbox.
Thank you for subscribing.
Something went wrong. Try Again!