I will tell you how to activate disabled Facebook account. You can appeal for a disabled Facebook account and upload your ID proof documents. You can verify your Facebook account by providing govt approved Identity card.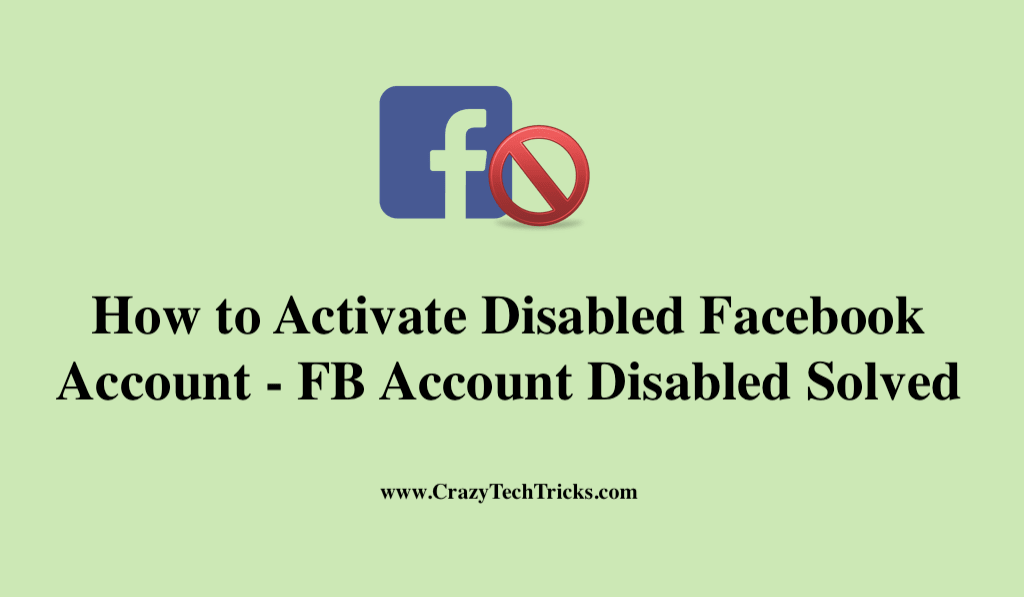 How to Activate Disabled Facebook Account – FB Account Disabled Solved
It is the biggest problem which is faced by one of us accidentally on Facebook. Sometimes, we click on various links to Facebook, which mark us as creating spam. When Facebook detects someone as spam, they automatically disabled our Facebook account. Many users get trapped in this, and their Facebook account is disabled. Well, If you are a victim of this spam. Then, this article is for you! As today I am going to tell you how you can enable your disabled Facebook account.
Read more: Download Facebook social toolkit
Facebook Account Disabled Fake Name –
I know, you guys want to know that what is the reason behind it that Facebook disables someone's account even he/she is not a spammer. Guys, if someone will violate Facebook's Terms and Conditions, then he/she will face the same issue. Moreover, if someone will behave like a spammer such as using any illegal character in the option of bio/about/quotes, then he/she will face account disabled problem. There are also many reasons, but the main issue is Facebook's Terms and Conditions, that's it.
Sometimes, users try to create a Facebook account name with someone's celebrity name. In that case, Facebook account disabled automatically. But, If that is your real name. Then, you can upload legal documents and you will get your Facebook account reactivated.
My FB Account is Disabled How to Enable
If your Facebook account got disabled, then don't worry. In today's article, I will describe every detail related to this topic. I will tell you the whole procedure to active your disabled Facebook account properly. But, make sure that you have all the proofs that the account is yours and you are not a spammer.
Read more: How To Hide Last Name on Facebook 
Disabled Facebook Account Reactivation
Yes, reactivation can be done by the below told method, which is very straightforward and easy to follow also. You do not have to download or install any software from Facebook or from anywhere else. Simply follow below given some countable steps, and your account will be reactivated.
Facebook Account Disabled How Long
No one can exactly tell you how long your Facebook account will be disabled or how long it will take to reactivate your disabled Facebook account. It depends on the Facebook team how much time would they will take to reactive your disabled Facebook account.
Difference Between Permanent and Temporary Disabled Facebook Account
While talking about the temporary disabled Facebook account, these accounts can be enabled if its owner provides full proof to the Facebook team. The temporarily disabled Facebook account is disabled for some minor issue such as using illegal characters in bio/about/quotes or posting any unlawful content. Facebook gave these matters small places and disabled that account only temporarily.
While talking about the permanently disabled Facebook account. These accounts can not be enabled, or you can say this account are no longer to be used. Facebook permanently blocks these Facebook accounts because they violate Facebook's Terms and Conditions. There is no chance to recover or enable the permanently disabled Facebook account.
Points to Remember to Confirm your identity with Facebook
Make sure you attach a 100% legal document.
Do not appeal more than one time or again and again, continuously.
Do a proper scan of your document for better image quality.
Make sure your name is visible on Identity proof you are uploading.
How To ReActivate Disabled Facebook Account
Users can reactivate their disabled Facebook account by providing identity proof. If your account is disabled and Facebook is asking you to confirm your identity. Then, you can upload various documents which have your 'Name' mentioned. A name is the most important thing to be mentioned on Identity proof. Make sure your name is completely visible on Identity proof.
Read more: How To Merge Facebook Pages without losing likes
Disabled Account Appeal -Id Request Facebook
First of all, visit Facebook Disabled Account Appeal Page.
Now, a form will be open to you. Fill the Email, Name and attach a Governmental Proof of any document with the same name.
Note: You can upload Governmental approved documents such as Driving License, Green Card, Birth Certificate, Voter ID Card, PAN Card, etc.
Now after filling the form and attaching the document simply click on the Send button to send it to Facebook.
Now, it will show you a message saying "Thanks for contacting Facebook. You should receive an email response shortly". Click on OK button.
That's it. Now, Facebook will review your appeal form, and if they found it to be genuine, then they will be reactive to your Facebook account as normal.
Read more: How to Hide Your Facebook Page Temporarily
Facebook Identity Verification Problem
Sometimes, users upload any fake document on Facebook verification. When you upload any fake document in Facebook verification, Facebook will completely ban you from using Facebook. Yes! You heard it right! So, make sure you are uploading 100% valid ID proof. Don't upload your document more than once. Please be patient and wait for their reply. Suppose Facebook asks you to upload again. Then, upload your ID proof documents again.
Facebook ID Verification How Long Does it take?
It depends on Facebook on how long they will take to verify your ID proof. Usually, verification is done within 72 hours. We have seen many cases in which users account is reactivated with 24 hours. Make sure your ID proof documents are correct, and your account will be reactivated soon.
Read more: How to Mute Someone on Facebook Temporary or Permanently
Conclusion
We have talked about every case of Facebook disabled account. Our team CTT has also revealed a method on how to activate the disabled Facebook account by uploading your ID. If you still face any issue regarding this trick. Then, comment below and don't forget to share this article with your friends.
Was this article helpful?