Handling blogger is a tough task for newbie. And many people face difficulties in managing there blog/website. Crazytechtricks has done lots of research and practices to make your work easier and simple. CTT team has published this article for those who have just started blogging career and looking forward to setup custom domain. Spending few minutes will prove very helpful to you.
What is blogging .com and why it is better than wordpress ?
You may be surprised to hear that blogger is better than wordpress. But, what I have written is true and based on facts. Many experienced bloggers have found that it is better than any other platforms like wordpress and many more. However wordpress is one of the most popular platforms for blogging. Read next to read advantage of blogging.
Why Blogger is best?

Blogger . com and wordpress are leading platforms. But, unique features of blogger are very fruitful. Hosting, high quality and high security makes it more advantageous than any other platform.  Most importantly, the best feature is that you can integrate your blog with third party URL given by Godaddy. This will make your blog professional. You just need to setup custom domain with Godaddy.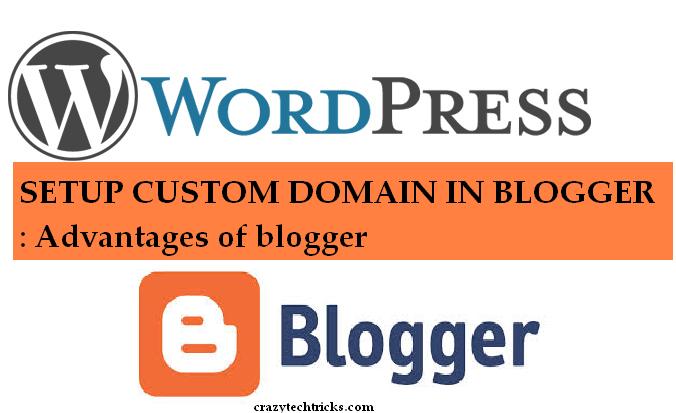 Biggest advantage of blogger
Whenever user search any thing on google search engine. Then content under blogger is the first preference. So, if your content is under blogger then you can have huge visitors arriving from google search engine.
Setup custom domain in blogger
Let's see, how to setup custom domain with Godaddy:
Sign in to your blog with your Gmail account. It will take few minutes and your blog is ready now. It is free and easy to handle.
Now purchase domain from Godaddy. Keep in mind that you have to buy only domain (URL name).
Ignore hosting and any other packages which Godaddy offers.
They will assign you an IP address.
Login to Godaddy
Go to domain section
Click on domain detail (which you have brought)
Go to DNS Zone file section
Click on add record (fill the detail)
Click on add record (create 4 more record)
Click on save
Login to your blogger account:
Click on setting
Click on 3rd party URL setup
Click on save button
NOTE : After this you will get an error which means that you have to create another CNAME record on Godday to verify owner. Do verify and click finish button. Now click on save button. You are done after selecting redirection option which will be available after clicking edit button. It will be next to blogger address. Save setting once again.
CONCLUSION
This is very simple and detailed explanation. Now you can map your blog with Godaddy URL. Hope you  will like this article and give your opinion.
Was this article helpful?