I have shared the 10 sites like Upwork. These are the best alternatives to Upwork. You use these sites to get a job quickly on your experience. You can be a developer, programmer, or even a data entry person.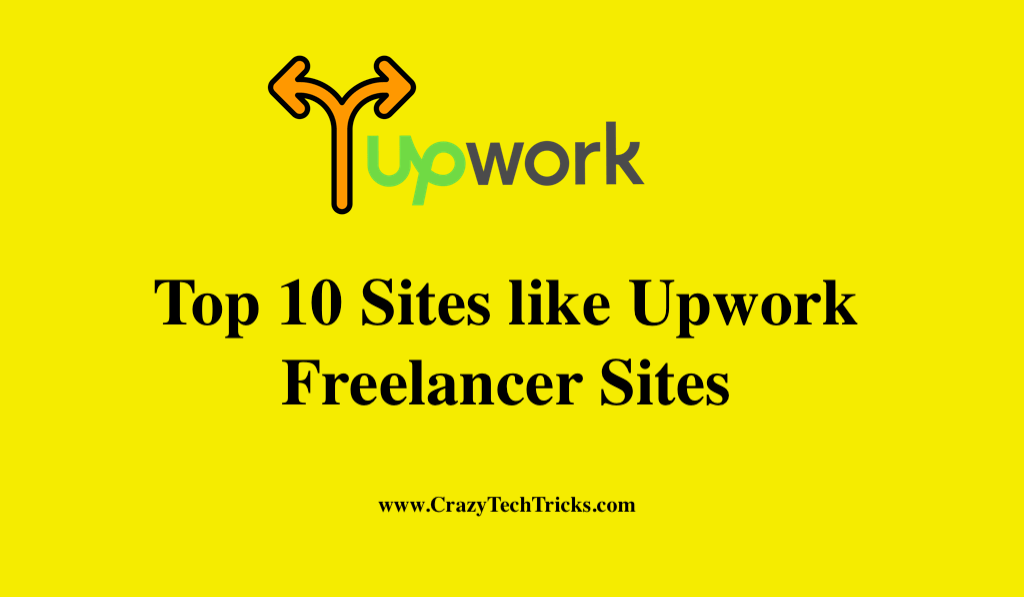 Upwork is the world's largest freelancer website. Every day thousands of jobs are posted online and several freelancers bid for suitable jobs. Upwork has almost all types of freelancer categories, making it one of a kind. A freelancer is paid an average $20 to $100 per hour. Freelancers can also get a fixed amount of projects.
So there are several pros to joining Upwork. But as Upwork has so much business, it has some flaws for freelancers. A freelancer needs to bid for every project and to bid.
Read more: Games like Freelancer
They need to spend money. So its like freelancers pay money to buy bids and then bid for a project. On a single project, more than 100+ freelancers bid, but only 1 gets the job. It means 99 freelancers waste money. So freelancers look for other sites like Upwork which has less competition.
Top 10 Sites like Upwork – Freelancer Sites
The sites I have shared the best alternatives to Upwork. You can get all these sites to get projects. These sites too have similar categories like Upwork, and pay is good too. I have shared a detailed explanation of every freelancer site.
Freelancer
Flexjobs
Toptal
Fiverr
We work remotely
LinkedIn
Guru
FreeUp
PeoplePerHour
Truelancer
1. Freelancer
When it comes to freelancing websites, Freelancer.com gets the top position. It is a platform that allows organizations and experts from all over the world to work together on a variety of projects. Freelancers and entrepreneurs both are welcome to join. In order to become a freelancer, you'll need to complete a registration form.
There you will be asked to disclose a lot of details about yourself, including your schooling, employment experience and skills. After that, you can submit an application for freelancing through the use of bids.
2. Flexjobs
Flexjobs is a sites like Upwork which specializes in providing career possibilities that can be completed from home or remotely, such as freelancing, part-time, and full-time work. There is a wide variety of work opportunities available there, all of which have been thoroughly checked.
Read more: How To Change Mouse Cursor On Mac
The best part about it is that it does not display any ads on its page, which is a rarity among freelance websites. In addition, users are required to join up for a membership in order to search for freelancing work. Moreover, here on this site, you can view Account Management Jobs, Accounting & Finance Jobs, Administrative Jobs, Advertising & PR Jobs, Animals & Wildlife Jobs, Art & Creative Jobs, Business Development Jobs, Call Center Jobs, Consulting Jobs, Customer Service Jobs, Data Entry Jobs, Engineering Jobs, Entertainment & Media Jobs etc.
3. Toptal
Toptal is a platform for freelance work situated in the United States and mostly caters to companies looking for highly qualified independent contractors.
There are no margins by policy, which enables Toptal to provide such a high-quality service. This platform is only open to freelancers who belong to these five categories: Designers, Developers, Finance Specialists, Product Manager and Project Manager.
Read more: How to Remove Adware From Google Chrome
4. Fiverr
Fiverr is the biggest platform for freelancing services, surpassing every other community on the globe. This website provides a wide range of services to freelancers. Among those services, logo design, content creation, digital marketing, and website design are among the most in-demand skills.
The freelancer can simply submit their work and get paid by contacting the customer, submitting their work, and receiving payment through the site. Additionally, It is also completely free to join. It is an excellent platform for micro, small, and medium-sized firms who want to hire qualified graphic designers.
5. We Work Remotely
We work remotely is another freelancing site like Upwork which is an internet-based platform for posting remote job openings and where companies can hire remote workers to fill those positions. It generally deals with programming, design, DevOps, sysadmin, management & finance, product, customer service,  sales and marketing positions.
In addition to this, it offers work both part-time and full-time. On this site, employers can save up to forty percent on their total cost when purchasing job posting packages. It also offers a variety of services, including a podcast, a newsletter and advice on remote working trends and job opportunities.
6. Linkedln
LinkedIn is one of the most well-known employment sites because it makes it simple to search for opportunities in a wide variety of professions. In order to get started, all you need to do is sign up for a new account there and build a profile for yourself.
You should include as many details as you can, such as your schooling, employment experience and capabilities. Make it appealing to the eye and captivating. Further, you should use relevant keywords and sort the results by date to locate the freelancing position of your choice. In addition to that, Top firms like Wipro, Flipkart, Accenture etc post job openings on LinkedIn.
Read more: How to Write a LinkedIn Summary
7. Guru
Guru.com is identical to an agent-based business that uses a bidding platform to conduct its operations. This hiring platform is not nearly as huge and as popular as its competitors. You will receive ten job bids each month through this platform.
You will have the opportunity to make money based on per hours, tasks, and achievements, as well as receive recurring payments through this particular platform. In terms of the total quality of the services offered, Guru.com scored 9.2 ratings. Moreover, for free members, the Guru site's commission cost is one of the lowest. Also, Here you will find data entry, logo design, graphic design, WordPress etc related jobs.
8. FreeUp
FreeUp is a paid network that offers a viable alternative to other options for independent freelancers who are looking for a job. In addition, Free up employs a team of internal recruiters, interviewers, and screeners to source and choose the top 1 percent of freelancers each week. This online service does not require users to submit bids before beginning work.
In order to secure employment, all that is required of you is to perform admirably throughout the screening procedure and the interviews. Moreover, this site is basically for web development, graphic design, customer service, digital marketing etc related jobs.
Read more: Best WeTransfer Alternatives
9. PeoplePerHour
A platform like PeoplePerHour helps individuals realize their dreams, live independently and realize their ambitions by creating a reliable online employment market. Using this website, employers can find the best candidates from a large pool of available freelancers.
Freelance designers, writers, translators, videographers, photographers, programmers, web designers, and other business professionals can find all they need right here. Most notably, PPH offers work on an hourly basis as well as "per task."In addition to that, there is no cost associated with sending up to 15 proposals per month on this website and you can purchase credits if you want to send more.
10. Truelancer
Freelancing platform Truelancer is a sites like Upwork which allows you to apply for jobs, join competitions, and create a profile that appeals to potential clients. It provides a means of contact between freelancers and employers. One of the interesting features is the ability to specify the amount of money in the form of a deposit you require from clients before beginning work with them.
In this way, you can ensure that you're working with a legitimate company and won't be cheated. Talking about the jobs it offers are IT & Programming, Graphic Design & Multimedia, Writing, Content & Translation, Data Entry & Admin, Finance & Accounting, Sales & Marketing, Customer Support & Service, Social Media, SEO & SEM etc.
Conclusion
In addition, you can find that some websites are more beneficial to you than Upwork while other websites won't be as helpful. It all depends on what you're looking for.
If you're interested in freelancing, you should know that I've compiled a list of the top 10 websites where you can submit your resume and get the best response. Furthermore, if you have any further questions, please feel free to post them in the comment section below.
Was this article helpful?