Hello friends, Today I will tell you a method on how to write a LinkedIn summary. I will share all the examples of the LinkedIn summary and tell you what to write in your LinkedIn summary. You can increase the visibility of your LinkedIn profile and get several job proposals.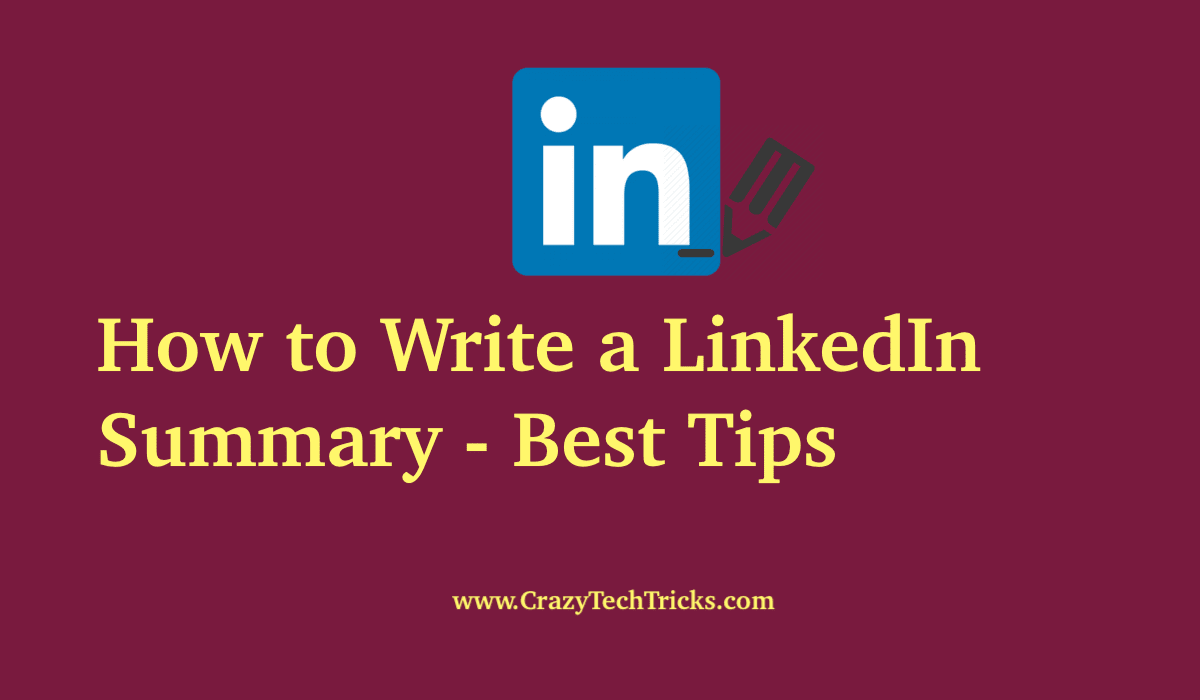 What is a LinkedIn Summary?
LinkedIn is the primary website for putting your professional foot into the market of skilled individuals from different backgrounds. The LinkedIn summary helps you to present yourself in a concise and effective manner. It gives you the platform for defining yourself and your skillset.
At a digital platform, a properly written LinkedIn summary is your first impression on the individual reading it. It clarifies the image that you want to show to the people reading it. Therefore, it is an important aspect of your LinkedIn profile and should write it with proper interest so that it signifies the purpose of your LinkedIn presence.
Read more: How to Add Interests on LinkedIn
How to Write a LinkedIn Summary
When a person opens your LinkedIn profile, the summary is the second thing the person sees after your basic information. Writing a catchy and creative LinkedIn summary is necessary to grab the attention of the reader. Follow the process given below to learn how to write a LinkedIn summary.
Navigate to LinkedIn and Log in to your account.
Scroll down to the "About" section.
Click on the "Pencil" icon to edit the about section.
What to include while Writing a LinkedIn Summary? – Top 5 Tips
This process tells you how to write a LinkedIn summary or edit it. The section below suggests you about the content you should write in order to write a better and attractive summary on your LinkedIn profile page.
While writing a LinkedIn summary you need to know the why and what of summary. The "WHY?" aspect is the reason that you are writing this article, and the "WHAT?" aspect of the summary carries the content that you will be writing in summary. The way you frame your summary will then determine the audience that will approach you. Some of the things that you can add to your summary are listed below. Follow through to write a better summary.
Begin with a sturdy opening line
You should try to grab the attention of the reader with an attractive and catchy first line. It will give a really good head start to the reader.
Must Read: How to Upload Resume on LinkedIn
Introduce your profession
Introduce your profession and your expertise that you are currently associated with and working in. This is necessary as your summary needs to inform the reader about the profession and your area of interest. Along with this, you can also add the experience that you have gained in your profession. It helps you to represent your work.
Write down your passion
Write about the thing that makes you move and lets you set achievable goals in life. Remember to relate your profession and experience to your passion. In the case where your passion is different from the profession then try to keep the brief about your passion in a light mood.
Must Read: How to Cancel LinkedIn Premium
Describe your achievements
Write down about the things that you have achieved in the past year of education or profession. Include how these achievements helped you to improve.
Introduce your skillset and proficiency
After writing about your experience in your profession, remember to write down your skillset. This is one of the most prominent things that will attract the reader as your skillset clearly defines who you are and the shows the different areas that you are experienced in.
---
Good LinkedIn Profile Examples
Now that you know how to and what to write in your LinkedIn summary, here are some good summary examples that will help you to write your remarkable summary in LinkedIn.
Profile Info: XYZ, Software Engineer
"Hey, I am XYZ, a Software Engineer working in Alphabet since 2016. I have always had the passion to understand how things work and implement the working of different machines. One summer, this curiosity and passion led me to learn how to make a basic website with the help of HTML and CSS. Learning about computers always has me going since then.
I started out as a front end web developer where I worked as a freelancer for making websites. It definitely gave me the necessary programming experience that I soon converted to problem-solving. I build up my calibre by participating in different hackathons and local competitive events. I got my first job offer while doing my graduation, which eventually turned into working as a software engineer at Alphabet.
I have been working in Alphabet for the past three years specializing in Java, C++, HTML, CSS and Python. While working with Alphabet, I was assigned the position as Marketing Head for the Digital marketing team. This experience helps me to better understand team management and social media marketing for me and my company.
I enjoy reading books and novels and digging deeper into conspiracy theories. I love to meet new people and learn from their experiences. The quality of curiosity helps me to bring out the balance between my work and my hobbies through a constant state of enjoying learning new things. "
---
Conclusion
Writing a LinkedIn summary concisely and attractively is a necessary aspect of your LinkedIn profile. A good summary will definitely help you grab a better audience and will help you in increasing your professional network. This tutorial will guide you to write a LinkedIn summary for better professional engagement.
Was this article helpful?