Hello friends, Today I will share 10 best Games like Freelancer. Users can play these games on PlayStation, PC/Laptops, Android or iPhone. You can play these group/multiplayer games on any device. All these games are free and you can play them online or offline.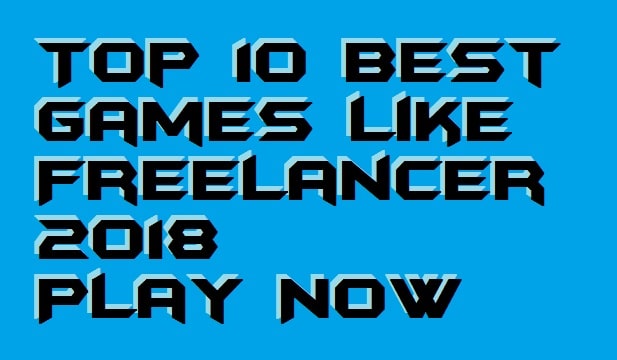 Freelancer has been the first choice of the gamers who are keenly interested in playing games in multiplayer mode. It gives you a feeling like playing in the movie "Guardians of Galaxy", however, it was released in 2003. Single mode lets its player explore the stars and planets they owe. In multiplayer mode, they can freely explore anywhere. However, there are still many Games like Freelancer and they are nearly that much enjoyable.
10 Best Games like Freelancer 2019 – You can Play on PC, Android, PlayStation or iOS
These are the best free games like Freelancer. You can bring all your friends together to play these game on any device. You can play multiplayer and compete with several people.
Evochron Mercenary
X Rebirth
Astro Lords
DarkOrbit
Star Ruler
Galactic Civilizations II: Dread Lords
Stellaris
EVE: Valkyrie
Elite Dangerous
X3: Reunion
Read more: How to Reduce Data Usage on Android – Top 10 Best Methods
---
Evochron Mercenary
Rated 7 outta 10 on steam Evochron mercenary is best for the players who want to dig diamonds,  Race with the best pilots in the game. Evochron mercenary mods give users best experience while they play. The best thing about this game you don't just get some objectives but you can also create your own ones. Provision to customize your Evochron mercenary ships makes it a worth play game. During the war, you can also control your ships using AI. Play with your friends and create your own squad.
Read more: TOP 10 Best 3D Games Android 2018 Get Now for Free
---
X Rebirth
X Rebirth home of light gives the player the best graphics experience they expect from a game. You get to fight in X universe and travel in different ships. each ship has various objectives and battles. From small attacks to devastating ones, you get no mercy from the creatures of the X universe. X rebirth map let you experience excellent visuals, sound effects, and game soundtracks without even entering into the game. Camera zoom, sector view give the soldiers a classic view of the area they are going to save. There are different beta versions of the game which allow several maps to look upon.
Read more: Top 10 Best 3d Games for Android 2017 – Download Now for FREE
---
Astro Lords
Astro Lords: Oort Cloud is one of the best space fighting games or the games like Freelancer. It is also available on Android, iOS or even in Nintendo. You get to indulge in the fight with mysterious aliens from other planets and have to save the asteroid. An asteroid is the heart of your game. You have to construct various factories, laboratories, mines, and other buildings to make your asteroid look stunning. there will be some captains to help you, you can also tailor them according to the game style. Alongside players get to learn more than 50 different skills. PVP mode allows Astro lords to go toe to the toe with other Astro lords.
Read more: How to Play Android Games on PC Windows 7, 8, 8.1 & 10
---
DarkOrbit
Initially released in December er 2006 by Bigpoint games, DarkOrbit is focused on the massively multiplayer game. DarkOrbit Reloaded is the newest release of the game with more than 10.7 million player getting face to face with each other. This game is one of the best for the games like Freelancer. You will have to enable flash player in order to play it on your PC because it is a web browser based game. Various tools and features of this game let the captains of the spaceship customize their them. Better and stunning graphics and thrilling storyline make this Bigpoint DarkOrbit game a worth played a game.
Read more: Top 10 Best Tektek Alternatives 2018 – Create Unlimited Avatar
---
Star Ruler
The first release of Star ruler did not go well however second released got the attention of many players. Latest features, improvements, bugs fix overcame all the shortcomings of the previous version. V2.0.0 update brought everything that a guardian of the planet wants to see in the game. New races, new maps let players explore more than ever. Star Ruler 2 review explains why this game is best one of the best game among 4x games and games like Freelancer.
Read more: Top 10 Best Sites Like Fingerhut – Buy Now Pay Later
---
Galactic Civilizations II: Dread Lords
Rated 9/10 by in, GameSpot Galactic Civilizations, you get into a fight with the evil Drengin Empire and their ruthless allies. It is your responsibility to guard your civilization. Alongside you can also create your own spaceship, build your empire. Being victorious give you awards.  Galactic Civilizations 2 ultimate edition and  Galactic Civilizations III are the first choices of the people who like to play real-time space games. The latest update of this game is available on the website. The update includes new race colors for Iconian Refuge and Krynn Consulate along with some other fixes and improvements in graphics.
Read more: Top 10 Best External Hard Drive for PS4 – 2018 Complete Specifications
---
Stellaris
Vast space to be explored. Stellaris gives you the best graphics experience while you play. just like Start Ruler it is also one of the 4x games. The play comes in three different editions Standard, Stellaris Nova, and Stellaris Galaxy edition. The game gives you most of the difficult challenges and opportunities to seek out more planets. For what it is known. The developers have announced that they would be releasing PS4 and X Box one versions of the Stellaris with new features. However, the dates are not confirmed.
Read more: Android TV vs Apple TV – Which is better? – Complete Comparison
---
EVE: Valkyrie
Looking for a Cross-platform game? then you are on the right page. EVE: Valkyrie has whatever you want. Eve Valkyrie ps4, Eve Valkyrie PC, Eve Valkyrie VR versions are available on the official website. The best thing about the game is that you don't have to pay anything for the updates and you get the best of the game. In other words, you don't just play the game, you live it while you play not just because of the VR also because of best graphics. Must pay a visit to the site.
Read more: What is Amazon Fire Tablet For Kids and How to Use it
---
Elite Dangerous
Elite Dangerous pc also stands tall in the race. It is also available on other platforms such as the Xbox One and PS4. The latest release Chapter 3 gives a classy look and lets you unleash the secrets of the guardians. You actions enhance your ability in the game, So be prepared while you perform in the game. The new season Elite Dangerous horizons can be bought for just $39.99. Earn points while hunting, smuggling, mining, exploring and become an elite. The experience of this game in UltraHD in VR is beyond words.
Read more: How to Make a Spreadsheet in Google Docs – Create a Spreadsheet Online
---
X3: Reunion
No need to explain why we put this on the list. This game is the sequel of award-winning game X2 with new X3: Reunion mods and X3: Reunion maps. This game also lets you experience X-universe and supported by 10 languages. The developers have made full use of DirectX technology. The best thing about this game is that it does not require any high-end PCs to run. Any budget PC can run this game smoothly. The latest version includes packages like Soft-Box, Gold-Box and Egosoft collection. You can buy it on steam.
Read more: How Much Space Does Windows 10 take on a SSD – Windows 10 Size
---
 Last words on 

Games like Freelancer
To conclude, it could be said that there are many other games like freelancer but we put these top 10 games on the list because these games were personally testes and were found genuine. according to our team, Eve Valkyrie is the best alternative for the games like freelancer, but it requires high-end graphics PC. On the other side X3: Reunion gives you nearly exact experience without paying much for the high graphics card and other hardware.
Trending: TOP 12 Best Skype for Business Tips and Tricks – 2018
Was this article helpful?