I will share complete details on what does Mid mean on TikTok. I will also share the MID trend, how it was started and how to be a part.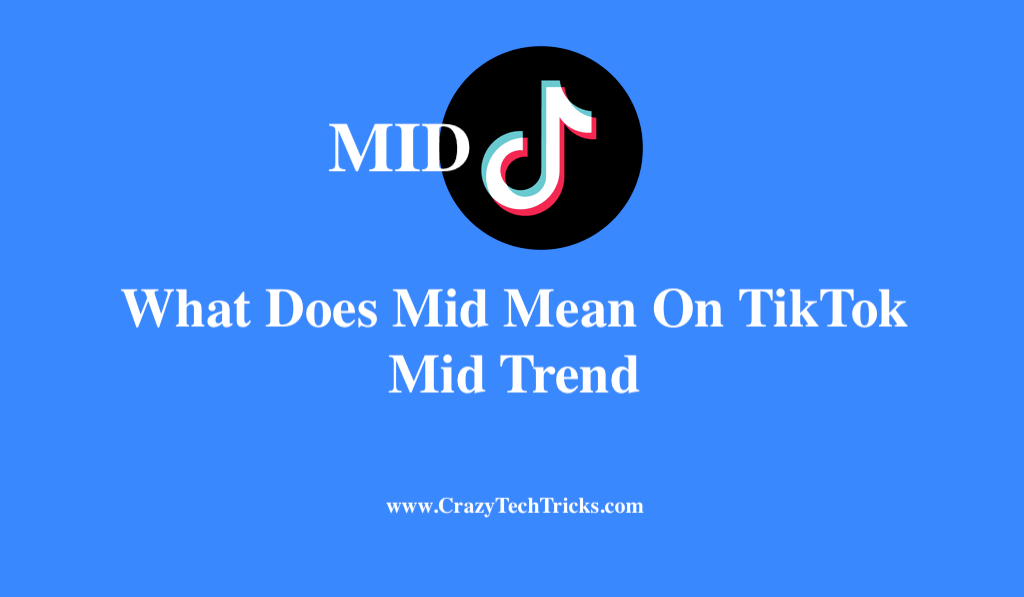 A TikTok video, just like one on any other social network, is where new terminology or inside jokes are discovered and spread across the internet. Throughout the platform, terms such as FYP, POV, accountant, and others have been used in the past, and they are still extensively used today.
Read more: How to Delete Your TikTok Account on Android
Some slang terminology, especially those which seem specific to certain social media platforms and associated subcultures, can be hard to understand. Now, 'mid,' the newest word to be added to the TikTok language, has caused some consternation. Let's discuss what does Mid mean on TikTok.
What Does Mid Mean On TikTok – Mid Trend
Urban Dictionary defines "mid" means on Tiktok as "disrespect for or admonition against another's opinion, labeling it as average or mediocre." The term is a simplified way of saying "mid-tier" or "mediocre," which means that it's neither terrible nor exciting.
The hashtag Mid has gained so much traction on TikTok that it has now generated more than 633 million views in just a few months. This region's popularity can almost certainly be attributed to a viral video created by an American professional wrestler in which he says: "Its name is Midwest (of America) because everything in the region is mid."
Read more: How to Create YouTube Shorts
Approximately 200k videos with the sped-up version of the monologue and sound effects added to emphasize the message have been uploaded to TikTok. TikTokers have used the sound to express dissatisfaction with "midwestern" features of many topics, whether one focuses on slandering the midwest or expressing dissatisfaction with "midwestern" characteristics of college life.
Mid mean on TikTok trending origination
Apparently, American professional wrestler Maxwell Friedman attacked the Midwest in a broadcast on the American Extreme Championship wrestling network that spiked interest in the expression.
During an All Elite Wrestling broadcast, the following was Friedman's exclamation: "It's referred to as the Midwest since everything in it is in the middle." The sportsman then described the substandard aspects of Midwest principles that he had previously mentioned.
Read more: Best Video Sharing Sites
Usually, Mid mean on TikTok "is overrated"
Although thousands of people hope to have their work praised on the internet, there will certainly be a number of people who will express their true feelings about the situation. The market has developed to the point where people will call their work "mid" as a way to avoid criticism for putting forth their best work online.
As opposed to, say, aiming for the stars and dedicating themselves to their work to the fullest extent possible. Moreover, People who hide behind the term "mid" do so in order to shield themselves from criticism and are quick to point out any errors in their content. They are selling themselves the notion that "I can do it if I try hard enough."
Read more: How to Hide Dock on Mac
Conclusion
According to Urban Dictionary, "the ultimate insult given to someone who can't afford any dank and buys some mids solely to roll and smoke" is saying that they smoke mids. Moreover, As people prepare for another year of probable pandemic stress, including the unavoidable unpaid overtime that comes with working from home, they will increasingly describe themselves as "mid"s.
Also, The critical point to remember here is that it may not necessarily signify something even worse, but rather something acceptable. Therefore, I hope that our blog on what mid means on TikTok would benefit you.
Was this article helpful?