You can Turn Windows Features On or OFF very easily. Users can use this method on Windows 10, 8.1 or any other OS. I have shared very basic steps. You can also bypass the errors like a blank screen or please wait. I have shared all the solution.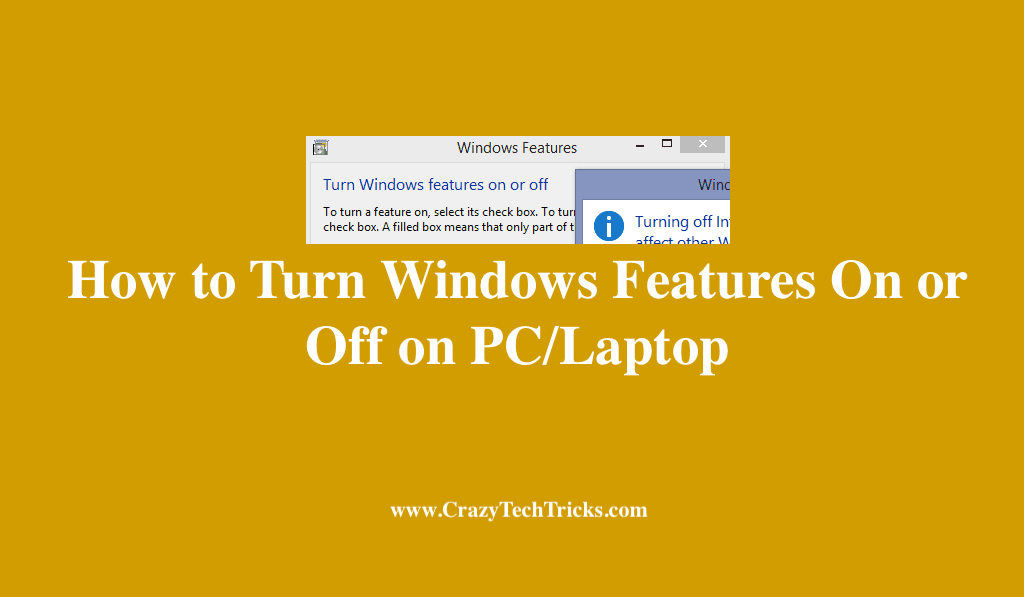 Before taking a step towards the actual topic, let's gather some knowledge about Windows features. Windows features basically refer to some roles and functions included in the Windows itself that makes your task easy to perform on a computer, can help you to control your activities and manage your resources over a computer system.
Windows Features is one of the most used features. It allows users to give roles to other users of your computer. These roles can be given to the system administrator. There can be several users added on Windows and all can have a separate view.
How to Turn Windows Features On or Off
Turning on a Windows feature is not a big deal. There is a series of some steps that are required to be followed. I will also share several errors which users can face while turning or off Windows features. So make sure you read the complete article and turn Windows Features on or off.
Read more: Complete Features of Windows 10 Redstone 5
How to Turn Windows Features On
Following steps will show the procedure of turning a Windows feature On.
Click on the start menu.
Now open the control panel.

A folder will open in front of you containing various items such as system and security, clock, language and region, programs, and a few more.

You need to leave other items and click on programs.
Two options will appear on the screen that is
Program and features


Default programs 

Click on the Program and Features.
Under Programs and Features option > Click on the Turn Windows features on or off.
The moment you click on that option a box containing a wide array of features (that the windows actually provide you) will open instantly on-screen.
To turn on a Windows Feature, you have to tick mark the small square box given in front of every feature. Hence, the selected feature will turn 'on'.
Read more: How to Merge PowerPoint Presentations on Windows
How to Turn Windows Features OFF
It must be noted that the steps to turn off a windows feature are totally similar to the steps to be taken place in case of turning a Windows feature on except the last step. After performing the rest of the steps, you just need to turn off a feature by removing the tick mark from the square box placed before it.
To be focused, You will see some of the features already have a tick mark in the square boxes in front of them. This simply means that these features are already 'on' by default in the Windows system. Further, if you will try to remove the tick mark from their boxes, you will be warned about the effects of turning off the already turned on features. We can take the example of an internet explorer here.
How to Fix Error Blank or Please Wait while Windows Features Turn On or Off
Sometimes, you open the control panel settings for turning Windows features on or off but you surprisingly encounter an empty box get open on the screen. No, don't get panic! All of the Windows features of your system have not gone or got deleted. Instead, it's just a common error shown by your pc system to you.
Read more: How to Use Clipboard History on Windows 10
How to Fix Error Blank Error
There can be several reasons behind the blank screen error. I have shared the top four reason which can be the cause of this Blank error. You can wipe these error and Turn Windows Features on or Off easily on your computer.
Windows module installer is the service to be checked and analyzed if it is the reason for the error being shown in the Windows features. The only thing you need to do is to find a Windows module installer in the run box. Then, check if its status is enabled or disabled. In actuality, this service is responsible for Windows features installation, modification, and removal of Windows updates. If it is disabled, then turn it into enabled.

Next remedy belongs to the administrator account. There might be some problems with it. Therefore, you need to discard the old one and create a new administrator account and vanish the error.

Check on the whole Windows system through system restore.

Do a quick scan of system files through scan now/ SCF.  You may be able to replace the corrupted files with the usable files.
Read more: How to Make an Invisible Folder on Windows 10
How to Fix Error Please Wait
Many times it happens when you try to turn Windows features on or Off, but when you click on a square box, it asks you to please wait for a moment and goes blank. Then, you have to wait for 4 to 5 minutes and see if it comes back. Actually, sometimes when we open a Windows, it takes some time to run its functions.
Conclusion
This is the only way to turn Windows Features on or Off. And the best part is you can use this on any Windows. Users can use it from Windows 7, 8, 8.1 and 10. If you don't see any option of Windows Features, then you can add the feature from apps.
Was this article helpful?