Hello friends, Today I will tell you the complete difference between Dos Vs Windows. We will find which laptop is better Dos or Windows OS. We will analyse both these laptops on their similarity and difference. Well, If you are looking to buy a Laptop. Then I will suggest you have a look at this article. In this article, you will come to know which laptop suits you better for your work.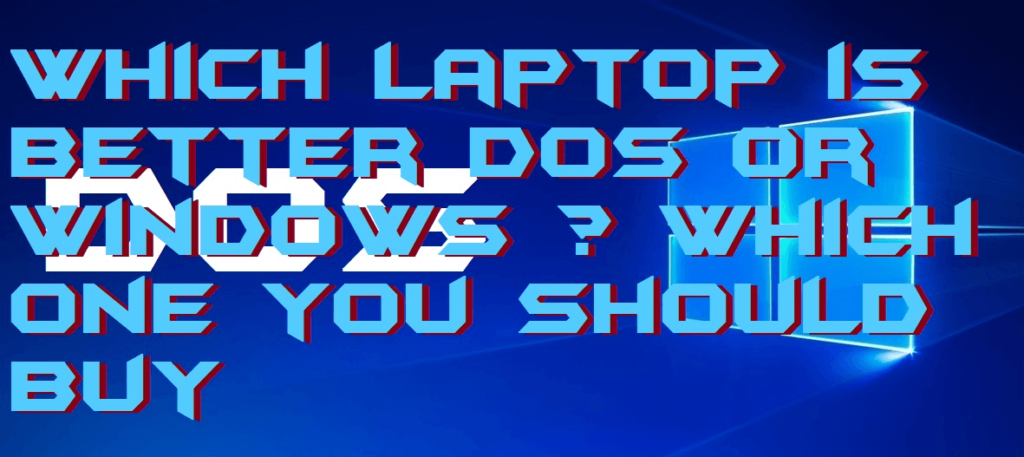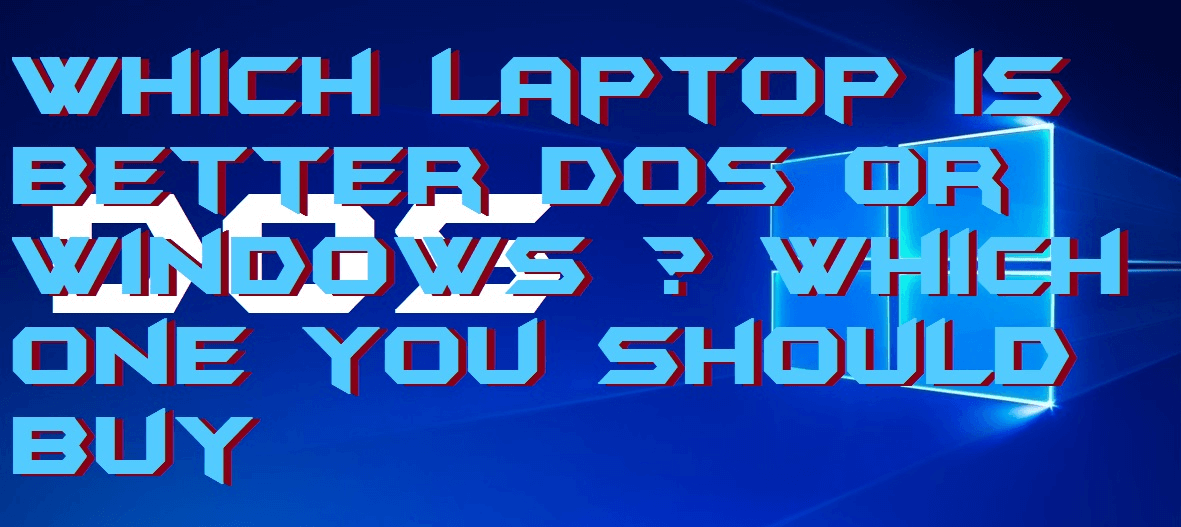 If you are a little bit confused which operating system to use in our newly purchased Laptop whether to use DOS or Windows. Then, I am sure this article will remove your confusion. However, if you are thinking that you are the one who has confusion to choose in using a DOS or Windows Laptop. I would strictly say that don't feel like that. Most of the peoples are confused which operating system to use between the DOS OS and Windows OS. So, by stopping the introduction here, I would like to start the discussion on our topic.
Read more: Amazon Echo vs Google Home
What is Disk Operating System (DOS)?
DOS is also known as Microsoft Disk Operating System which was developed by Microsoft Corporation. It was established on 12 August 1981. But, from 31 December 2001 Microsoft discontinued the further work on DOS OS. It was having the interface of command line interface. IBM which is the most popular company and organisation also use MS-DOS for testing, automated service designing and in much more work. To use MS-DOS users must have to remember and know the command for that. But, to solve this problem later on MS-DOS was replaced by GUI (Graphical User Interface) operating systems such as Windows. MS-DOS is a free operating system which anyone can use.
Read more: How to Use WhatsApp Video Calling – WhatsApp Video Call Data Usage
What is Windows Operating System?
Microsoft Corporation develops windows OS. The first release of Windows OS was on 20 November 1985. Windows has a graphical user interface system. Also, Windows gives the freedom to its user that they can easily customise their Windows system as they want. Because of the interface, Windows is very easy to use and understand. However, you cannot perform ethical hacking, pen testing, and many things in Windows OS. But, for corporate or businessman persons Windows OS is perfect. Windows OS is a service Operating System which you have to purchase by using giving bucks.
Read more: iPhone X Advantages\
What is the Similarity between DOS or Windows OS?
In this para, we will see the similarities between the DOS or Windows OS. The most obvious similarity is that Microsoft Corporation creates both the OS. However, DOS OS was initially developed by the world's second richest person Mr Bill Gates. But, Windows OS was also finalised by Bill Gates. Moreover, installing and using of both the OS are very simple, where this is the first similarity. Both the OS can be installed in any architectured hardware PC whether it's of x64 or x86. Also, in the new era, uses of Windows OS are present in almost every places but, uses of DOS OS is also available in the variety of areas.
Read more: SafeDNS vs OpenDNS\
What are the Differences between DOS or Windows OS?
We will check out some differences between DOS or Windows operating systems. The main fundamental difference between them is that DOS OS is free to use but, Windows is paid OS to use. DOS has command line interface where the Windows has the graphical user interface. We can use only up to 2GB storage in a DOS OS but, in a Windows OS you can use up to 2TB storage capacity. But, when the system boots up, then a DOS OS takes less time than the Windows OS. Also, a DOS OS is not customizable where the Windows OS is fully customizable by any of the user. Moreover, not much applications are available for DOS OS but, Windows is having a variety of software to install and use it for free or paid both. Windows OS is used worldwide, but the DOS OS is used in some areas only such as prototyping, testing, making an automatic system, etc.
Read more: Google DNS vs OpenDNS vs Comodo DNS vs Norton DNS – Which is Best DNS Servers?
Which Laptop is Better? – DOS or Windows
It is the time to choose the best Laptop for you. I know that till now you do not have any idea that which OS to want for your Laptop whether its DOS or Windows. Let me straightforwardly tell you this. If you are an employee, student, housewife, etc. Then, obviously, you must have a Windows Laptop for yourself. The reason for which I am suggesting you is that it's straightforward and effortless to customise. Children can also efficiently use a Windows Laptop. However, if you are an ethical hacker, a company to make automatic systems, or an engineer then definitely you can use DOS OS. Also, you can download and install it on your Laptop for free.
Read more: Earth Vs ArcGIS
Conclusion
We have seen some similarities and differences between DOS or Windows operating system. Using these things you can determine that which OS will be perfect for you to use it on your Laptop. Moreover, there are also a variety of operating systems available. So, if you don't find both of them any of your use, then you can switch from another one. Although, you can change your current OS from DOS to Windows or reverse without damaging your Laptop because it's easy.
Was this article helpful?