Musicians live in a world of their own. And every musician would love to stay connected with those of their own kind. Vampr is a unique app designed to meet the needs of this specific niche. It is an app that is nothing less than a move towards eliminating the barriers of entry into the music industry. It is available for both iOS and Android platforms, allowing anyone with a talent in music to reach out to the world of music with their gift. You can not only connect with others, you can also collaborate with them.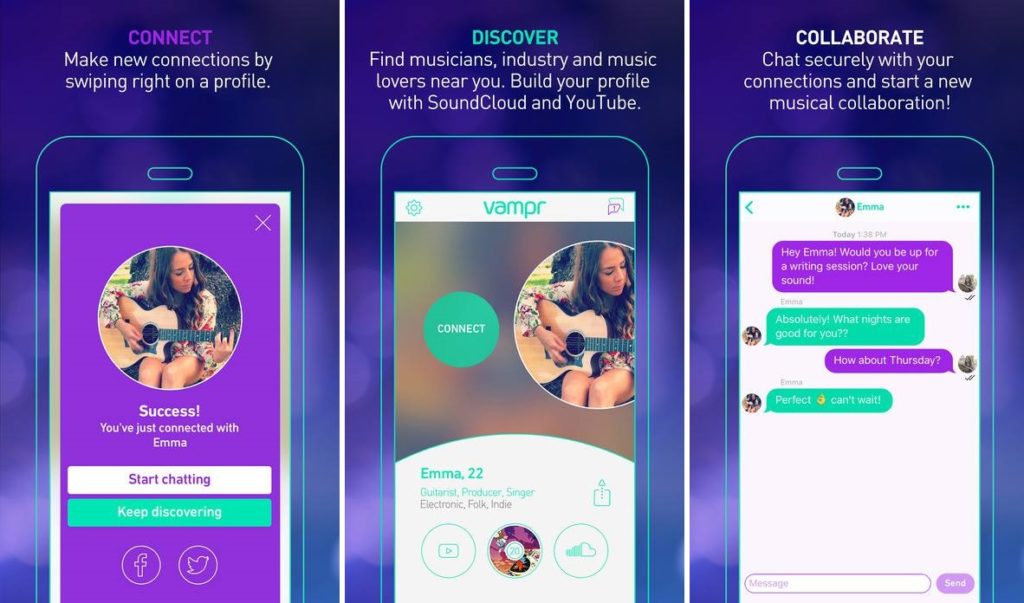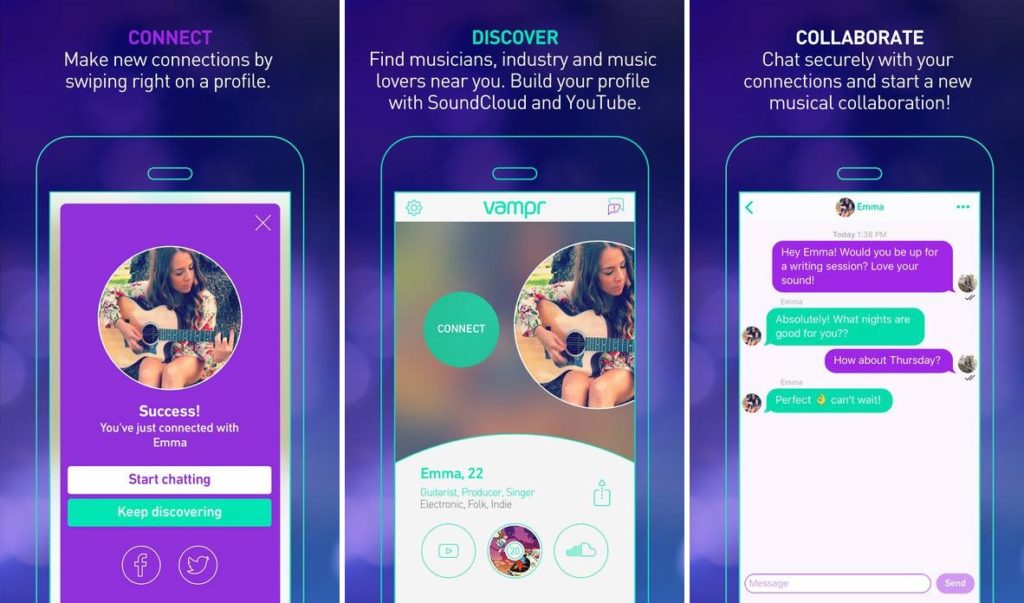 What Does Vampr Do?
Vampr is a social media network that brings together musicians from all across the world. When you join this network, you are able to access a wide range of information about other musicians and connect with them. Here is a list of what you can do with this app :
You can create your account on Vampr and add all your details.
Share your work and skills with other musicians through integration with SoundCloud and YouTube.
Connect with other users and chat with them from within the app. Thus, you can connect with musicians and learn from them or discover new talents if you are already accomplished in the field.
Industry-leading musicians use Vampr to discover a new generation of songwriters. This app has made things much easier than before. The app has users from more than 84 countries. Its list of users includes songwriters, producers, video directors and all kinds of leading music artists from the industry. It has made it much easier for new budding talent to reach out to the industry while allowing industry leaders to discover new talent.
Vampr has a unique algorithm that searches and discovers matching users to help you build highly targeted connections. It supports quick audition feature due to integration with SoundCloud, YouTube, Twitter, and Facebook.
Using Vampr
There are millions of talented musicians living in different parts of the world. It doesn't matter where you live. With Vampr, you can showcase your talent in front of people who can show you the right path.
Discover Talent: Vampr allows you to discover a singer, producer, songwriter, guitarist or any other talent from any part of the world. You can find a highly talented musician for your new project with ease. A band can 'audition' a potential future member. Or you could also discover other like-minded people and make friends.
Connect: People with common interests in music often find it difficult to come across one another. Vampr fills up that gap by providing one place where everyone from music lovers to musicians can come together. This makes it a unique social network. You can connect and chat with even top chart listing musicians.
Collaborate: Due to its integration with YouTube and SoundCloud, users can readily create their own music profile. This gives the app a sense of immediacy.
Features
This app has lots of similarities to Tinder in terms of function and layout. You will notice the following features when using it:
It will display the name, profession and music genre of a profile the moment you open the app.
When you open a profile, it will display their recordings (in SoundCloud/YouTube), bio and list of favorite artists.
If you are interested in connecting with that musician, you can swipe to connect.
You can then send a message and start planning world domination 😉
Events
Vampr isn't just restricted to its online presence. It has also entered the offline world of music on occasions. Three artists from its network were given the opportunity to show their talent onstage at an event in Melbourne where they opened for Carrie Underwood and Keith Urban. The app is relatively new and it has already started creating ripples in the music industry.
Vampr has created a lot of buzz in its early days. Connections play an important role in the success of musicians and professionals in the music industry and this app takes things to the next level in that respect.
Was this article helpful?