Hello friends, Today I will share a method on how to reset AirPods. Users can factory reset Apple AirPods. All your AirPods data will be permanently deleted and it will also un-pair your AirPods from any iOS device. You can easily remove all the errors from your AirPods.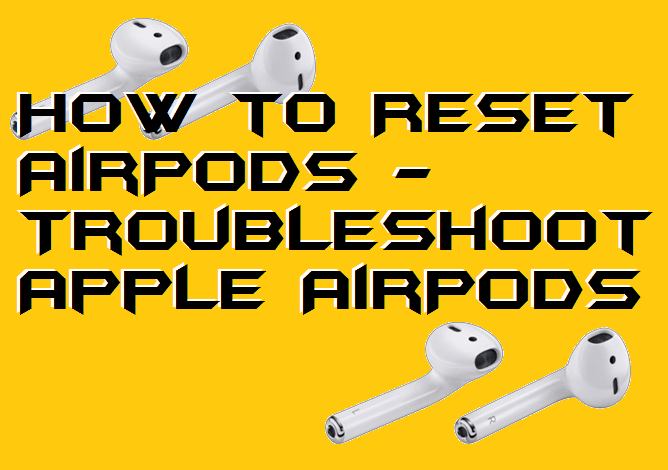 Apple AirPods has become the world most popular wireless earphones. If a person purchases an Apple device, then it is very common that the same person will purchase an Apple AirPods as well. Not only Apple users do buy it, besides of it other device users such as Android users, Windows users they also buy Apple AirPods because of its fantastic sound quality. But, we all know that it is a kind of technical device which can malfunction or fail sometimes. Thus, the question arises here is that how to reset AirPods? Fortunately, there is a genuine and authentic way to do so.
Why Should I Reset AirPods?
This is a very general question that why should I reset my Apple AirPods. Resetting means revering everything back to the factory version which leads to stopping malfunctioning of a device, in our case its AirPods. If you have any kind of issue with your Apple AirPods and not able to fix it quickly then, of course, you can troubleshoot your AirPods by using the resetting option. Sometimes, the resting options worked as a magical wand. Also, it plays a significant role in fixing the error from the AirPods system.
Read more: How to Connect AirPods to MacBook Pro & Air
---
How to Reset AirPods – Troubleshoot AirPods
In this part of the article, we will talk about the procedure on how to reset AirPods. Apple AirPods provides us amazing troubleshooting system which is known as resetting the AirPods. If you have used any other wireless earphones. Then, you might remember that they do not have any resting or troubleshooting option in them. Luckily, the Apple AirPods do allow us to reset it if a person is facing any malfunction while using it. The step by step guide about how to reset AirPods is given in this segment of the article.
Open the case of your Apple AirPods.
Now, press and hold the white button which is at the back part of the AirPods.
Press and hold it up to 30 seconds until the light becomes red.
You will see that the light become red and then again gets to green.
Now, close the case of the Apple AirPods.
After that, when you will open the case and put it near to the device, then you will get the setup option.
That's it. You have successfully learned how to reset AirPods.
Know more: How to Fix AirPods Case Not Charging
---
Apple AirPods Not Resetting
Sometimes what happens is that we try to reset our Apple AirPods, but it does not do so. So, the question puts up here is that how we can reset our Apple AirPods if it is not resetting up. Generally, this kind of issue is not faced by the majority of the peoples; only some countable AirPods may have this issue. But, if somehow your Apple AirPods is having this issue that is Apple AirPods not resetting, then you can take it to the Apple Service Center. Taking it to the Apple Service Center, the team will help you with that and somehow if it can be fixed, then you will get a brand new AirPods.
Trending: How to Uninstall Apps on Mac
---
Conclusion
This is all about how to reset AirPods. This was the easiest and working method if you want to reset your Apple AirPods. Also, there is no other method available to reset the Apple AirPods. But, somehow if you got any, then you can use it to reset AirPods. Keep in mind that not every kind of issues can be solved by resting the Apple AirPods. Some issue is physical which can be done only at the Service Centers. I hope using this article you have learned how to reset AirPods. If you want to share this article with your friends, who want to know how to reset AirPods then make sure you do so.
Was this article helpful?