Ever wondered What Does a Yellow Heart Mean on Snapchat? I will share the complete details and reason behind that. I will also share details why it vanishes automatically.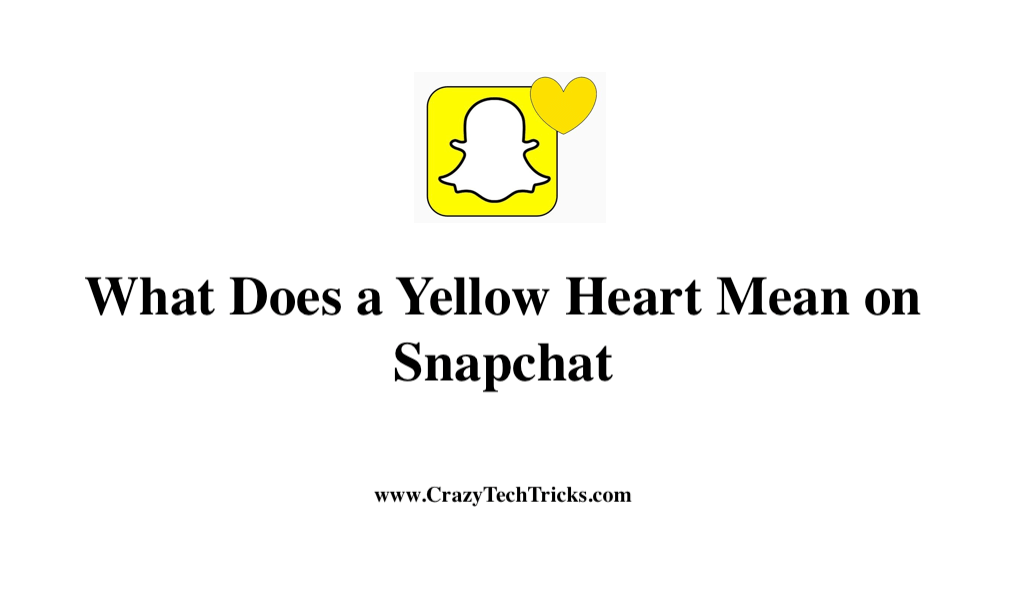 Snapchat is a smartphone application that is available for both Android and iOS devices. Snap Inc., previously known as Snapchat Inc., is the company that developed Snap Chat. It is a multimedia instant messaging application. An important principle of the app is that any image, video, or message you send is only accessible for a short time before turning into inaccessible data. In the original design, the app was intended to be transient or ephemeral to foster natural interaction.
In addition to providing free photo sharing, the app now features users' 24-hour chronological 'Stories'. It offers marketers ad-supported short-form content called 'Discover.' It enables users to keep their images in a password-protected area by choosing the "my eyes only" option. Aside from that, it appears to have utilized end-to-end encryption to a limited extent, intending to increase it in the future.
Read more: How to Use Snapchat on PC without Bluestack
What Does a Yellow Heart Mean on Snapchat?
Different sources attribute the hue and color of the yellow heart mean on Snapchat as happiness and friendliness. Likewise, Yellow flowers make a great gift for many occasions, which is why individuals give them to their friends. Snapchat displays a yellow heart next to your #1 friend only when you are #1 best friend. A Yellow Heart Mean on Snapchat that you send this person the majority of daily photos, and they respond in kind. If you have the yellow heart emoji on Snapchat, it means you and your friend are very close.
Read more: How to Check is Snapchat Down
As you and your friend share selfies and videos more frequently than the majority of your friends on the list, this indicates you are both completely engrossed in Snapchat. The Fire emoji means that you and your friend have now started a Snapstreak together. It is an evidence that you have snapped at this person daily, and they have snapped back at you. Additionally, the yellow heart emoji is also referred to as the besties emoji.
What causes the yellow heart to vanish?
If you no longer send each other photos as frequently, the yellow heart emoji will disappear. This indicates that you have sent more snaps to another user as they are no longer your top Snapchat friend. The only indication they have been sending more snaps to someone is if they remain your closest friend.
Read more: How to Enable Night Mode in Snapchat
For example, Monika and Vanshika are #1 best friends, and they exchange a yellow heart emoji. Monika shares 200 snaps with Vanshika and Vanshika shares 201 snaps with Vimansha. Vinshika, on the other hand, has also sent 102 photos to another buddy named Vishakha. It is most likely that the emoji will disappear after some time since Vanshika is now sending more photographs to Vishakha than to Monika.
What is the significance of the Yellow Heart mean on Snapchat?
Significantly, the yellow heart on Snapchat can only be shared with another person. To receive a yellow heart, one must be snapping at their best friend the most and being snapping at their friend. The yellow heart mean on Snapchat is the gateway to more challenging friendship emojis, such as the red or pink heart.
Read more: How to Delete Friends on Snapchat
Conclusion
The yellow heart represents the first two weeks of being the user's #1 best buddy. Toward the end of two weeks, your heart turns red if you are still best friends. Snapchat is one of the most widely used social media platforms among youngsters. Make sure you send each other loads of Snapchats to obtain a yellow heart. You need to do this with each other more than you need to do it with others. Even so, if you want to send a yellow heart emoji to someone, you should try to share them frequently.
Was this article helpful?