Check Apple Vision Pro complete features. You can check all the latest features and innovations by Apple. We have details on its AR, Battery life, Camera, Display, Hardware, and much more.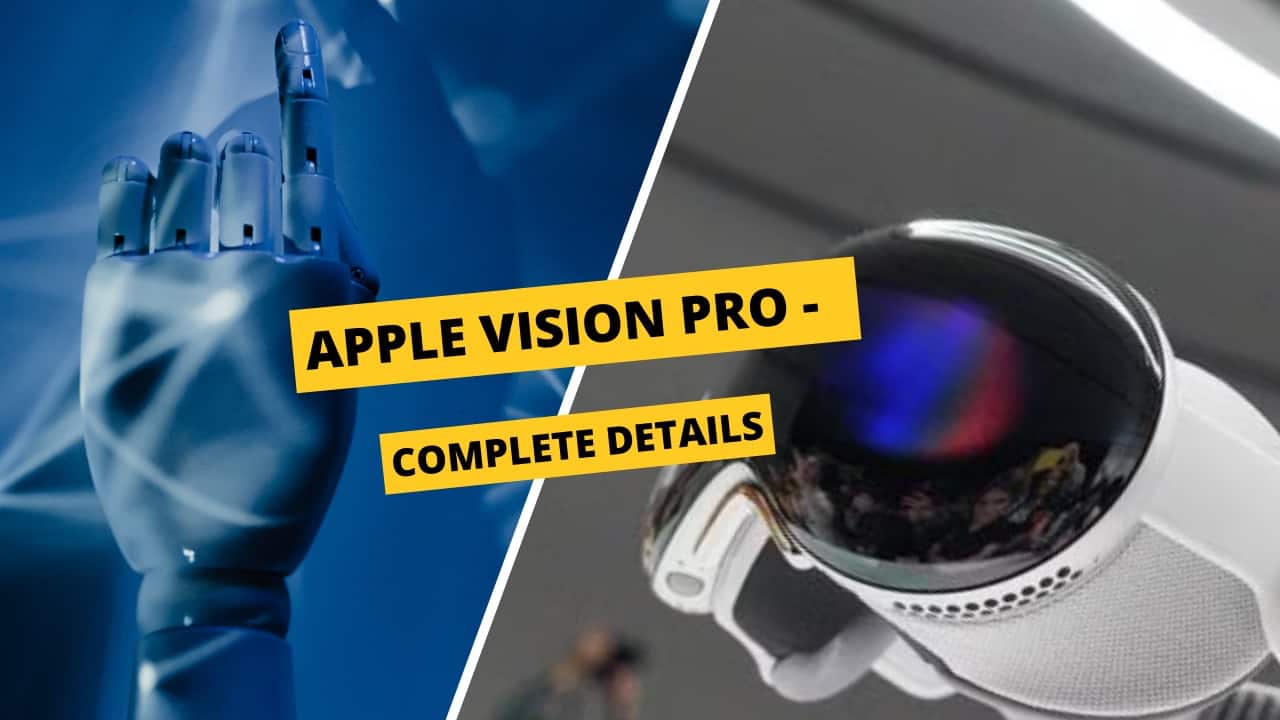 Apple, known for its ground-breaking inventions, has captured the attention of the globe once again with its latest release: the Apple Vision Pro. This innovative equipment, which was introduced yesterday, signifies a huge leap in the field of visual technology. With its amazing features, unrivaled performance, and seamless interaction with Apple's ecosystem, the Apple Vision Pro promises to transform how we see and interact with the world around us.
Read more: How to Switch Between Watch Faces on Apple Watch
Apple Vision Pro – Complete Details
Apple's continuous dedication to pushing the frontiers of technology is obvious in this ground-breaking gadget, which combines modern technology and smart software to provide consumers with an unprecedented AR experience. Let's go through the minute details of Apple's Vision Pro and look at the features that make it a game changer in the realm of virtual reality and augmented reality.
Collaboration: With Vision Pro, Apple has also given priority to networking and collaboration. Using the help of this gadget, several users may interact with one other's virtual items, engage with shared virtual environments, and work together on projects. This creates new opportunities for online learning, job, and social relationships.
Connectivity: Vision Pro links to other Apple products, such as iPhones, iPads, and Macs, improving the whole ecosystem and providing cross-platform capability. Users may easily move AR experiences between devices, enhancing Vision Pro's variety of uses and versatility.
Security and Privacy: As with all Apple devices, privacy, and security are key. Vision Pro is built with a significant emphasis on user privacy in mind, ensuring that personal data and AR experiences are kept private. The gadget has security features such as on-device processing, encrypting, and user permission controls, giving consumers peace of mind about their data and interactions.
Read more:How to Listen to Apple Music on Windows for Free
AR and VR Capabilities: The Apple Vision Pro's excellent augmented reality (AR) and virtual reality (VR) capabilities are one of its most noticeable characteristics. This gadget provides flawless AR experiences since it is equipped with modern sensors, cameras, and Apple's neurological processor. Users may now explore virtual worlds, interact with virtual items, and experience immersive gaming and entertainment like never before. There are countless opportunities for learning, productivity, and pleasure thanks to the excellent tracking and depth sensing capabilities that allow realistic and accurate virtual overlays over the actual environment.
Power consumption and battery life: A strong and effective CPU, specifically designed to meet the demanding requirements of tasks requiring extensive visual processing, is at the core of the Apple Vision Pro. The gadget is equipped with Apple's most recent A-series processor, which offers unmatched processing power and energy efficiency. This offers lag-free AR and VR experiences and easy multitasking. Furthermore, the Apple Vision Pro includes an enhanced power management system, providing all-day battery life even with intense usage.
Read more:How to Fix Apple Watch Activity App Not Sharing with Friends
Camera Setup: The Apple Vision Pro has an outstanding camera system that pushes beyond the limits of mobile photography and filming. It has a high-resolution main camera with superior optical stabilization of the image, better performance in low-light conditions, and a wider spectrum of dynamic range. A specialized depth sensor and a LiDAR scanner are also included in the device, allowing for complex computational imaging and exact depth analysis. With these features, users may take amazing images, make professional-quality films, and explore new creative avenues.
Design: Vision Pro showcases Apple's dedication to both practicality and beauty with its ergonomic and modern design. The headset form factor of the gadget allows prolonged use without discomfort. The adjustable straps and padded cushions on the headset ensure a snug fit for customers with varied head sizes.
Display: Modern display technology serves as the highlight of Vision Pro. The headset features a magnificent high-resolution tiny OLED display that provides an immersive visual experience with brilliant colors, fine details, and an outstanding field of vision. Moreover, Apple's display technology guarantees less lag and remarkably accurate images, which improves the overall immersion and caliber of the AR material.
Hardware: The brains of Vision Pro are an Apple silicon processor that was specially created and tuned for augmented reality applications. The powerful chip's remarkable performance, which is completed with amazing speed and precision, enables real-time portrayal of complex AR scenarios. This guarantees that virtual elements merge naturally with the user's actual surroundings, improving the entire AR experience.
Performance: Vision Pro includes innovative sensor technologies, such as depth sensors, LiDAR scanners, and several cameras strategically placed across the headset. Through these sensors, users' head movements and hand gestures are precisely tracked, thereby providing accurate spatial mapping and real-time interaction with virtual elements.
Biometric Security: To provide secure access to the device and safeguard user data, Apple Vision Pro makes use of cutting-edge biometric verification techniques, such as Face ID. The gadget's TrueDepth camera technology precisely detects and authenticates the user's face, making it simple to unlock the device, make purchases, and securely access sensitive information.
Read more: How to Change Activity Goal in Apple Watch
Integration of Software and Ecosystem: The most recent version of iOS, Apple's acclaimed operating system, powers the Apple Vision Pro. This version has been further refined to properly make use of the device's distinctive characteristics. Users have access to a wide range of apps and services from the App Store that is designed expressly for AR, VR, and visual stimulation. The gadget connects smoothly with other Apple products including the iPhone, iPad, and Mac, creating a cohesive environment that enables smooth gadget connectivity and communication.
Conclusion
In the development of augmented reality technology, Apple's Vision Pro marks a key turning point. It raises the bar for AR experiences with its svelte form, robust hardware, cutting-edge software, and seamless connectivity with Apple's ecosystem. Vision Pro's comprehensive features and simple operation promise to completely change how we engage with digital information, whether it's for collaboration, productivity, or enjoyment.
This is a huge step toward augmented reality permeating every aspect of our daily lives as Apple pushes technology forward. Moreover, It represents Apple's dedication to offering cutting-edge technology and innovation despite carrying a premium $3,500 price tag. The Vision Pro looks to alter the game for consumers looking for a high-end augmented reality experience.
Was this article helpful?